Vivaldi's The Four Seasons: A Reimagining, Sam Wanamaker Playhouse review - a gentle exploration of life, love and death |

reviews, news & interviews
Vivaldi's The Four Seasons: A Reimagining, Sam Wanamaker Playhouse review - a gentle exploration of life, love and death
Vivaldi's The Four Seasons: A Reimagining, Sam Wanamaker Playhouse review - a gentle exploration of life, love and death
A beguilingly beautiful show from the UK's most exciting puppeteers
Gyre & Gimble's puppeteers build a whole world out of minimal materials
Vivaldi's The Four Seasons: A Reimagining – it's not a title that trips off the tongue. Nor one, frankly, that inspires much excitement, with its clunky functionality and on-trend buzzword. But set that aside and buy a ticket immediately, because Gyre & Gimble have made magic with their latest show.
Founded in 2014 by former War Horse puppeteers Finn Caldwell and Toby Olie, Gyre & Gimble's style of puppet-led theatre has established itself in productions including The Grinning Man, The Lorax and The Elephantom as some of the most thoughtful and joyful to be seen on stage. But with The Four Seasons they have created something special: an alchemy of space, music and movement that is storytelling at its most artlessly artful.
Paul Wills's designs flood the interior of the Globe's Sam Wanamaker Playhouse with gold – as though the theatre's candle-light has turned liquid, dripping and smudging down pillars and creeping across floor and walls. The play of the Wanamaker's many candles creates its own shadow-tracery against the illuminated backdrop – living, shifting images that echo the tree-branches delicately picked out in paint.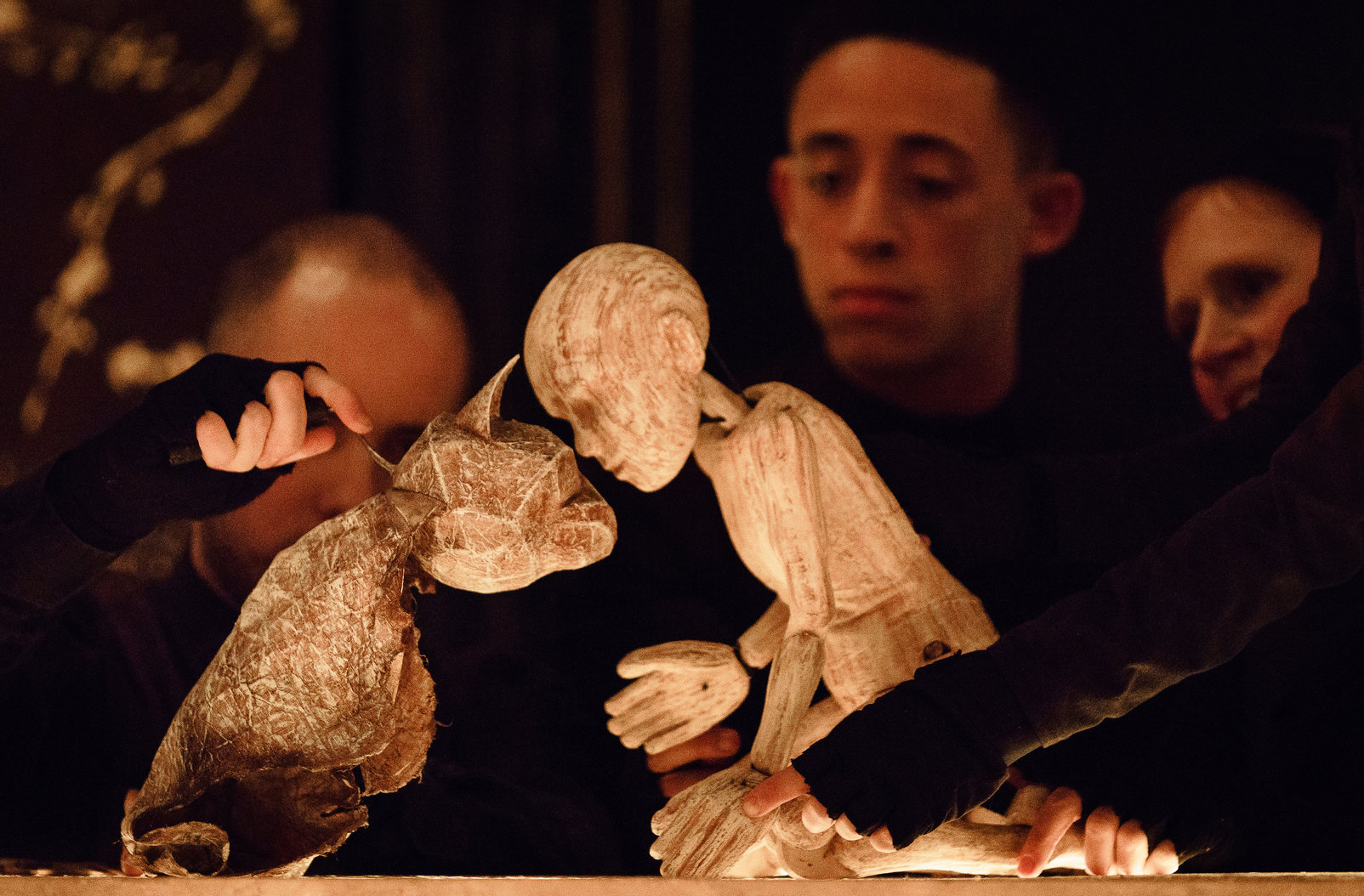 Into this gilded landscape Gyre and Gimble place a team of five puppeteers and, up in the gallery above, a six-strong band of baroque musicians. Add to this just a set of tables, some crumpled pieces of leather, carved pieces of wood and three bunraku puppet-figures and you have the minimal toolkit with which the company somehow build their beautiful world.
The "reimagining" of the show's title is, technically, a double one. In 2012, Vivaldi's Four Seasons were transformed by ambient minimalist composer Max Richter into Recomposed – a work whose hypnotic, looping repetitions and circling structures took Vivaldi's programmatic sequence of violin concertos as the jumping-off point for something more abstract. Now Richter's score (freshly reworked for this production) has itself become the starting point for Gyre & Gimble's puppetry, bringing us full circle – back to the narrative urge that underpinned Vivaldi's original works. Vivaldi's story is a simple one: storms and sunny days, barking dogs and drunkards having a sneaky autumnal snooze. Gyre & Gimble's is no less so, in its own way. A couple meet and fall in love. A child follows, as does war and separation. After the deaths of his parents the boy must face his demons and find a way to forge his own adult path forwards.
Anyone who has seen Anthony Minghella's Madama Butterfly or Complicite's Shun-kin will be familiar with Japanese bunraku, with its teams of skilful puppeteers. In its traditional form it can be stern, cold, ritual somehow. But here, warmed by Gyre & Gimble's own touches – by wooden puppets whose physiognomy is soft and open and, most magically, by the puppeteers' own breath, projected into the mouths of these small wooden people – it has a new ease and humanity. The real joy is movement that suggests rather than states, opening up a space for the audience in the story.
Moving and sweetly, surprisingly funny (largely thanks to an enchanting bunraku cat), this wordless drama finds a language of physicality that's as sophisticated on its own terms as the Shakespeare we usually see in this space. Richter's quietly compelling score provides a natural and sympathetic foil for these visual elaborations; if there's the occasional sense that solo violinist and music director Jorge Jimenez is at his technical limits, the band offers an account of Richter's music whose rough, guttural quality is arguably more interesting than the slickly produced studio version on disc.
Ripe for the festival circuit, Vivaldi's Four Seasons: A Reimagining is a sui generis creation that deserves to have a long afterlife. But the Wanamaker is a venue unlike any other, and without its warm, wooden embrace the show will inevitably be just a bit the poorer. Catch it there while you can.