Theodora, Royal Opera review - God, love, sex, death - and terrorism |

reviews, news & interviews
Theodora, Royal Opera review - God, love, sex, death - and terrorism
Theodora, Royal Opera review - God, love, sex, death - and terrorism
Katie Mitchell's staging of a late Handel oratorio works well, but acting trumps singing
Tuesday, 01 February 2022
Julia Bullock as Theodora
Some of Handel's late London oratorios, like the indestructible Semele, work well as fully staged operas. Others, usually the ones which swap mythology for the sacred, need dramatic help. Theodora is one of them, though Peter Sellars' now-legendary Glyndebourne production had a once-in-a-lifetime intensity. The singing if not the acting is more fitfully stunning here, but Katie Mitchell just about pulls off one of her most vivid and focused reimaginings.
This is certainly her best Handel staging to date, even if advance puffery about its extreme nature turns out to have been exaggerated. We are in the Roman embassy of a sleazy-violent diplomat – Eastern European, Russian? – moving as Chloe Lamford's brilliantly designed sliding set does between kitchen and reception room, brothel and deep freeze. What Mitchell describes among her slightly stilted observations in the programme book as her "red intervention" is to give pious Christian virgin Theodora "agency" as part of a movement dedicated to destroying the Roman order. This works against the grain of the music at first, the initial arias of tenor Septimius, reluctant security guard, and Didymus, a convert to the cause, feeling overlong in their da capo refrains partly because everyone on stage is anxious for them to end so that the revolutionary movement can begin, and their impatience becomes ours. Then there's the making of a bomb – now, incidentally, a Sellars trope (overextended in his production of Mozart's La clemenza di Tito) – which stretches over another couple of musical numbers.
Mitchell's first production coup, very well executed, comes in the most heavenly aria of Act 1, perhaps of the entire oratorio, fellow Christian (here co-conspirator) Irene's "As with rosy steps the morn", where the plot discovery plays out in slow motion; the stylisation will spread to more of Irene's music, a chorus and the final duet, in a long-term pay-off. Maybe it's impossible to get the sound and focus of the late Lorraine Hunt Lieberson's performance out of one's head – once heard, never forgotten – but Joyce DiDonato's vocal threading is less than grounded here. As often, DiDonato (pictured above with Bullock) is a totally committed performer, but tonally uneven – most of her other numbers are superb, especially "Lord, to thee each day and night" at the beginning of Act Three, beautifully staged as a confidence to a handful of fellow-Christians, but the last one, "New scenes of joy", goes slightly off-centre again.
Theodora's active good should be strong enough by itself – turning her fundamentalist actually alienates us from some of her most limpid music – and Julia Bullock could carry it whatever the direction. Vocally, as so often happens with singers in Handel, the upper register is vibrant, the middle sometimes going into a murky zone, but the casting of Bullock pays off remarkably in the last act.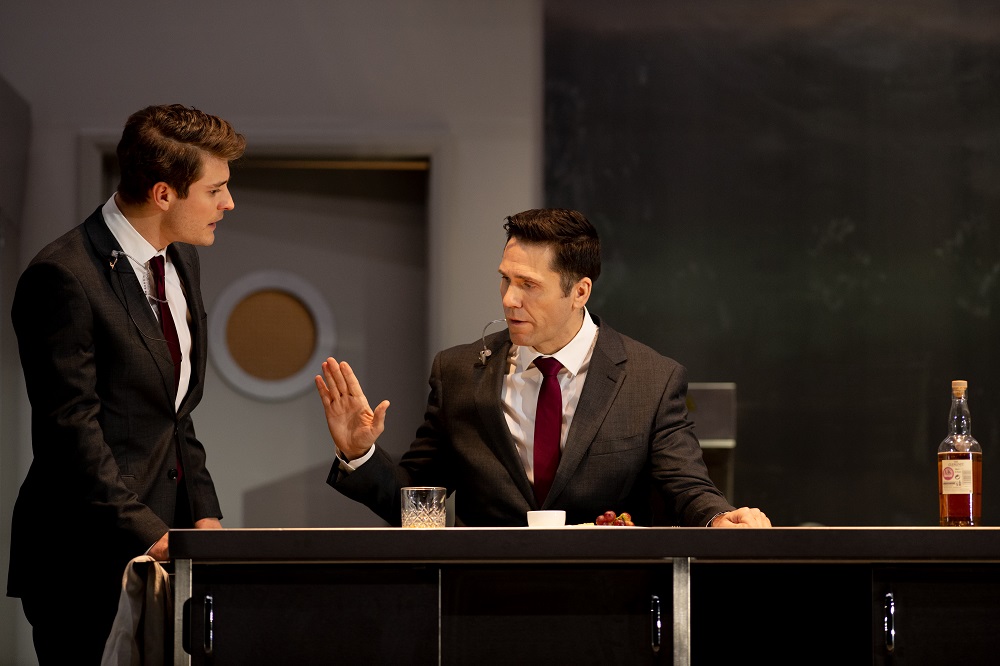 Jakub Józef Orliński as her lover Didymus is fair of form and face, less so of voice – plenty of clarion notes rarely extend to full phrases (I can better imagine the limpidity of Iestyn Davies or Philippe Jaroussky in the more radiant numbers). Again, though, he's brave in going all the way with what Mitchell asks of him - and yes, a shirt removal in each act is dramatically justified. Ed Lyon's Septimius (pictured above with Orliński on the left) is the most even-toned throughout the range of the soloists, Gyula Orendt's dangerous ambassafor the least. The Royal Opera Chorus takes aural adjustment after the slimline choral-scholar ensembles we're used to hearing, but works well with conductor Harry Bicket, and Handel's exquisite late writing for strings always shines out.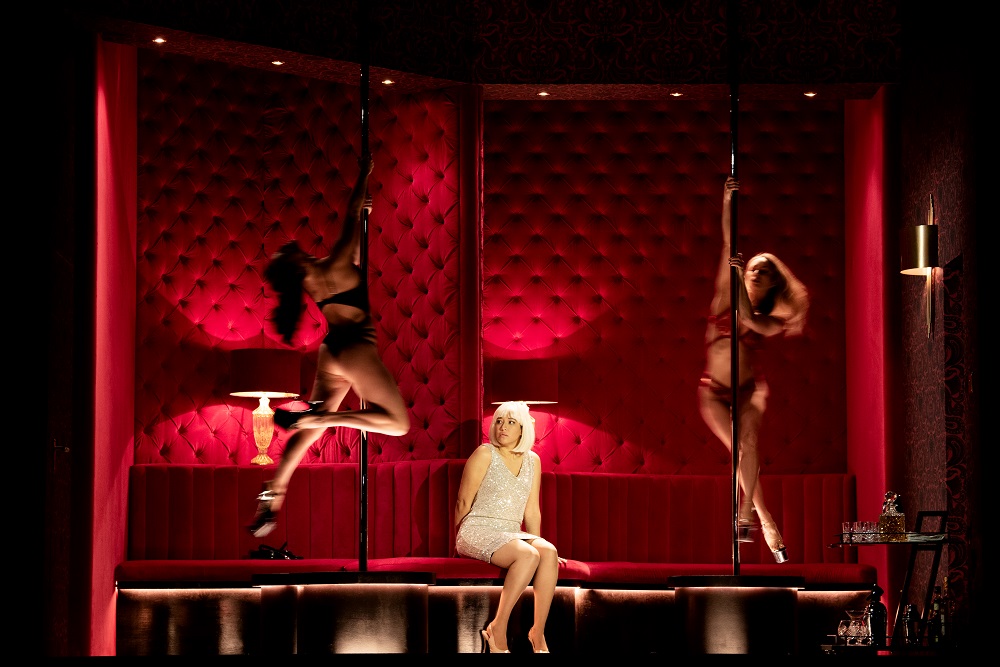 It does, I think, ultimately work as drama. Mitchell is on dangerous ground in the brothel to which Theodora is committed as punishment; the two pole-dancers, starting out in spooky concordance with Theodora's "With darkness deep", slightly outstay their welcome (pictured above), but the risky cross-dressing in the Theodora-Didymus duet comes at the end of a nicely-focused dramatic sequence, and stops just short of silliness. The ending is, shall I just say without spoiling the shock, not the expected martyrdom, and the overall symmetries and echoes match the work of Richard Jones at his best. Mitchell has a dedicated team ready to go with her rigorous demands, and the impact has stayed with me. I hope this Theodora, like the Glyndebourne one, is preserved on film – there's plenty worth revisiting.
The risky cross-dressing in the Theodora-Didymus duet comes at the end of a nicely-focused dramatic sequence
rating
Explore topics
Share this article