Monteverdi Vespers, La Nuova Musica, Bates, Wigmore Hall review - small venue, huge impact |

reviews, news & interviews
Monteverdi Vespers, La Nuova Musica, Bates, Wigmore Hall review - small venue, huge impact
Monteverdi Vespers, La Nuova Musica, Bates, Wigmore Hall review - small venue, huge impact
Balance between voices and instruments renews the magic of this 1610 masterpiece
Wednesday, 27 October 2021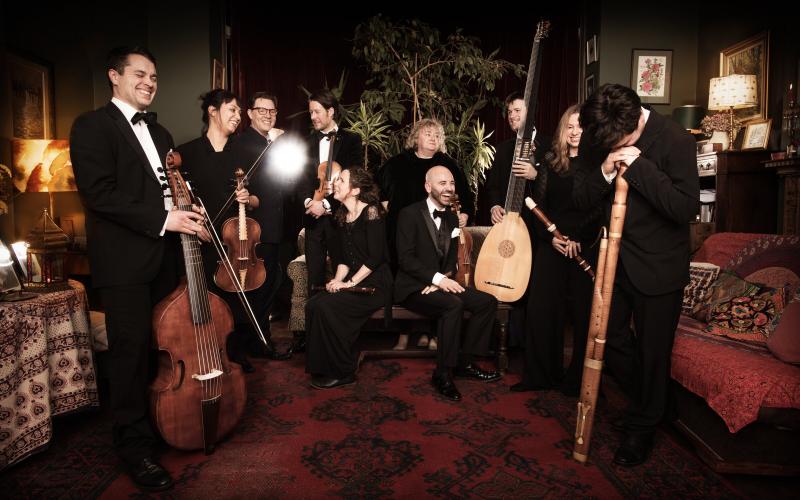 Drama and delight: La Nuova Musica
I last heard Monteverdi's Vespers of the Blessed Virgin, published in 1610, at Garsington Opera as the summer light of the Chilterns slowly dimmed across an airy auditorium dotted with singers who bathed us in scintillating meteor-showers of sound. Laden with spectacle, surprise and virtuosity, this piece was born in splendour.
Did Monteverdi, overworked in Mantua, write it specifically to secure a top appointment in Venice or Rome, or did he just want to bundle all his choral and instrumental grooves into one hulking, show-off package? Most performances tend to aim for splendour too. However, that magnificence need not arrive via big choral battalions housed in some reverberant basilica where the great "Amens" take about ten minutes to fade away.
At the Wigmore Hall, David Bates's always-compelling period-performance group La Nuova Musica had ten singers (at most) and 16 instrumentalists. That, for a start, shifted the balance of musical power. In this jewel-box of a room, sheer choral heft could still matter even in a one-to-a-part presentation. From the icy, shivering intensity of the "Dixit Dominus" to the triumphant cannonades of the closing "Magnificat", those mighty two handfuls of voices could envelop the hall with a roof-shaking grandeur. Yet, unlike in some traditional versions dominated by mob-handed choirs, La Nuova Musica's consort of instruments were never going to play second fiddle – or viola da gamba, cornetto and theorbo – in this space. We heard, more lucidly than ever, how the instrumental excursions and obbligatos – almost mini-concertos – complement the mix of old plainchant and new opera that Monteverdi writes into those sumptuously entwined vocal lines.
Singers and players together brought almost a crowd onto the modestly-dimensioned Wigmore stage. That meant some tricky but effective manoeuvres as vocalists came and went, especially when the individual voices – sopranos Joanne Lunn and Julia Doyle, tenors Ben Johnson and Alessandro Fisher – had to move in and out of their solos and duets. Even if this tiny patch forbade the long-distance choral effects of question and answer, call and response, that the Vespers demand in a cathedral-size venue, Bates's stagecraft still introduced plenty of variety. On opposite sides of the stage, Johnson and Fisher managed superbly the echo effects that Monteverdi adores in the "Audi coelum" duet. Meanwhile, the placing of the soloists in the monumental Marian hymn, "Ave Maris Stella", offset the ancient collective gravity of choir and brass against the tender individualism of a coming musical era. Sometimes it all looked a tight fit, but La Nuova Musica made us understand that Monteverdi's peerless command of the geography of sound is more than a matter of metres covered.
Directing from the harpsichord, and leaping up from time to time in bursts of well-focused energy, David Bates never missed a rhythmic trick in this most innately dramatic of all choral masterpieces. Massed-choir Vespers can sometimes drown the elastic, even acrobatic, shifts of pace and mood. Bates's attention to detail in tempi and dynamics packed every section with little – and not so little – coups de théâtre. A broad palette of vocal and instrumental colour took us from the driving, relentless beat of the "Nisi Dominus", with its polyphonic starbursts, to the sensuous, intimate operatic bliss of the soprano duet "Pulchra es". Lunn and Doyle were perfectly matched there, and throughout, not just in the solo motets but in ensemble pieces such as "Lauda Jerusalem", where they thrillingly pierced through the dark swell of the choir. As for Johnson's solo "Nigra sum", it had a luscious, romantic creaminess. In general, Monteverdi's theatrical rather than liturgical personality set the tone for La Nuova Musica, although – as in the "Ave Maris Stella" – occasional spells of ecclesiastical solemnity could return us to an older, statelier world.
The players enjoyed their place in the Wigmore sun. The twin theorbos of Eligio Quinteiro and Sergio Bucheli subtly enhanced many solo moments. They also helped power a fierce and pulsing rhythm section, to which Jacob Garside's viola da gamba and Gavin Kibble's bass violin also contributed hugely. All those vocal acrobatics need a rock-solid, hard-driving foundation underneath, and Bates's instrumental colleagues supplied it. Monteverdi lets the players take starring solos roles of their own in the sonata, with its dazzling accompaniments to the soprano prayer "Sancta Maria, ora pro nobis". We had to wait for it until after an interval, but then the players glittered and soared: Conor Hastings's and Helen Roberts's perky cornettos; Thomas Gould, Andrej Kapor and Rachel Byrt with rich-toned violins and viola; the fruity mellowness of the trombones (Martyn Sanderson, Sue Addison, Adrian France). Joseph McHardy's Baroque organ and Siobhan Armstrong's harp deepened an unusually lustrous texture: not as rivals to the singers' glamour and grace, but thoroughly equal partners.
Every element blended in a "Magnificat" that featured terrific ornamental touches from Lunn and Doyle, and tenor fireworks from Johnson and Fisher as the final "Gloria" exploded. You don't always associate the Wigmore with ecstatic receptions but, in this case, the audience matched the most ebullient opera crowd. And justly so: these chamber-sized Vespers had nothing frugal or threadbare about them. They proved that, with gifted musicians, and crisply directed, Monteverdi's box of magic tricks can cast as strong a spell in a neat casket as in a vast barn.
David Bates never missed a rhythmic trick in this most innately dramatic of all choral masterpieces
rating
Explore topics
Share this article