Mulroy, Aurora Orchestra, Kings Place review - old and new worlds of song
Mulroy, Aurora Orchestra, Kings Place review - old and new worlds of song
Soulful melody unites a musical meeting of London, Leipzig and Latin America
Pilgrim's progress: Nicholas Mulroy
You invariably come away from an Aurora Orchestra concert with ears refreshed and mind revived. As a storm swept across London on Sunday, the audience at Kings Place enjoyed their own cleansing wind in the form of this genre-spanning gig in the "Voices Unwrapped" season, led by tenor Nicholas Mulroy. It took us all the way from Baroque Europe to the socially-committed "new song" movements of modern Latin America.
Mulroy sang – with consistently fine tone, phrasing and colour, not to mention exemplary clarity of diction – in four languages (English, Spanish, Italian, German). Ten Aurora members ably supported him as a Baroque chamber ensemble that morphed smoothly into a Latin-tinged backing band. After a couple of numbers, I ceased to worry if the high concept behind this cross-continental, cross-century fusion really worked (Mulroy cites "themes of love, power, faith, and the poetic imagination"). It was enough that soloist and players combined to lead the way through an arresting, sometimes ravishing, landscape studded with vocal and instrumental treasures.
Elegantly backed at first by theorbo and viola da gamba, then a larger groups of strings, Mulroy began with a trio of Purcell songs. In the "Evening Hymn", followed by "The Sparrow and the gentle Dove" and "By beauteous softness mix'd with majesty", he balanced a precise, silvery serenity with flashes of drama: a hint of seething passion kept in reserve. Mulroy persuasively talked us through the logic behind his programme's stylistic leaps, reminding us that both modern ballad and 17th century air may grapple with "the pain and messiness of real life".
"Ojalá", with lutenist Toby Carr switching to eloquent guitar, was the first song by Silvio Rodríguez: a Cuban icon of the post-Revolution "Nueva Trova" musical wave. Mulroy chose various items that blend subtle melodic grace with lyric complexity. All the words mattered, as in this rapturously melancholy love song. He voiced them with a winning command of feeling, meaning and shape. Anyone who knows (say) the verse of Pablo Neruda will grasp that this generation of Latin American troubadours had no problem mixing political engagement with romantic, erotic yearning. The programme reflected that quest for a transformative bliss close to home as much as in the wider social world.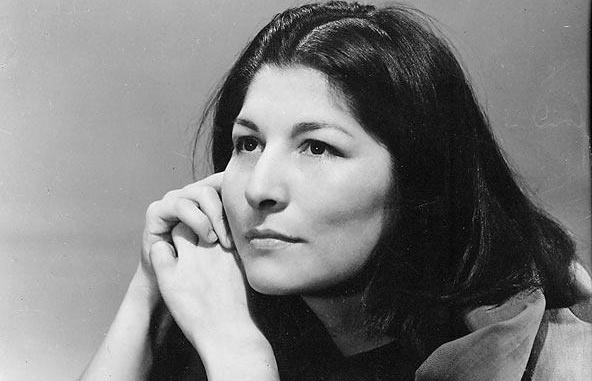 Two songs made famous by Mercedes Sosa – the great late 20th century diva of underclass protest in Latin America (pictured above by Annemarie Heinrich) – took us to Argentina. "Si se calla el cantor," sang Mulroy, "Calla la vida." If the singer falls silent, life does as well. The life-giving voices that he and his Aurora comrades channelled managed to unite art song and folk elements with a touch of catchy pop. They created a sophisticated version of the continent's home-grown bolero, but with dashes of chanson and even (sometimes) Lied. Mulroy's delivery clarified these songs' narrative and imagery as well as their emotion – especially vital in a visionary piece such as Ariel Ramírez's lament for a drowned poet, "Alfonsina y la mar": one of Sosa's signature songs. With the modern pieces, Ian Farrington's arrangements furnished the Aurora strings with parts to play that varied sensitively between sparse, warm and positively lush.
It did feel like a culture shock to hurry from Buenos Aires to Bach's Germany for the sixth Brandenburg Concerto. But the Auroras' tight chamber-group rendering – the twin solo violas, plus four lower strings and James McVinnie's harpsichord continuo – had such pulsing, driving fervour that excitement soon eclipsed any danger of musical jet-lag. The sheer drive, bounce and gusto of the outstanding violas – Hélène Clément and Ruth Gibson – and their accompaniment confirmed one paradoxical takeaway from the concert. You will find infectious, propulsive, foot-tapping rhythm in abundance in Baroque Europe, and plenty of dreamy, introspective, long-phrased melancholia in 20th century Latin America. So much for stereotypes.
After a break, Mulroy embraced one more place and style with a polished take on Monteverdi's "Tempro la cetra": another of the reflections on the art of song itself that punctuated his programme. Its soaring span showcased his solidity and clarity across a wide tenor range, warm and smoky in the lower reaches, with just a trace of vibrato. Silvio Rodríguez's much-loved number about losing a cherished "blue unicorn" – interpret that as you will – calls for rueful wit and throwaway charm, which Mulroy offered in style. The tone darkened with the tragic ballad "Te recuerdo Amanda" by the Chilean poet, playwright and singer-songwriter Víctor Jara (pictured below in Helsinki by Hanna Lindroos) – the beloved bard of liberation detained, tortured and murdered soon after the dictator Pinochet (so admired by Margaret Thatcher) came to power in 1973. Enhanced by Thomas Hancox's wistful flute, Rodríguez's "La Gaviota" tells of a soldier's desolate return from war, and confirmed a more sombre turn.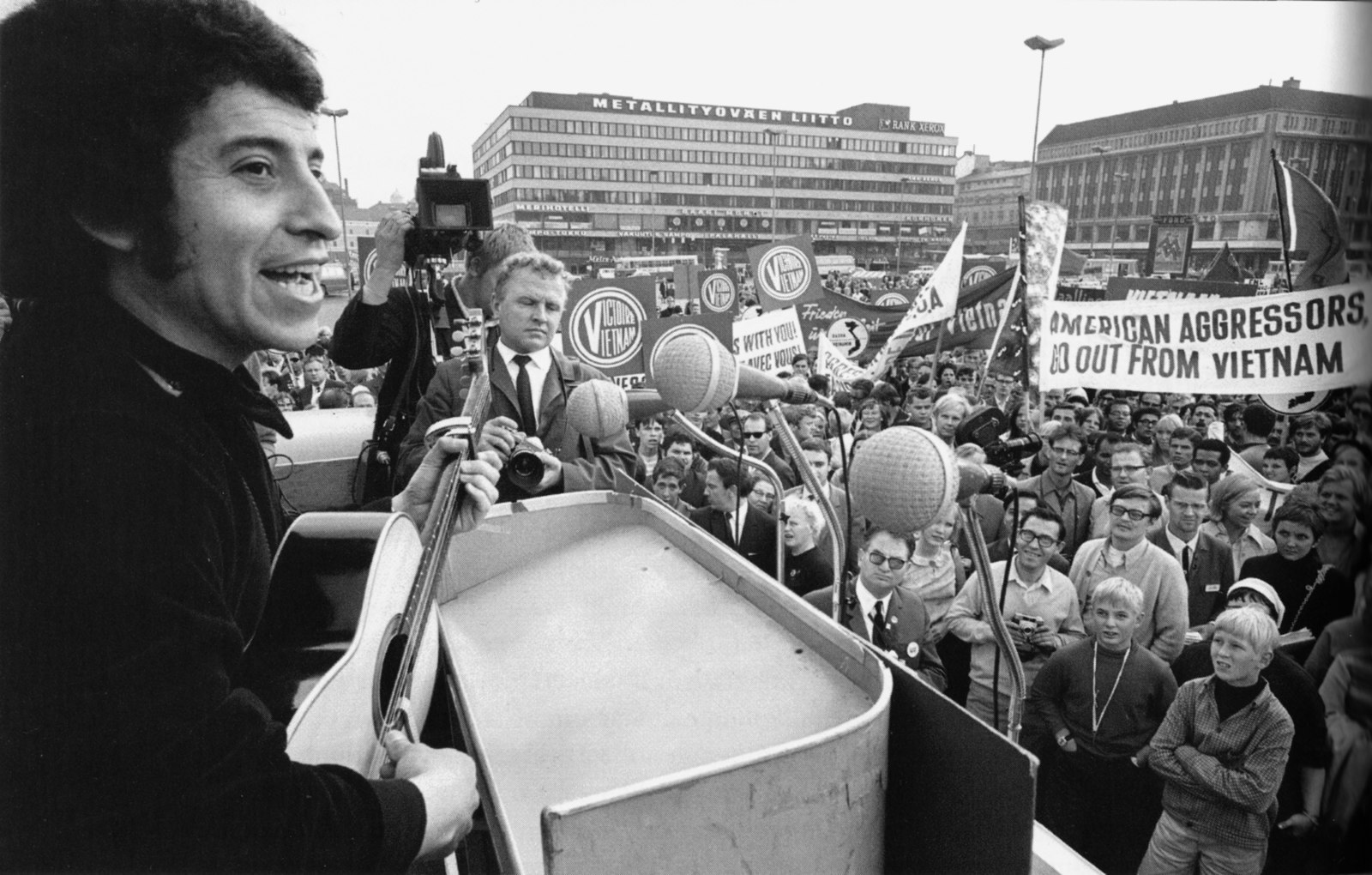 Mulroy closed, ambitiously, with a Bach cantata: the gorgeous, bittersweet Ich habe genug. With Rembrandt's late painting of the same passage from Luke's Gospel – Simeon witnessing the infant Jesus in the Temple – behind him, he explained how Bach's music converts the dying man's last act into "a moment of existential bliss", in which an ending becomes a beginning. Shaded and conflicted feelings had suffused many of the Latin American songs. Now that ambivalence reached its apogee as the farewell colours of the opening aria moved, via the lovely lullaby of "Schlummert ein", to the joyous, death-defying dance of "Ich freue mich auf meine Tod".
Hancox's tender, wandering flute intensified the contradictory sense of mournful merriment. Mulroy – clear and firm in aria and recitative alike – tempered the sweet sadness with an uplifting brightness and vigour. If the evening's voyage from Havana to Leipzig still felt a bit of a stretch, we finished it gratified by the quality and integrity of all the music-making on the way.
This generation of Latin American troubadours had no problem mixing political engagement with romantic, erotic yearning
rating
Share this article