Power, BBC Symphony Orchestra, Wilson, Barbican Hall |

reviews, news & interviews
Power, BBC Symphony Orchestra, Wilson, Barbican Hall
Power, BBC Symphony Orchestra, Wilson, Barbican Hall
Tudor rapper John Skelton inspires ribaldry and pathos from Vaughan Williams and dedicated performers
John Wilson: passionate as ever in British music
Blether on MasterChef about love and passion for one's craft has so devalued the currency that I hesitated in applying the terms to conductor John Wilson, last night moving from Hollywood and Broadway to another enthusiasm, tuneful British music. Yet who merits them better than he?
His brand of hectic brilliance was sometimes too much for the Barbican Hall's magnifying tendencies, but a keen-sprung technique – a word not used enough in culinary TV – leapt over some of the gloopier hurdles in an overture by Walton and a swoony concerto by York Bowen. With Vaughan Williams's Five Tudor Portraits, master conductor with equally accomplished players and singers in tow finally met master work, and at last everyone was happy.
It's not the fault of English composers if certain inherent qualities which are only part of the story brought in what felt like a UKIPish contingent to the audience last night. York Bowen, whose earlier works like the Viola Concerto of 1908 flourished in the pre-war hothouse environment and suggest film music way before the event, includes among the concerto's second-draw melodies an attractive enough low-register tune for his slow movement that all too soon slips into cowpat territory. Lawrence Power (pictured below) did everything he could to keep it clean and strong, and this most powerful – sorry, it's the only word – of the world's viola soloists swooped, soared and skedaddled through some thick orchestral textures.
Even he couldn't stop me wondering if Bowen's limited material might have been better suited to three miniatures for viola and orchestra rather than a long-winded concerto. There are two ways of looking at it: were you grateful for the chance to hear the great Power in anything, or did you regret a waste of talent when most of us haven't heard him in better stuff by Hindemith or Martinů? I incline to the glass half empty faction.
The mirth of Bowen's scherzando finale stood somewhere between the slightly heavy antics of Walton's Scapino Overture – Wilson at least exchanging the commedia dell'arte troop's thick boots for ruby slippers – and what to my ears is the totally proportionate wit of Vaughan Williams. Proportionate, in the case of the Five Tudor Portraits, to the tumbling human-interest poetry of John Skelton, at one stage tutor to Henry VIII.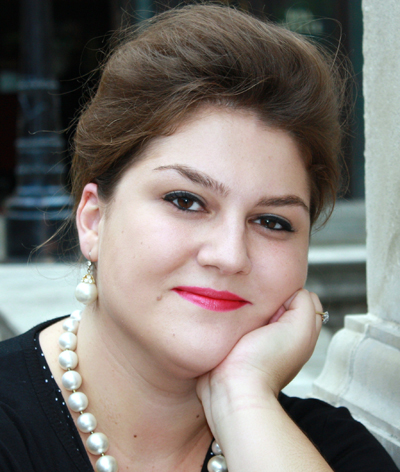 What a discovery among poets! Shortly before his death, Elgar had told VW that Skelton's metre was pure jazz; today it comes across as rap. The jazz element surfaces only in Tudor wide boy Jolly Rutterkin's final rout. But Skelton's doggerel still meets with masterly riots and waltzes in the opening ballad of fearsome brewster Elinor Rumming and her binge-drinking dames. The BBC Symphony Chorus spat out the earthy text with relish, while mezzo Rosie Aldridge (pictured left), stumbling realistically to her feet, combined superb instinct for comic timing – we shall be seeing more of her in future G&S – with an equally well-measured musicality as drunken ratbag Alice.
Bass-baritone Neal Davies charmed with the gracious intermezzo "Pretty Bess", while the choral men rollicked their good riddances to a malicious old clerk in the dog-Latin "Epitaph on John Jayberd of Diss". Vaughan Williams could not have known Orff's near-contemporary Carmina Burana, as Stephen Johnson's amusing note confirmed, but has his roisterers high-kick in similar style.
The queen of the five character-studies, though, is convent girl Jane Scroop lamenting the death of her sparrow Philip. And at what length – some 20-odd minutes of requiem, but varied between the luminously grief stricken ladies of the chorus and a now very sober Aldridge in heartbroken glory, between sentimental flashbacks and an avian funeral procession of unstinting inventiveness. This is as great a slow movement as Vaughan Williams ever composed, striking as few false notes as Puccini's Suor Angelica; a loving-radiant performance with the finest large-scale choral singing you could hope to hear did it full justice.
The choral men rollicked their good riddances to a malicious old clerk in dog-Latin
rating
Share this article