Prom 49: Schumann, Das Paradies und die Peri, LSO, Rattle review - knocking on heaven's door |

reviews, news & interviews
Prom 49: Schumann, Das Paradies und die Peri, LSO, Rattle review - knocking on heaven's door
Prom 49: Schumann, Das Paradies und die Peri, LSO, Rattle review - knocking on heaven's door
Rattle's crew proves that this epic rarity deserves a place among the stars
Wednesday, 23 August 2023
Spirit level: Lucy Crowe with Simon Rattle
Have Proms audiences heard it all before? Not by the longest of chalks. Remarkably, last night saw the festival's first outing for a major work by Robert Schumann.
True, an extract from his secular oratorio Das Paradies und die Peri once reached the Queen's Hall – in 1909. But now Sir Simon Rattle, with the London Symphony Orchestra and Chorus, had the chance to unroll the entire, sumptuously-threaded Orientalist carpet that Schumann completed in 1843.
Based on a tale from the Irish poet Thomas Moore's 1817 romance Lalla Rookh, this 100-minute hybrid – its blend of narration, solos and choruses sometimes blooming into fully operatic drama, sometimes shrinking into intimate song-cycle – is one of those potentially unwieldy choral blockbusters that Rattle, a long-standing champion of the work, knows just how to groom and tame.
In his hands, supported by the forces of the LSO's singers and players (pictured above) along with some stellar solo vocal contributions, the exotic rarity started to sound like a friend you might want to revisit often. Admittedly, you can't do much with the fanciful premise – a half-human fairy excluded from paradise must scour the world for a gift of human virtue that will please Heaven before the pearly gates open for her – or the orotund libretto of the work. It breathes all the sentimental sanctimony of a Romantic generation desperate to cling on to spiritual credentials as they shed orthodox Christianity. The bulk and scope of the piece, as the Peri flies to India, Egypt and finally Syria in search of the pure selfless deed that will unlock Heaven's door, means that some stretches do sag. Schumann, so often an exquisite miniaturist, does not always easily adjust to the epic dimension that contemporaries such as Mendelssohn and Berlioz – both of whom frequently came to mind – found congenial.
Yet the best is truly magical, with a gloriously rich melodic flow for the soloists, noble recitatives, and terrific passages of large-scale contrapuntal (and even fugal) choral writing. Rattle's cast served it splendidly. As narrator, Andrew Staples took on an Evangelist role (yes, you can hear echoes of the Bach Passions too) not just with firm, story-telling authority but refined moments of soaring tenderness. Magdalena Kožeńa sang the Angel (pictured below with Jeanine De Bique), who guides the Peri's spiritual (not to mention cross-continental) journey, with a vibrato-rich fruitiness that at first sounded more earthbound than ethereal. Later she settled into a groove of warm authority in which an almost bel canto lyricism joins hands with ecclesiastical uplift.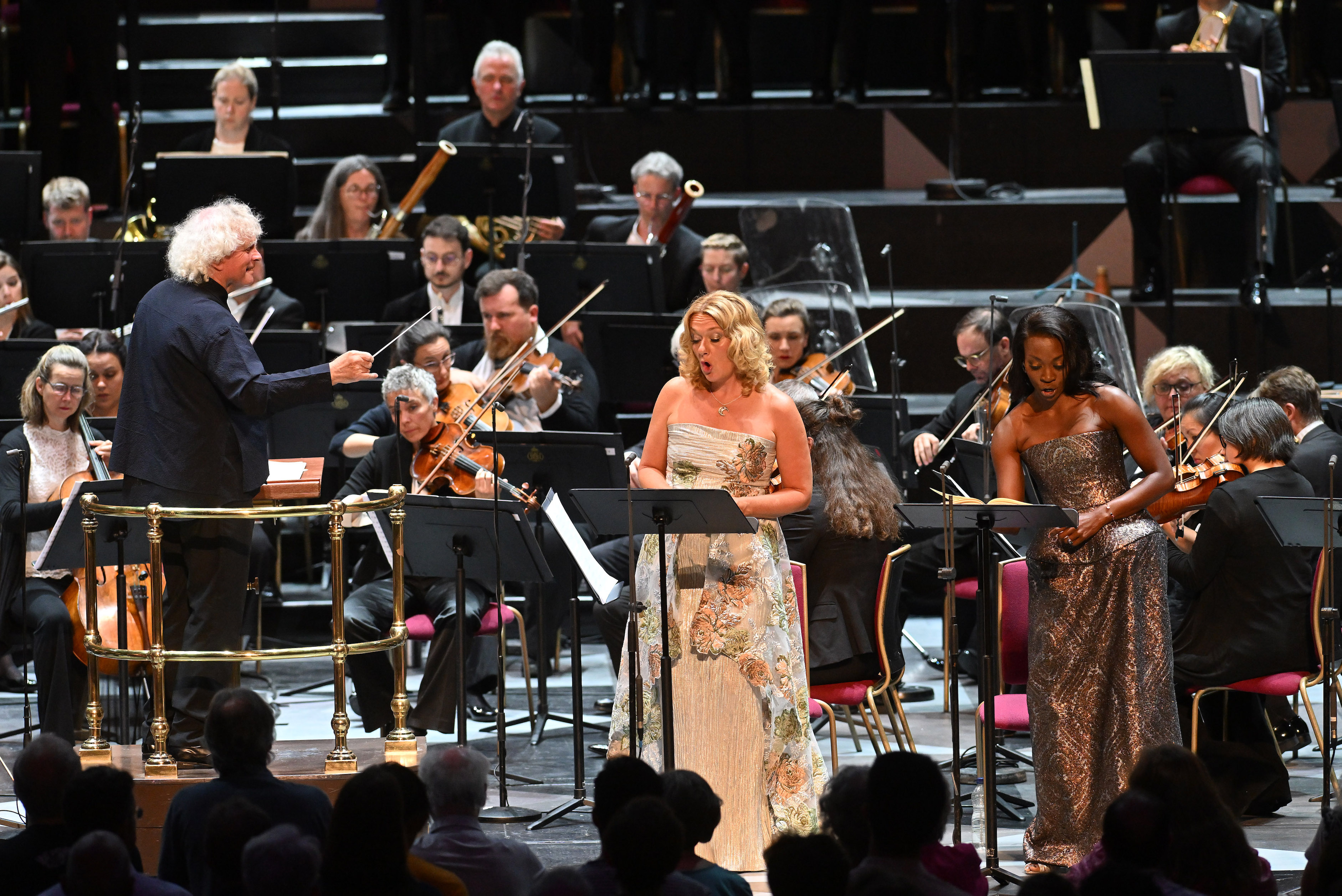 Stealing the spangled show, however, was Lucy Crowe's Peri. Her aerial, agile soprano was somehow both totally assured and deeply vulnerable as the outcast spirit who offers to heaven first a freedom-fighter's heroism, then a lover's deathbed sacrifice, before a repentant sinner's tear finally wins the stamp on her celestial passport. With a spellbinding upper register and winning poise and lustre across her range, she managed to make this creature of Romantic fantasy credible and moving. Indeed, as the Angel's tough love pushes the Peri from one task to another before the final blessing, the whole work began to remind me not just of Berlioz's multiform concert dramas but – of all things – The Dream of Gerontius. Since the disciplined yet expressive LSO chorus coaches and steers a questing soul towards bliss with hymn-like gravity, maybe that's not as absurd an analogy as it might sound.
In the smaller vocal roles, Florian Boesch's burnished baritone lent a satisfying terror to the Indian tyrant Gazna and a haunting radiance to his later aria, "Jetzt sank des Abends goldner Schein". Jeanine De Bique and Linard Vrielink showed strength and sensitivity as the plague-stricken lovers, with a finely phrased and paced farewell duet. Meanwhile, the LSO and Rattle (pictured below) negotiated Schumann's lavish buffet of instrumental effects with panache and versatility, from the martial "Turkish" timbres of wicked Gazna to the heavenly harp that joins the Peri's search for transcendence, and some mellow, moody horns. The chorus, directed by Lionel Sow, showed bags of character as well as fierce control, as vigorously omnipresent in the drama as they are in the Passions.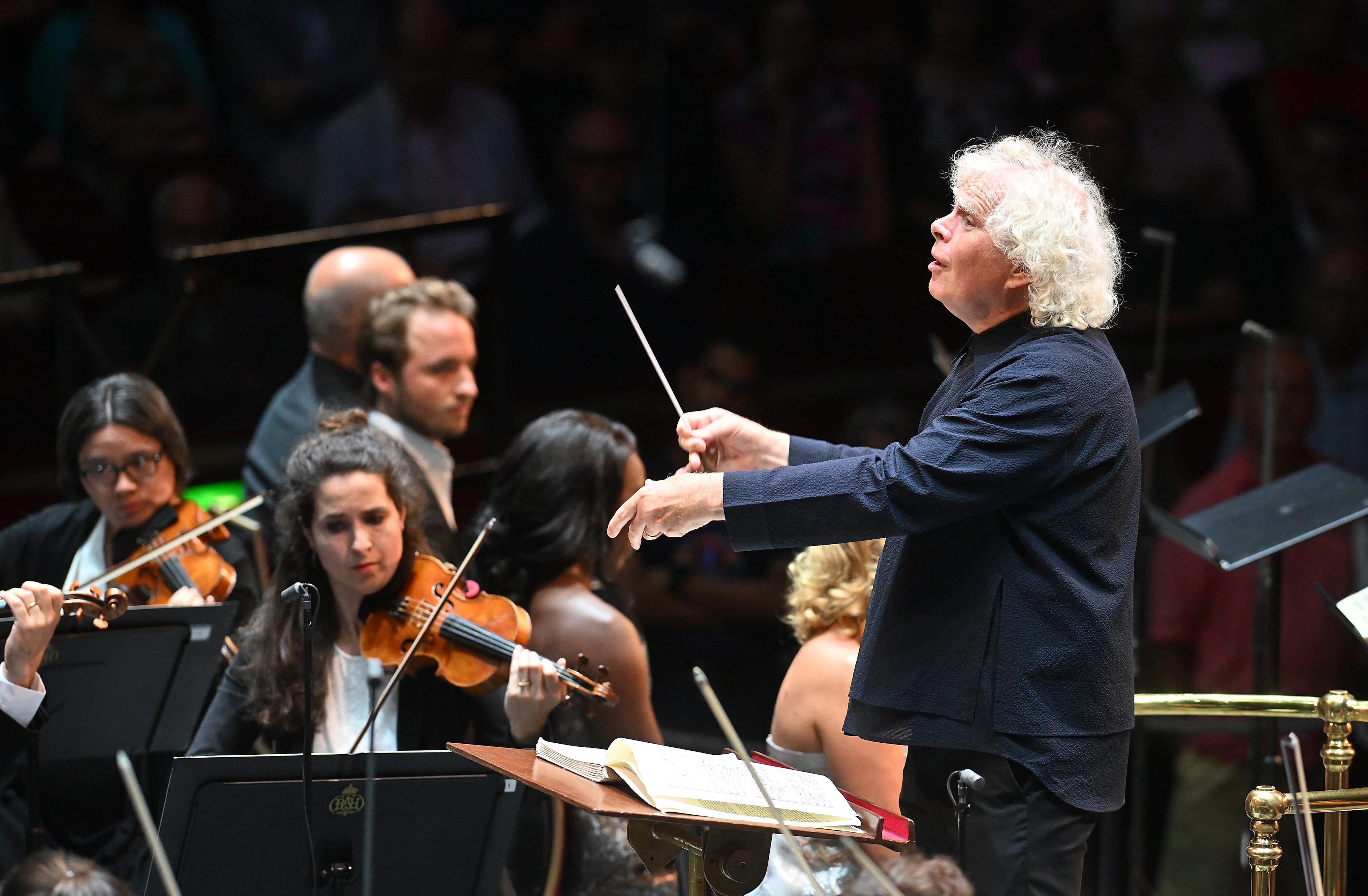 The sheer eclecticism of Schumann's modes here can bewilder. At the climax, after the liturgical holiness of the "triumph of a soul forgiven", the Peri's jaunty closing aria sounds as if the pert, smart serving girl has just outfoxed the randy count in some opera buffa finale. The words do sound overblown to 21st-century ears, and some recitatives linger in the doldrums. But Rattle made the frequent highlights sing and shine, as he magnified Schumann's gift for inwardness and intimacy onto this unlikely cinematic – even Hollywood-style – scale. The Proms, and the Royal Albert Hall, suited this grandly conceived oddity down to the ground – or up to the gods.
The whole work began to remind me not just of Berlioz's multiform concert dramas but – of all things – 'The Dream of Gerontius'
rating
Explore topics
Share this article