Prom 59, The Dream of Gerontius, Clayton, Barton, Platt, LPO, Gardner review - most sure in all its ways |

reviews, news & interviews
Prom 59, The Dream of Gerontius, Clayton, Barton, Platt, LPO, Gardner review - most sure in all its ways
Prom 59, The Dream of Gerontius, Clayton, Barton, Platt, LPO, Gardner review - most sure in all its ways
Elgar's time-become-space odyssey floats and soars in the perfect venue
Thursday, 01 September 2022
Allan Clayton, the dream Gerontius, with perfect partners Edward Gardner and the LPO
Asked which work suits capricious Albert Hall acoustics best, I'd say Elgar's The Dream of Gerontius, partly due to the choral billows – this year there's been an extra thrill about massed choirs – but also because the Kensington colosseum haloes this spiritual journey of a soul. Best singer in the space? Based on years of Proms experience, surely the palm should go to tenor Allan Clayton, ringing of tone and so clear in diction that you can hear every word.
So the work and the protagonist were assured before a note had been played. What really allowed everything to take flight, though, were Edward Gardner's sure footed pacing and projection of detail. Shortly beginning his second season as principal conductor of the London Philharmonic Orchestra at home in the Royal Festival Hall, Gardner (pictured below) passed the first-year test with flying colours in everything from the ebb and flow of late romantic masterpieces like this to the sharp-etched radiance of Tippett's The Midsummer Marriage and a daunting programme of new or very recent works. The Proms venue presented special challenges, not least the temptation to wallow.
Not a chance of that, from the effortless processional of themes in the spellbinding prelude onwards. Spring-heeled where necessary, turning every corner with no slack but never rushing, unpious in holy ectstasies or mystical agonies, Gardner took up Elgar's clear but miraculous trajectory without fuss or flash. He knows all the words, too. The Hallé and London Philharmonic Choirs, respectively trained to perfection by Matthew Hamilton and Neville Creed, showed a similar focus; for me there's always a slight lowering of idiosyncratic temperature in the choral interjections of Part One, but the Demons' Chorus, perfectly dovetailed with fleet orchestral turbulence, and massive build of the central "Praise to the Holiest" in Part Two were simply stunning, soprano top notes always pitch-perfect.
Pitch in the middle range seemed a bit of a problem at times for Jamie Barton (pictured below), ever so slightly under the note as the Angel glides in (the ineffable, weightless string reverie before it, though, could not have been more supernatural). But her thrilling high notes – she took the optional top A in the climactic "Alleluia" – and superb chest voice combined with ideal commitment. I'll listen again on the radio, because I fancy that hearing her from a position where she was angled slightly away from us may have diminished the live experience.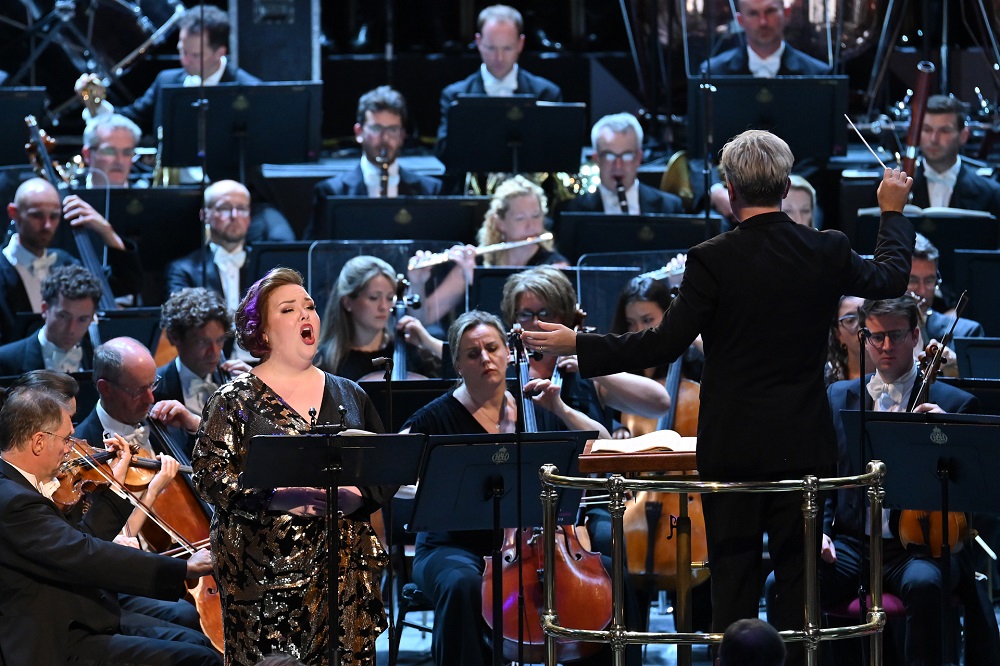 Clayton, on the other side of the conductor, was in full control of this insanely taxing (and sometimes awkwardly written) music for the dying and then transfigured Gerontius. While Gardner's approach was often theatrical, the tenor didn't act it out emotionally but kept it all in the voice. As with the conductor, you knew you were in safe and perceptive hands from the beginning, a timbre that was always fine-tuned to Elgar's incredible palette of orchestral colours – every inch as assured as that of Wagner, his master – and a pulling out of heroic stops where necessary. That peaked, as it must, in the moving-to-tears "Take me away", Gerontius's reaction to the split-second glimpse of God (what an impact the three extra trumpets made in the build-up to that blinding flash).
James Platt's Priest and Parsifalian Angel of the Agony had equal authority; what a difference it makes to have a true bass, and not just a bass-baritone, in these roles. Was it my fault if I hit the earth a bit in what should be the levitational (other) Angel's farewell? Gardner got the right mystic colours, but for once the end didn't quite crown the work for me. I'll listen again on Radio 3, but I'd already had my visions. And what a Proms year it's been, as planned, for the big masterpieces featuring big choirs, with Beethoven's Ninth and his Missa Solemnis still to come.
Gardner took up Elgar's clear but miraculous trajectory without fuss or flash
rating
Explore topics
Share this article