Prom 61, Cabell, Chineke! Voices and Orchestra, Edusei review - a thrilling, fiercely rational Beethoven 9 |

reviews, news & interviews
Prom 61, Cabell, Chineke! Voices and Orchestra, Edusei review - a thrilling, fiercely rational Beethoven 9
Prom 61, Cabell, Chineke! Voices and Orchestra, Edusei review - a thrilling, fiercely rational Beethoven 9
Crystalline clarity, and ravishing vocals from BBC Cardiff Singer of the World
Saturday, 03 September 2022
Elegance and fire: Kevin John Edusei conducts Chineke!
Last night's riveting, meticulous account of Beethoven's Ninth from the Chineke! Orchestra was as daring in its restraint as it was thrillingly revelatory. Right from the subtle shimmer of the first movement's opening cascades it was clear that this interpretation had put each bar under the microscope and found it teeming with new life.
This is, of course, not just one of Beethoven's most famous works, it is one of his most famously difficult; Donald Tovey called it "a law unto itself", while musicologist Nicholas Cook has written eloquently on its "diametrically opposed interpretations". After its first shambolic performances during Beethoven's lifetime it took decades for its reputation to recover – now it's so familiar, the challenge is to deliver an account that feels as deftly original as it is authoritative.
The symphony also, of course, bears the scars of the ideological battles that have been fought over it throughout the generations. Now the "Ode to Joy" is the European Union's anthem. Yet the Nazis' attempt to appropriate it remains infamous and it's perhaps even more relevant to the Chineke! interpretation that the rulers of the former apartheid regime of Rhodesia (now Zimbabwe) also claimed it as their own in the Seventies.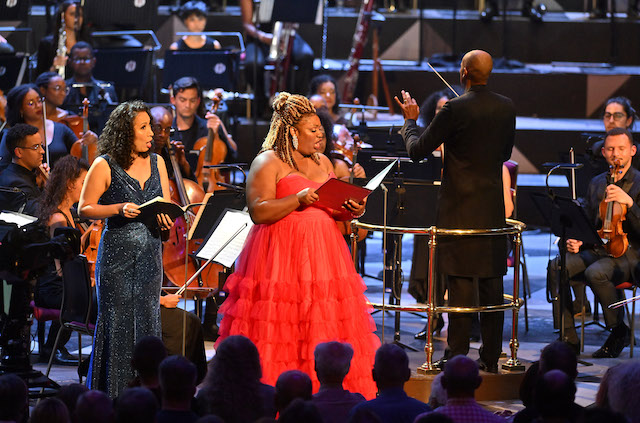 Within seven short years the Chineke! Orchestra has established such a reputation for the dynamism and quality of its performances that it's difficult to remember when it was a rarity to see black and ethnically diverse performers in mainstream classical venues. Yet even in an apparently much more tolerant society than the brutal Zimbabwe/Rhodesia regime we have a lot of catching up to do and to hear this orchestra give this mesmerising account of Beethoven 9 feels in its own way like a turning point.
German/Ghanaian conductor Kevin John Edusai has carved out a reputation for identifying the architecture of each piece he conducts and revealing it in all its shimmering articulated glory. Beethoven 9 is at certain points so formally experimental that the danger is for it to sound chaotic and muddy. Here, however, there was never any sense of stumbling intent – if there was a criticism it was that sometimes it sounded almost too efficient. Yet that crystalline clarity really paid off, especially in the third movement where it was possible to hear influences ranging from Beethoven's own "Pathétique" sonata to Mozart's Serenade for 13 Wind Instruments.
The evening opened with a performance of George Walker's Lilacs, which won the Pulitzer Prize in 1996. This setting of Walt Whitman's elegy in memory of Abraham Lincoln forms an interesting textual companion to Schiller's Ode to Joy; both take profound political emotions and elevate them into an expression of the sublime. The performance introduced the celebrated American soprano Nicole Cabell (pictured above on the left), whose ravishing sonorous voice swooped in counterpoint to Walker's shivering jagged orchestration. It was an arresting opening to an evening that would prove as notable for its musical elegance as its richness.
After the agile account of Beethoven's first movement, which built to thunderstorm intensity in the final bars, the orchestra moved to a tightly controlled molto vivace. This is the movement in which Beethoven the revolutionary painted with silence as much as with noise and Edusai's rigorous definition paid off handsomely here. The melodic use of the drums – which would inspire composers from Berlioz to Stravinsky – was effectively and quite literally highlighted by placing the drummer separately from the rest of the percussion above the orchestra (pictured below). The tenterhook spikiness of the strings was offset by the rich lyricism of the woodwind passages.
As with the first movement there were moments when it felt a little too exact, a little more about the rationalism of the Enlightenment than the thrilling insights. Yet in the third movement any doubts fell away. In this extraordinary adagio there were moments when it almost felt as if you were being given a window into Beethoven's mind, watching the different musical ideas unfurl and interact. What could have come across as diffuse and fragmented was instead revealed as a rich mosaic of sound from a man burning to express the complexity of his world.
Like an actor grappling with "To be or not to be", in the fourth movement the musicians must spend as much time avoiding cliché as excavating nuance, and this sophisticated interpretation did just that. Edusai built up the layers like a geometric puzzle so the themes glittered and refracted. Bass-baritone Ryan Speedo Green delivered a compelling opening to the dialogue before the choir, Chineke! Voices, made the Royal Albert Hall dome and auditorium resonate with the iconic harmonies. The deceptively effortless reach of Cabell's voice made its mark here, with assured support from mezzo Raehann Bryce Davis and tenor Zwakele Tshabalala.
There were some fragile moments – including a couple of bars where the sopranos sounded slightly sharp – yet ultimately this performance demonstrated the stupendousness of Beethoven's achievement: the fight between rationality and madness, the multiplicity of musical ideas, the reaching from a stormily imperfect world into a more exalted dimension. Cook talked about the symphony being "a construction of mirrors, reflecting and refracting the values, hopes and fears of those who seek to understand and explain it". At a time of epic geopolitical and climatic turbulence, last night Edusai revealed it yet again as a symphony for our times.
Sometimes it felt a little more about the rationalism of the Enlightenment than the thrilling insights
rating
Explore topics
Share this article