Prom 69: Balsom, BBC Concert Orchestra, Lockhart |

reviews, news & interviews
Prom 69: Balsom, BBC Concert Orchestra, Lockhart
Prom 69: Balsom, BBC Concert Orchestra, Lockhart
A solid concert in a season of stand-outs
Monday, 07 September 2015
Alison Balsom: an articulate soloist in Guy Barker's new trumpet concerto 'The Lanterne of Light'
You can see the logic to the programming of this year's Free Prom: famous opener with a good tune (Saint-Saëns's Danse Macabre) to help wash down the new commission (Guy Barker, The Lanterne of Light), before we all get down to business with a nice choral shout (Carmina Burana). If that sounds cynical it's really not intended to – getting this annual gift of an event right is crucial to the future of the festival itself, reaching out to the classical undecideds and getting them in to make up their own minds.
It was a persuasive programme, but one that, in performance, just lacked the magic that goes beyond energy and intent – that strange transformative effect that this hall and this festival can so often create. It didn't help that Carmina Burana was chosen as the showcase for two of the BBC's latest New Generation artists. While soprano Olena Tokar got off more lightly, able (for the most part) to coax her fuller voice into melodies that move from innocent to ecstatic over the course of three ever-intensifying solos, baritone Benjamin Appl really struggled with a part he had no business being cast in.
This young German baritone has a lovely, light voice and the kind of instinctive musicality that makes you want to dash to the Wigmore to hear him sing lieder. What he doesn't have (nor should be expected to deliver) is the kind of raw heft and darker bass colouring that this role in this space requires, nor the extreme vocal effects and comic trickery that are so key to its success. He gamely stepped into the Abbot's wine-sodden vestments, playing the crude comedy for all he was worth, but simply didn't have the textural extremes in his voice to characterise this gloriously vulgar music. It wasn't an issue that tenor Thomas Walker (pictured right by Chris Christodoulou) suffered with, dispatching the dying swan with horrible skill and plenty of mime, selling it to a crowd keen for fun.
The massed forces of the BBC Symphony Chorus, London Philharmonic Choir and the Southend Boys' and Girls' Choirs were marshalled with characteristic precision by Keith Lockhart. Grandeur and detail we had in plenty, but just occasionally it would have been good to hear the singers and the BBC Concert Orchestra on just a slightly longer leash. This is, after all, a glorified dirty song, and a little less choral society and bit more after-hours-down-the-pub might have been nice.
Alison Balsom was the articulate soloist for the world premiere of Guy Barker's trumpet concerto The Lanterne of Light. In a smart bit of programming, Barker's American-accented score with its jazz inflections and cinematic textures anticipated much of what we'd hear after the interval in Carmina, showing off the orchestra's many textural personalities. Based on 15th century tract, the work is a Paradise Lost-lite – a whistle-stop tour from Heaven to Hell with plenty of demons, temptation and sin along the way (pictured below, Barker, Balsom and Lockhart last night by Chris Christodoulou).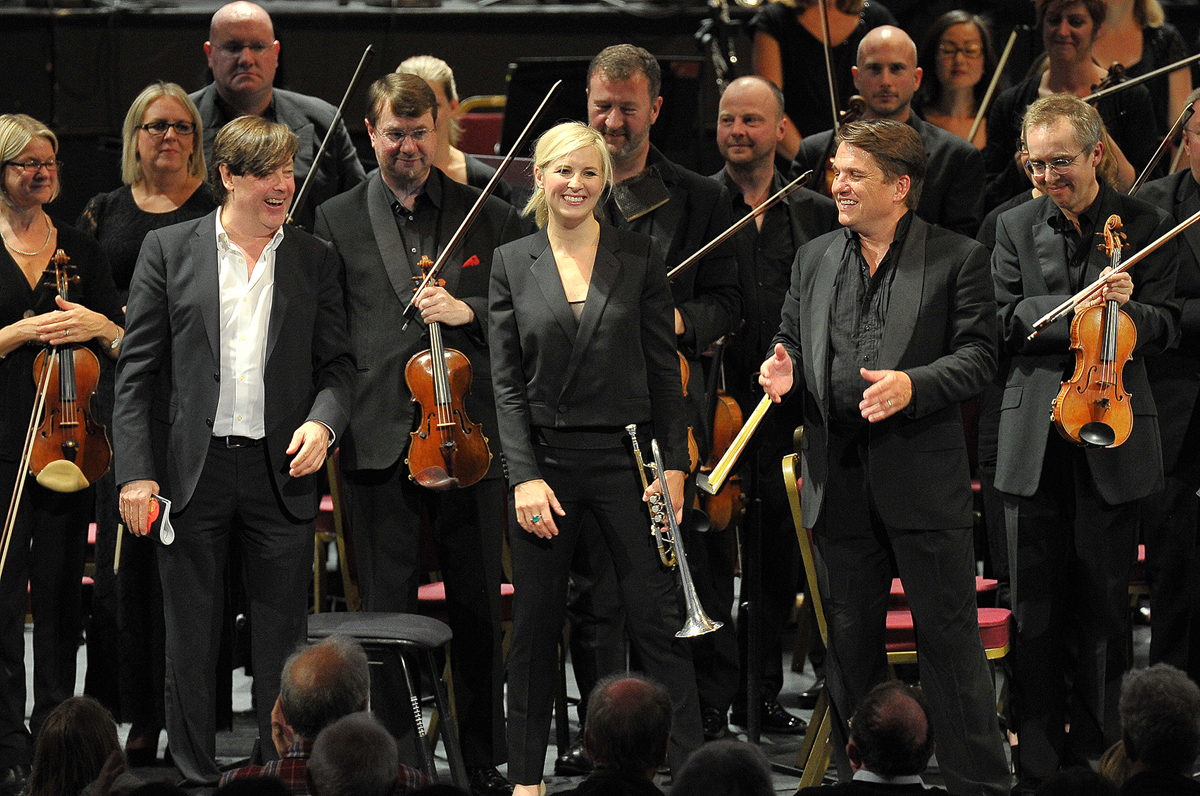 Balsom sold the work persuasively, moving between instruments to generate everything from electronically-enhanced sonic effects to straight virtuoso fanfares, with a particularly effective detour midway into jazz and a tango heady with cigarette smoke and sex appeal. Effective and carefully framed in this programme, the real test for Barker's attractive, if a trifle anonymous, concerto will be whether it can muster repeat performances.
As we get nearer to the end of the season thrills need to get bigger and more extravagant (even if that extravagance is the excess of minimalism, as Saturday's Yo-Yo Ma Prom demonstrated). Perhaps a few week ago this Prom might have startled more stars from me, but spoilt with so much superb music-making it felt too much like just another night at the musical office.
Read theartsdesk's reviews of other concerts from the BBC Proms 2015
@alexacoghlan

The massed forces of the BBC Symphony Chorus, London Philharmonic Choir and the Southend Boys' and Girls' Choirs were marshalled with characteristic precision by Keith Lockhart
rating
Share this article