Psappha, Kok / Kempf, Northern Chamber Orchestra, Stoller Hall, Manchester review - new and old |

reviews, news & interviews
Psappha, Kok / Kempf, Northern Chamber Orchestra, Stoller Hall, Manchester review - new and old
Psappha, Kok / Kempf, Northern Chamber Orchestra, Stoller Hall, Manchester review - new and old
Classics come in two sizes at Manchester season openers
Saturday, 29 September 2018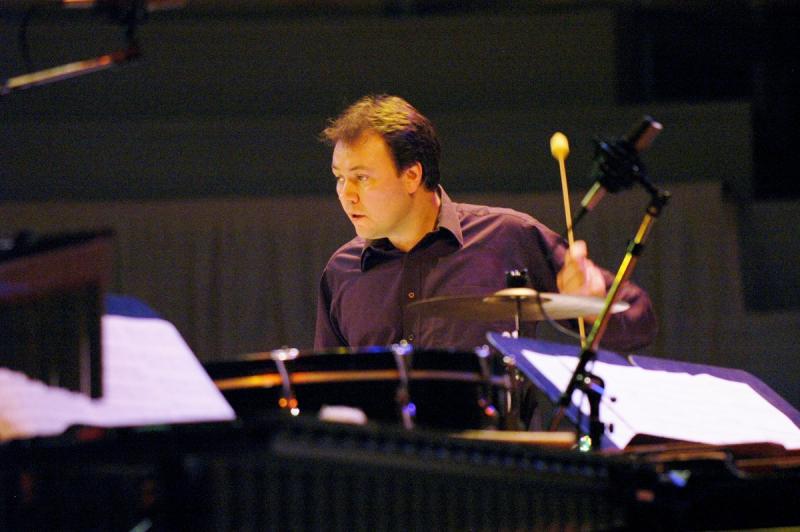 Tim Williams of Psappha - musician and film-maker
The Stoller Hall, the modest-size auditorium inside Chetham's School of Music, is really proving itself to be the venue Manchester has long needed this season. Two concerts on successive days, each the first of a series and both making something of a statement, proved that.
On Thursday Psappha opened its Manchester season there (the remaining performances are at St Michael's Ancoats) with three guest singers and a second half that was as much music theatre as concert. "Four iconic works from the 20th century" was the subtitle, but the initial focus was on two pianos and two pianists, as Paul Janes and Benjamin Powell served up Lutosławski's Variations on a Theme of Paganini and then (with the help of Tim Williams and Oliver Patrick) Bartók's Sonata for Two Pianos and Percussion.
I can hardly describe the intensity of effect produced in this performance
Nazi-era music both – the Lutosławski was written in 1941 for the composer and his friend Andrzej Panufnik to play in private or semi-private during the German occupation of Poland; the Bartók is from 1937 when its creator found his haven in Switzerland and was commissioned by Paul Sacher of Basel orchestra fame. It's surprising how cheerful much of the music is, the Lutosławski – which is based on that Paganini Caprice theme and indeed deconstructs and re-writes the whole thing – being in some ways an exhilarating send-up which would make an excellent encore piece, and it certainly set Psappha's season off to a flying start. Virtuosity was there as standard, and the players enjoyed the expansion of the original's musical language in schmaltzy harmony (there from the start) and vivid textures allied to electrifying rhythmic precision.
Bartók's sonata is a big piece, mainly created by the pianos and punctuated by the percussion, and in its first movement the musicians created the drama of sonata-form story in full measure – tension building through the slow introduction, a thrilling acceleration into the main argument, a peak of intensity in the development, and a swift dispatch of the remainder. Apprehension was the salient quality of the haunting and haunted adagio (as in much late-1930s music), and the finale, positive on the surface, came across with the ambiguous blend of heavy-footedness, forced jollity and questioning fade-out we often think of as Shostakovich's speciality – a remarkably insightful performance indeed.
"Gesamtkunstwerk in miniature" might have been a description of what came next: Kurtág's Scenes from a Novel (1982), performed by Gillian Keith (pictured right) with film of dancer Rosanna Reberio made by Tim Williams, directed by Elaine Tyler-Hall, with the music from just three instruments: cimbalom (Tim Williams), violin (Benedict Holland) and double bass (James Manson). The words are relatively brief and, as the title implies, evocative – it's a song cycle and at the same time a theatre event (like Tell Me on a Sunday, but in a very different style).
I can hardly describe the intensity of effect produced in this performance, as the texts were interpreted not only by dance (projected on two different-sized and differently angled cloths, sometimes simultaneously) but also by Gillian Keith with her own repertoire of movement added to singing of consummate skill and precision. The black-and-white film on slightly tousled white cloths conveyed a quality of distance – the presence of memory, Tyler-Hall calls it – which counterpointed with the real presence of the singer, sometimes one apparently mirroring the other, sometimes not. The two could marry their feeling and they could oppose each other, and every station in between. It was a truly extraordinary experience and if you get the chance to see the TV version on Psappha's website then take it.
Finally came the most ambitious item of the programme, with Gillian Keith joined by singers Jessica Gillingwater and Alexander Robin Baker and a full turnout of Psappha musicians conducted by Nicholas Kok. This was Ligeti's Aventures and Nouvelles Aventures (from the early 1960s), which are essentially similar in their use of wordless vocalisation and instrumental bumps and squeaks. It's tempting to say that the pieces are as daft as much of the stuff of that era (believe me: I was there): they're certainly funnier than most and the realisation of the score was done with breathtaking skill, so I think I'd better stop at that.
On Friday the Northern Chamber Orchestra opened its Stoller Hall series with Freddy Kempf (pictured left) as its soloist. The NCO, Manchester's senior chamber orchestra, is building a new audience for itself at the venue, after many years without its own city base. It may be filling a space left as Manchester Camerata becomes more radical in programming, and this concert proved there's room for mainstream repertoire played by a dedicated chamber orchestra alongside the big beasts up the road at the Bridgewater Hall.
The NCO's unique (or rare) quality is that it's conductor-less. Leader Nicholas Ward and his experienced band of men and women are able to produce very good performances without a stick-waver in front of them. But there are some limitations, and it's interesting to hear how they overcome them. Mendelssohn's Fingal's Cave overture was at times a little becalmed, the flexibility of rhythm and phrase that a clever conductor might have added to their classy playing being inevitably absent, but there were beautiful moments when soloists could shine.
Kempf's playing of Beethoven's Piano Concerto No. 3 was what lifted and lit up the evening. He didn't wave his arms at the orchestra, but it's amazing what the eyes can do, and how a soloist can set an example. His subtlety of expression and variety of articulation are known to anyone who's heard his playing before, and in the Largo he brought a wealth of imaginative ideas to the solo part.
The NCO ended with Beethoven's "Eroica", after a brief rationalisation of their approach spoken by Nicholas Ward. It amounted to the practice of collective wisdom rather than doctrinaire theory, but speeds were as lively as safety permitted and I noticed a near-total lack of vibrato in the funeral march, so some historically informed ideas were there although they were using thoroughly modern instruments. The Eroica can be played as chamber music (it had similar sized forces for its premiere, and that was in a fairly small auditorium), and this was thoroughly refreshing.
Northern Chamber Orchestra programme repeated tonight at Macclesfield Heritage Centre and Sunday at St John's Church, Buxton
Virtuosity was there as standard, and the players enjoyed the expansion of the original's musical language
rating
Share this article