RSNO, RCOS Students, Søndergård, Usher Hall, Edinburgh - a massive gesture of solidarity |

reviews, news & interviews
RSNO, RCOS Students, Søndergård, Usher Hall, Edinburgh - a massive gesture of solidarity
RSNO, RCOS Students, Søndergård, Usher Hall, Edinburgh - a massive gesture of solidarity
From Scottish maelstrom and Norwegian trolls to a Bavarian mountain-top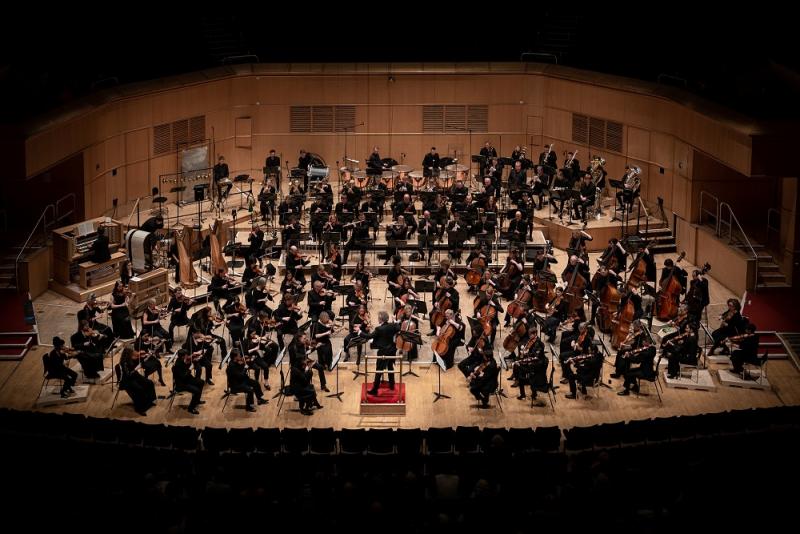 Massiva mountain expedition: Thomas Søndergård conducts Strauss's 'An Alpine Symphony'
In my last review from Edinburgh, I remarked on the sheer size of the National Youth Orchestra of Scotland, with over 100 players on stage.
Little did I know that two weeks later the Royal Scottish National Orchestra would swell its ranks with around 50 young students from the Royal Conservatoire of Scotland, taking the total number of musicians to over 130. This was for a performance of Richard Strauss's
An Alpine Symphony
, a somewhat gargantuan piece at the best of times, but here rendered with almost overwhelming volume.
But that was after the interval. The RSNO began the evening, the first I have been to since mask-wearing ceased to be a legal requirement, at conventional strength with a piece called Fèin-Aithne by the young Scottish composer Jay Capperauld (pictured below by Euan Robertson), which was first performed in 2016 by the BBC Scottish. The title is Gaelic, and translates as Self-Identity – in his programme note Capperauld explains how he tries to "explore, interpret and adapt my relationship to Scotland" while challenging the "accepted constructs, notions and preconceived stereotypes associated with the defined identity of Scottish Culture."
That's a lot of soul-searching to squeeze into a 12 minute piece, but luckily Capperauld has a finer grasp of orchestral nuance than his sententious prose would suggest. He adds that the piece will be continually updated to reflect his current viewpoint – a novel approach that aligns the world of composition to that of the mobile phone. This version was revised in 2022, and begins with an all-out assault from every section of the orchestra, a wall of sound underpinned by motoric rhythms and a pounding bass drum.
Under Thomas Søndergård's crisp direction (the conductor pictured below by Sally Jubb), it's quite impressive: in the barrage of sound you can pick out fleetingly rich harmonies, folk tunes, a jig or two, eddies of interest swept along by an almost unstoppable flood of noise. When it does die down, fleetingly, there are moments of rare orchestral magic. Harp, celesta and ethereal percussion rise above the orchestral tapestry, much as a river plunges over a waterfall only to become, ten yards downstream, a babbling brook again.
The Swedish composer Hugo Alfvén is not that well known on the British concert platform, though his Bergakungen Suite has a robust following at home. Extracted from the eponymous ballet, which translates as The Mountain King, the suite has four short colourful movements lasting about 16 minutes. "Bersvarjelse" (Invocation) hints at the strident rhythmic drive of Stravinsky, "Trollfickans dans" (Dance of the Troll Maiden) gets to the verge of a passionate romance, "Sommarregn"(Summer Rain) is a magical watery portrait, and "Vallflickans dans" (Dance of the Shepherd Girl) is a lighthearted whirlwind, punctuated by three insistently repeated notes, that is a popular encore piece in Sweden. I was reminded of the same composer's much more famous Swedish Rhapsody.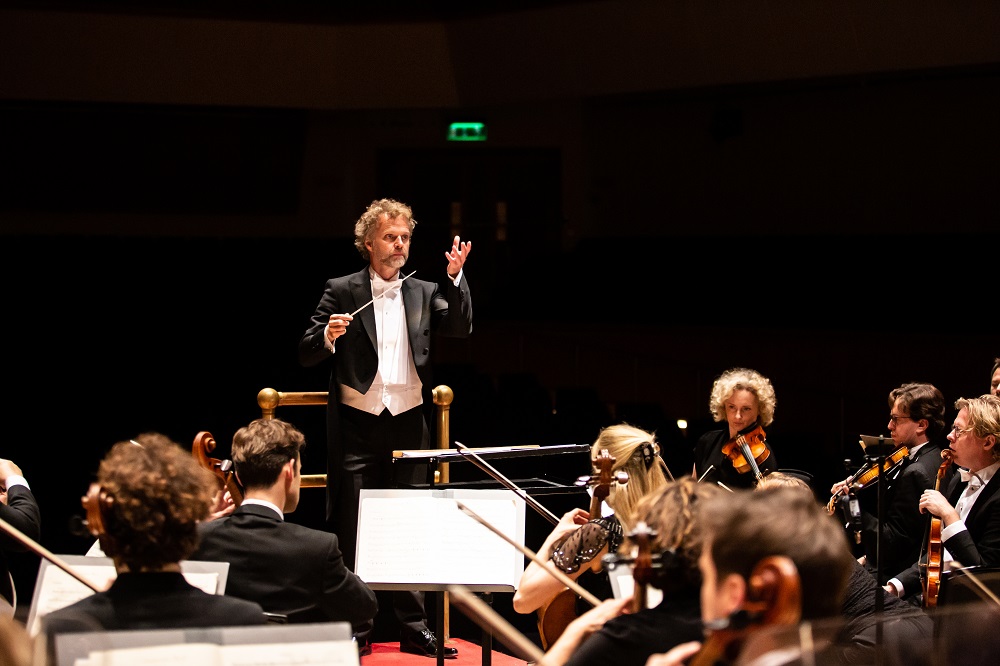 And so to Strauss: An Alpine Symphony has always sat slightly apart from the composer's other tone poems, being by turns popularly picturesque, sumptuously gorgeous, effortlessly tuneful, frighteningly demonic, and underlaid by Hammer Horror interjections from a large organ – a rare opportunity for the Usher Hall's fine civic instrument to breathe heavily over us all. Did such an already over-the-top piece benefit from an extra 50 or so players from the national conservatoire? In terms of sheer volume, the effect was noticeable, almost to the point of reaching sonic saturation in the hall. But this was more than a simple exercise in vastness, it was above all a gesture of hope and solidarity from one fine musical organisation to another, a beacon of expectation that these fine young players, who have scarcely known any sort of public performance these last two years, will in due course be able to put masks and Covid behind them and take to the world's concert platforms like the generations before them.
Luckily Jay Capperauld has a finer grasp of orchestral nuance than his sententious prose would suggest
rating
Explore topics
Share this article