Sean Shibe, Wigmore Hall review - mesmerising journey from light to dark |

reviews, news & interviews
Sean Shibe, Wigmore Hall review - mesmerising journey from light to dark
Sean Shibe, Wigmore Hall review - mesmerising journey from light to dark
Acoustic guitar magic against intense silence contrasts with electric monsterpiece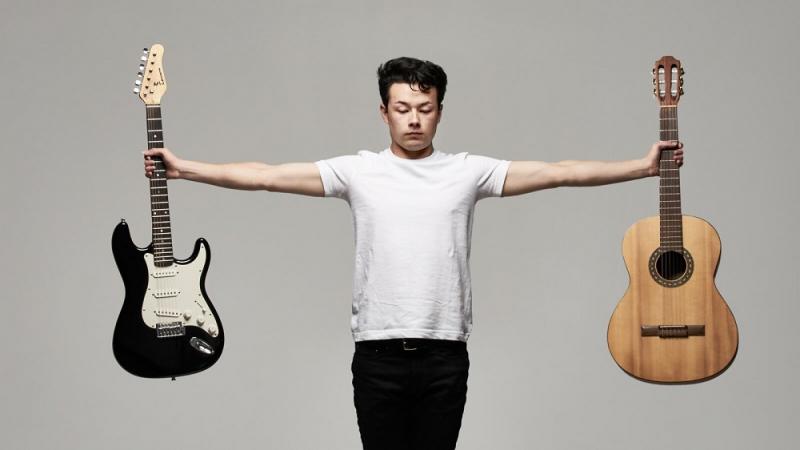 Loud and soft: Shibe runs the gamut from electric to acoustic guitar
"All true spiritual art has always been RADICAL art": thus spake the oracular Georges Lentz, composer of the pitch-black odyssey for electric guitar that took everyone by surprise last night.
In that vein, why not add that all the greatest performers always push the boundaries, and that 28-year-old Sean Shibe, though included by the sponsors of this concert among "emerging talent", is already in their select company. This amazing
Wigmore
concert took us from a first half of fragrant miniatures by David Fennessy and minimal magic from Sofia Gubaidulina elided into radical Bach to the "painfully loud" (Lentz's instruction) start and finish of
Ingwe
(= night, says the composer, though the Xhosa word means "leopard"), embracing so much electric range in between those iconoclastic pillars.
The "natural" part achieved within seconds that total, intense silence of concentration within and between movements from an encouragingly mixed audience Shibe has won in every live performance I've heard him give: concert almost as holy communion, the sort of thing I've only witnessed it this level from the septuagenarian pianist Elisabeth Leonskaja. And after hearing some pianists sounding way too loud in this venue, the Wigmore acoustic is perfect for (non-electric) guitar. That Ingwe had a different effect – multiple walkouts from unanticipated noise levels and even, perhaps bewilderment (some of the younger listeners left in the quiet bits) – was only to be expected.
Shibe's concept was a bold extension of his softLOUD programme, captured on a perfect CD (when I first heard it in the Fife seaside town of Anstruther, earplugs were handed out at the door – unnecessarily, as it turned out, but the Wigmore should have been briefed to offer them here; it's tiring to hold your arms to keep fingers in ears for damage-free listening). He has spoken about the illusion of range, colour and depth that has to be searched out on acoustic guitar – which for the listener, of course, is hardly illusion – and how that made him thankful for the discovery of all that its electric counterpart can offer.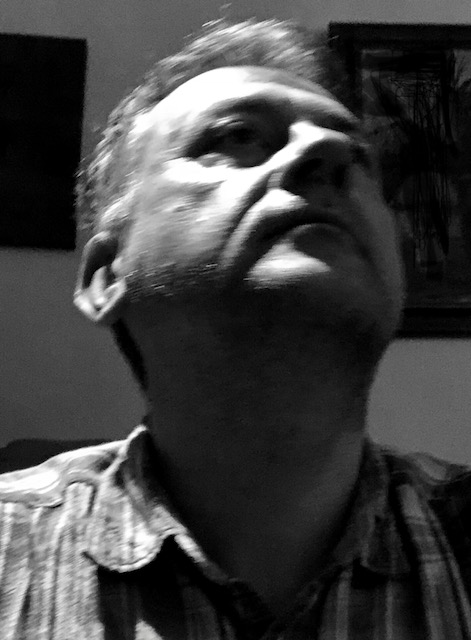 For softLOUD he made his own transcriptions of Steve Reich's Electric Counterpoint and – a revelation – Julia Wolfe's LAD, originally for nine bagpipers, for his own live performance with multiple recorded selves. In the case of Ingwe, he found and worked intensively with a composer who conceived this epic, in itself part of a "life's work" cycle for various forces, "Caeli enarrant", for the instrument. Sydney-based, Luxembourg-born Lentz (pictured left) tells us how he was driving through the New South Wales outback and, stopping in the small town of Brewarrina, heard an Aboriginal guitarist tuning up for an evening concert. He heard in the raw sound "loneliness and desolation" – his own, reflecting a dark night of the soul and a walk through the valley of darkness after the religious affirmation which kicked off the "Caeli enarrant" series in 1994.
Shibe, swapping black-and-silver shirt for orange-red jump suit – needed partly for the capacious pockets out of which he could pull the moderators of various sound effects – guided us theatrically, with occasional silent screams, through what can sometimes feel like an improvisation with guidelines; actually only a few minutes are improvisatory, while the rest is rigorously notated. He also drew on those extraordinary resources of his which thread lines on both the smaller – acoustically, phrase-sustaining – and larger scales. There are cracked-mirror reflections of Gregorian chant, melismatic theremin-like meditations, ghostly overtones and full exploitation of high and low registers; the work ends, most stunningly of all, with a parade of chords descending into depths that no ordinary instrument can reach while the guitarist tunes to slide ever downwards. Whether you found it compelling or hateful, you'd have to admit that no other work for electric guitar offers more possibilities, many of them surely unknown to most exponents.
That final discovery of caverns measureless to man could not have been further away from the exquisite opening number of Fennessy's six rosewood pieces. The title refers to the wood often used in the construction of the acoustic guitar's fingerboard, but there is also a hint of perfume which Shibe's intimate layering – to mix senses – seems to emanate. The penultimate piece ruffles the surface, but then we return to pristine innocence. Gubaidulina's two poetic utterances made perfect contrasts within themselves; exquisite serenading in thirds, major and minor, brought bittersweetness to the longer journey, and when the Prelude of Bach's E minor Suite came out of the silence, it took a few moments to register that we'd actually travelled back in time. Parts of it are of a complexity almost beyond a simple stringed instrument – it's thought that Bach actually intended it for the lute-harpsichord – but Shibe made such light, ethereal work of it that difficulties never surfaced, and the layering of the final Gigue only seemed the more miraculous. The spell, as always with Shibe, was total; no other guitarist that I know of is working at this artistic level.
Lentz's caverns measureless to man could not have been further away from Michael Fennessy's exquisite 'rosewood'
rating
Explore topics
Share this article