Smetana Trio, Wigmore Hall / Minerva Piano Trio, Christ Church Kensington review - spirits of delight |

reviews, news & interviews
Smetana Trio, Wigmore Hall / Minerva Piano Trio, Christ Church Kensington review - spirits of delight
Smetana Trio, Wigmore Hall / Minerva Piano Trio, Christ Church Kensington review - spirits of delight
Dazzling Beethoven and Dvořák, Schumann and Stravinsky from two engaging teams
Tuesday, 16 November 2021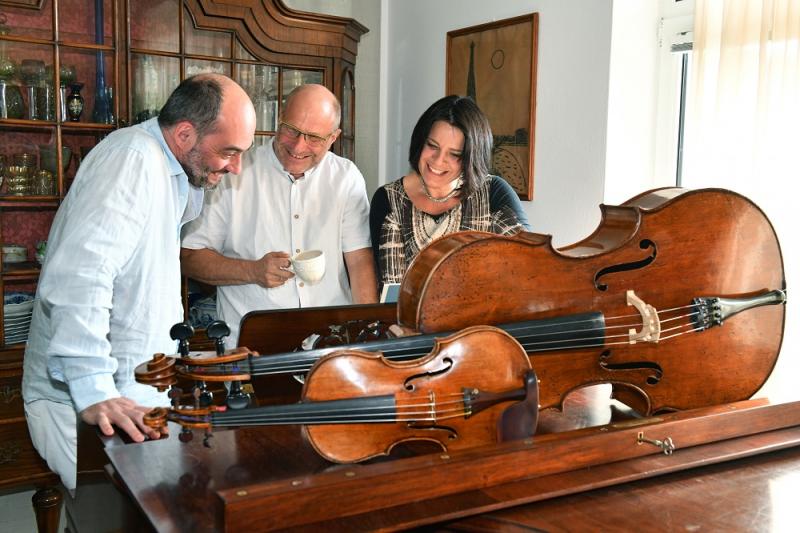 The Smetana PIano Trio: Jan Talich, Jan Páleníček and Jitka Cechová
Comparisons might have been odious between three of the world's most cultured players – pianist Jitka Cechová, violinist Jan Talich and cellist Jan Páleníček of the Smetana Trio – and the young, British-based Minerva Piano Trio (Annie Yim, Michal Ćwiżewicz and Richard Birchall).
Not a bit of it. Quotients of sheer joy were high in both the Wigmore Hall Sunday morning programme and the launch of a concert series in classy Christ Church Kensington, but if anything even higher in the Minerva's double bill by virtue of an extraordinary, heart-overflowing masterpiece, Schumann's Second Piano Trio in F, and cellist-composer Richard Birchall's arrangements of movements – by no means all the usual suspects – from Stravinsky's Pulcinella ballet. It's typical of these players' enterprise that this is their second ballet-music-for-piano-trio enterprise; I was sorry to have missed similar work, pre-pandemic, on Ravel's Daphnis et Chloé with two dancers alongside the premiere of a work by colleague Cheryl Frances-Hoad in St John's Smith Square.
Smetanas first, though. The sheer chameleonic stylishness of these Czechs, perhaps not as well known outside their homeland as they should be, was a joy to watch as well as hear from the first flourishes of Beethoven's C minor Piano Trio Op. 1 No. 3. Transitions and shifts of shape and mood were immaculate. Talich looked not only inwards and across to his colleagues, but also outwards and upwards on a trill (I'm thinking of the one towards the end of the first-movement exposition, so eagerly awaited on the repeat) or a deft turn of phrase; Cechová seemed utterly at ease in crystalline spirit of delight; even the more outwardly reserved Páleníček humorously waved his bow with hair hanging loose at the end of an especially robust finale to Dvořák's Piano Trio No. 2 in G minor.
For me, it's not as consistently breathtaking in its invention as either its predecessor or its two successors (though we got the last of the Fourth Piano Trio's five Dumky, best translated as "thought-pieces" in a Slavic tradition which moves from sadness to joy without transition, as encore). But the racy scherzo's semitonal upward grinds were especially striking, and these players' sophistication always keeps the obvious at bay. Next time, please, Martinů's astounding Third Piano Trio, which a previous incarnation of the Smetana Trio with a different violinist has recorded to dazzling perfection.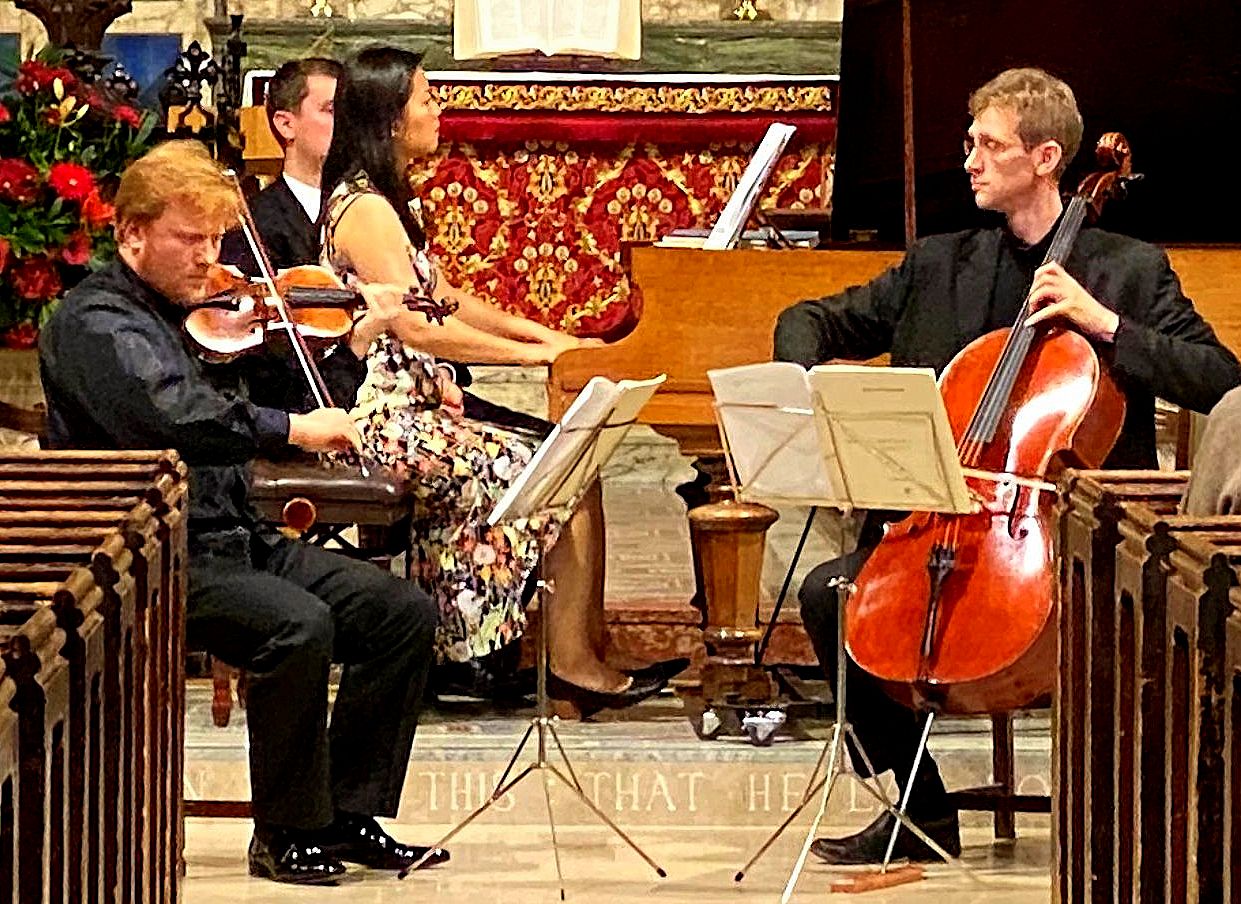 Nothing could have prepared me for the rolling genius of the Schumann trio, though, usually overshadowed by its predecessor and certainly by the Piano Quartet and Quintet. Confession – I'd never heard it in concert, so this was like being greeted by the friendliest of world premieres. The inspiration seems to flow seamlessly, or so the Minervas presented it (Ćwiżewicz, Yim and Birchall pictured above last night), and when a quotation of the song "Dein Bildnis wunderselig" ("Your wondrous-happy image") from the Op. 39 Liederkreis soars up from the action, time almost stands still – but not for long (as so often, Schumann couldn't help interjecting his love for Clara). Seeming spontaneity conceals the highest art, but song is paramount – and what a complete one-off is the third movement, not so much waltz-like in feel as the briefly pensive walking gait of a thinker, with the sun coming out briefly and unexpectedly (like so much else in this masterpiece) towards the end. The finale is sheer exuberant joy. And the flow of the entire performance quickly made one forget the tonal shortcomings of the church Bechstein, not in the best of shapes.
There was so much bottled sunshine, too, in the Pulcinella selection, brilliantly shared between the three artists, with a focus on the trio of singers Stravinsky engages in his complete ballet. Virtuosic anger, too, in two explosions of quick-fire rage. But the final reiteration of happiness could not have been more emphatic. After that, wine in Growing Space's community organic garden outside the church, work on which Yim had cheerfully joined during lockdown, which led her serendipitously to wonder if the church itself might be a good venue for concerts. This was only the first of a promising series (though change the "k" back to "c", please, in "Christ Church Koncerts"), mixing lunchtimes and evenings. Give one of them a go – the atmosphere is welcoming.
Next concert in the Christ Church series is on 24 November at 1pm, with Georgia Morse playing several of the Bach Cello Suites
The sheer chameleonic stylishness of these Czechs was a joy to watch as well as hear
rating
Share this article