theartsdesk at the Dublin International Chamber Music Festival - extraordinary women to the fore |

reviews, news & interviews
theartsdesk at the Dublin International Chamber Music Festival - extraordinary women to the fore
theartsdesk at the Dublin International Chamber Music Festival - extraordinary women to the fore
Ambitious programmes in venues from botanical gardens to Palladian country houses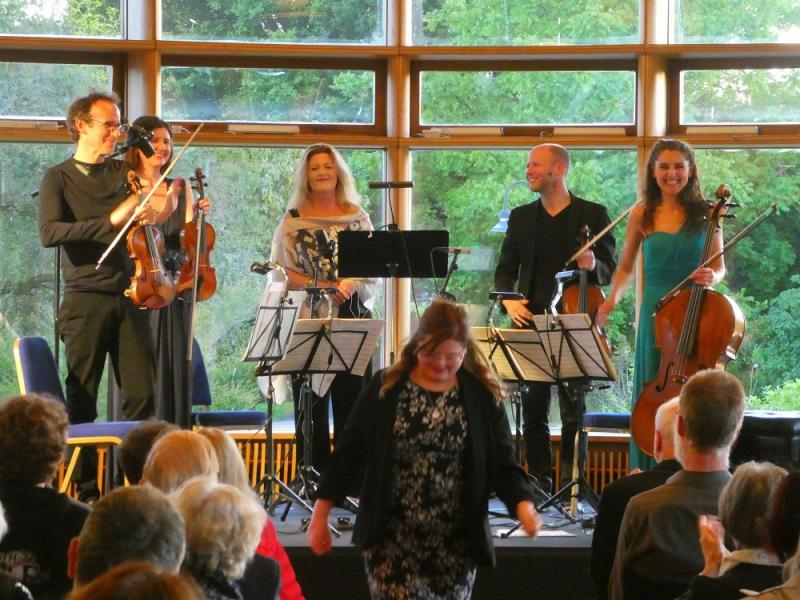 The Carducci Quartet and soprano Sylvia O'Brien applaud composer Siobhan Cleary
The organisation now proudly and legitimately re-named the Dublin International Chamber Music Festival may be half a century old – of its 52 seasons, those of the two lockdown years can be lopped off the live reckoning – but its outlook is youthful and progressive in so many ways.
Of the four (out of seven) concerts I managed to attend, the one that summed it up most strongly for me was its presentation of five Irish women pianists each playing a piece significant to the performer during lockdown, and another chosen by a key frontline worker – a surprisingly deep and emotional programme ranging from Mozart's Adagio in F minor to Massive Attack's "Teardrop".
More of that anon. Even more enterprising was a programme of (mostly) top-notch works by (mostly) women composers given by the (part-Irish) Carducci Quartet – who'd given the first concert of the festival with pianist Hugh Tinney at out-of-the-way Kilruddery House – in the big first-floor room of Glasnevin Botanic Gardens' main building with views out to the glasshouses and big trees.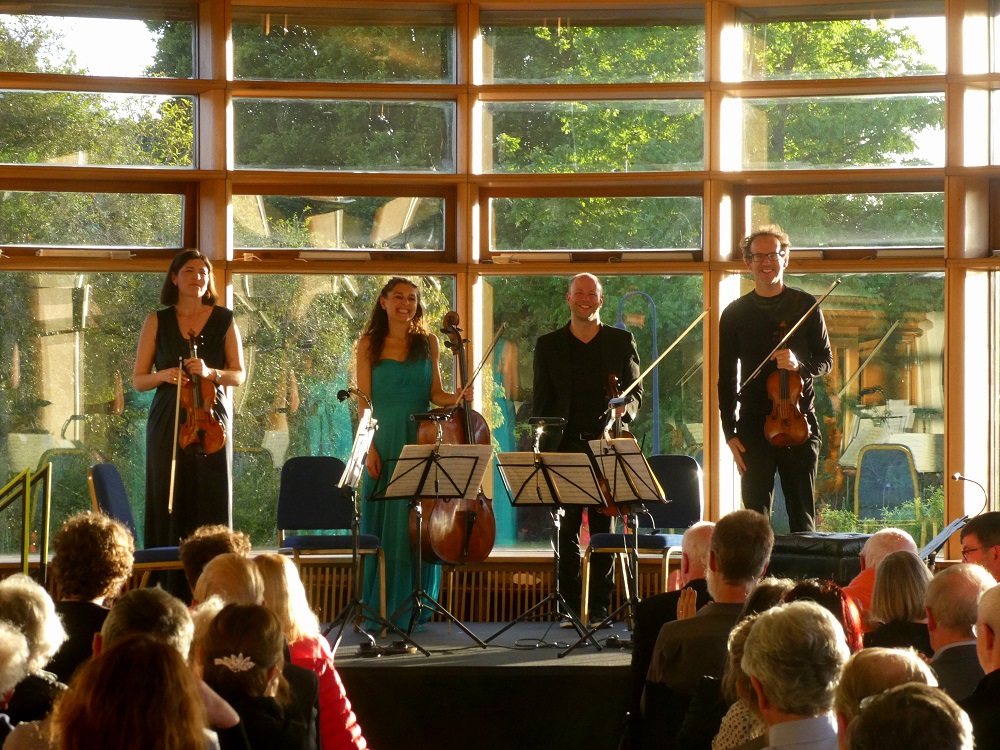 Two of the less familiar works were known and loved quantities, thanks to the Castalian Quartet's revelations at the East Neuk Festival: Pullitzer Prize-winning Caroline Shaw's quirky and utterly unpredictable Entr'acte – it is somehow more than that; both first violinist Matthew Denton's spoken introduction and the vibrant-subtle performance did it justice – and Fanny Mendelssohn-Hensel's E flat major Quartet, so originally elegiac in the first movement and fabulously energetic in the finale. Her brother's tragic F minor swansong ended the concert. Fanny had died suddenly of a cerebral haemmorage shortly before he began it, and he met the same fate six months later. I've heard more lacerating accounts of the first movement's tearing grief, but the mounting anguish of the finale, driven to its demonic conclusion, duly scoured the soul here.
There are promised revelations of "unjustly neglected" women composers of the past which turn out to be not quite that, but everything I hear from British-American Rebecca Clarke (1886-1979) is of the highest order. The opening Poem/Adagio of 1926 set the elegiac tone for so much of the concert, its harmonies and textures deeply felt. Irish composer Siobhan Cleary made interesting choices of theme and text respectively in Liadain – a meditation for soprano and cello as we heard it here, though puzzlingly advertised as the world premiere commissioned by DICMF of a work for voice, flute and clarinet – and The Dole of the King's Daughter for soprano, string quartet and (minimal) electronics, setting an early poem by Oscar Wilde and intended as the opening song of an opera about a female serial killer. The main interest here was in the singular production of high notes by an amplified Sylvia O'Brien. The works themselves, essentially monochrome if too short to be monotonous, don't make me want to hear more; but full marks for the placing in a fascinating programme.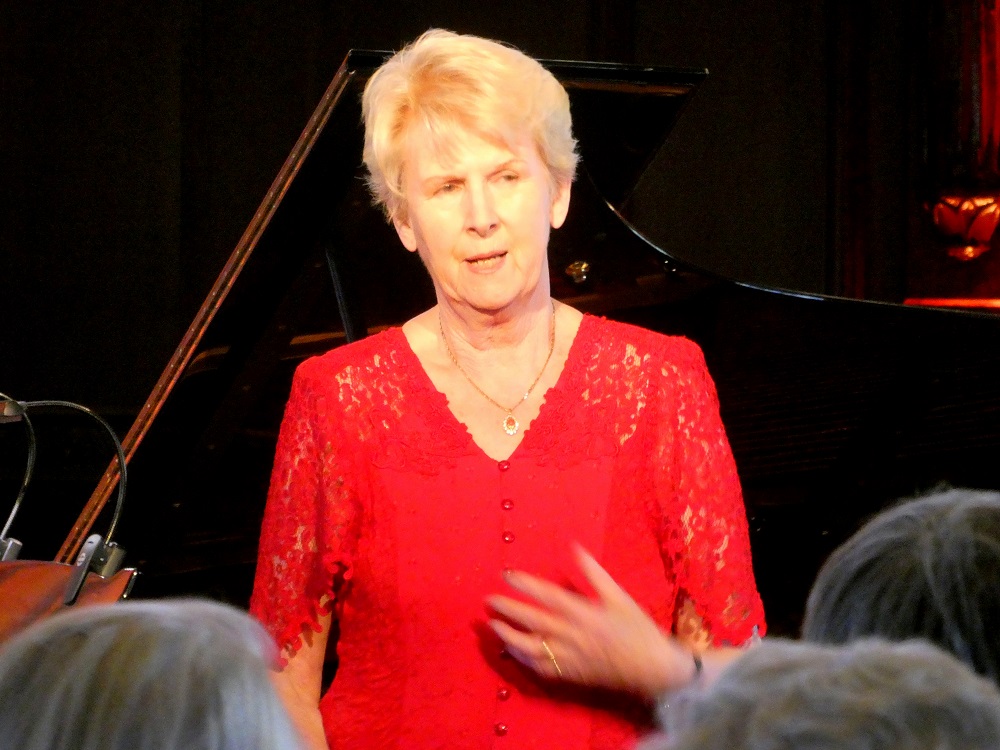 The only thorns in the side of the five-pianists recital in Dublin Castle's recently restored early 19th century colonialist chapel, with its big and fascinating sculptures, were two pieces that promised ill for this listener and duly obliged: Einaudi's Experience and Philip Glass's Piano Etude No. 6. Both, though, were consummately phrased – the Einaudi by Fionnuala Moynihan, who launched with a movingly nuanced stunner, Mozart's B minor Adagio, the Glass by Máire Carroll, making winsome work of Paul Harvey's Four Notes.
The heroic frontline folk who made their choices included a nurse, a doctor, a paramedic, a dementia care and two pioneering professors – Luke O'Neill and Teresa Lambe, who worked on the AstraZeneca vaccine. The pianists ranged from twentysomething (a guess) to 82 – Veronica McSwiney, (pictured above) who gave a very natural and relaxed introduction, apologising for using the music but "I sometimes get to the top of stairs and forget what I was about to do". The pain and shafts of major-key light in her Chopin E flat Nocturne, Op. 9 No. 2 (chosen by Sandra Vedres) complemented the Mozart and was followed by a well-justified third choice, Schubert's celebrated Impromptu – not only absolutely even but more explicitly protesting against imminent death in some of its modulations than any other performance I've heard: there was huge strength here, and in Thérèse Fahy's orchestral-scale interpretation of Rachmaninov's B minor Prelude.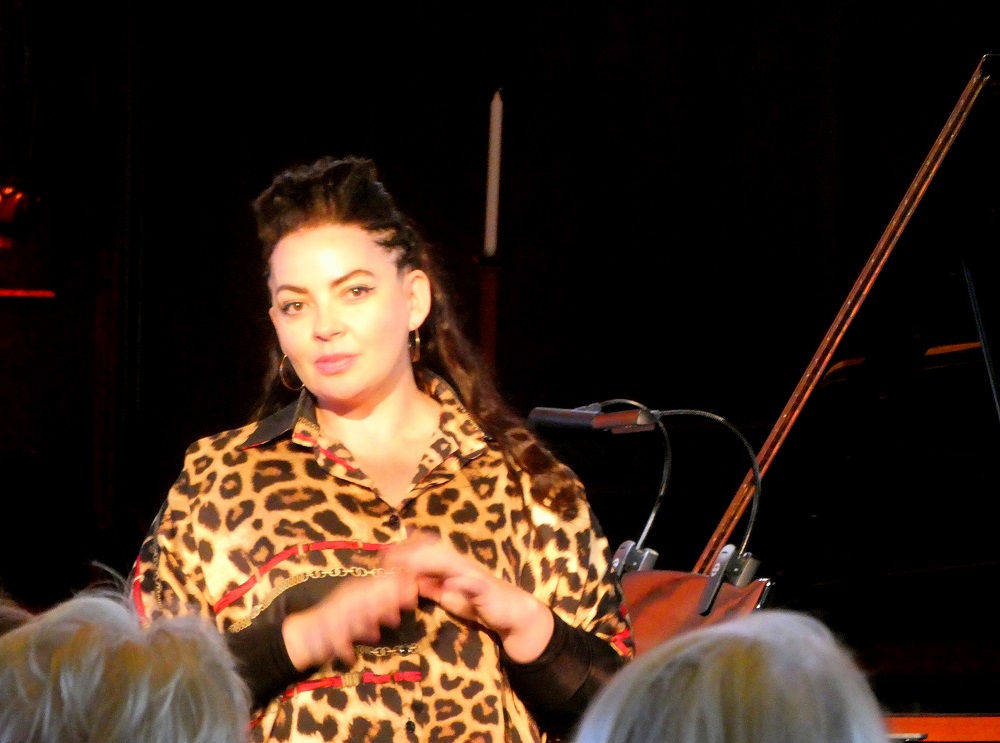 Strikingly individual, a pioneer seemingly following in the footsteps of Joanna McGregor, was Ruth McGinley. (pictured above). Belfast composer Neil Martin's magical arrangement of the Irish air Sian le Maigh made me want to hear the imminent disc with more of this; and of all the popular music featured, Massive Attack's "Teardrop", chosen by hospital porter Niall Bogue. Moynihan's return at the end with arrangements of "Bridge over troubled water" and "We'll meet again" never for a moment descended into an over-sentimental coda.
Rather more questionable, the following evening in the same venue, was Peter Tuite's often bizarre take on Bach's Goldberg Variations. The Aria began so slowly that you wondered how on earth the whole thing could progress. The seemingly romanticised habit of ritardandi at the end of so many variations, the last note postponed for what seemed like an agonising infinity, also seemed odd. Yet in faster movement, Tuite's clarity was superb, his technique always assured. Despite an interval mid-way through, which again shocked me, the whole thing never bored, and I shan't forget it.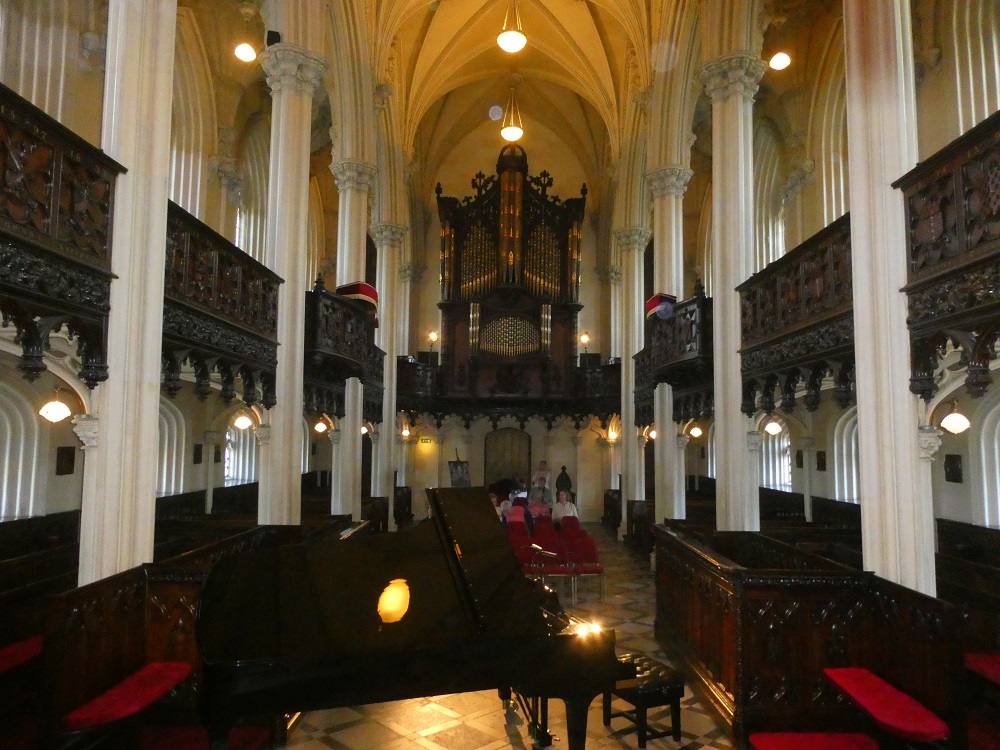 Events featuring the Kaleidoscope Chamber Collective and, in solo recital, one of its very creative members, viola-player Rosalind Ventris, had to be sacrificed to other Dublin happenings – so much for little music going on here – but I wouldn't have missed for the world the grand finale in Ireland's biggest and first Palladian country house, Castletown and featuring the already great guitarist Sean Shibe with the pioneering Irish Chamber Orchestra led by Katherine Hunka. The programme, however, worked less well than anticipated, especially without an interval to justify two of Dvorak's pretty waltzes for string orchestra.
Shibe couldn't be seen at all by 90 per cent of the audience – he should have been seated on a raised platform – and needed to be given the solo spotlight for some of those pieces with which he always draws his audience in. Much more compelling, for instance, David Fennessy's Rosewoods miniatures in their original version for guitar alone (as rosewood, 2010) than in the useful concertante arrangement for guitar and strings – watering-down rather than amplifying. Vivaldi's D major Guitar Concerto made oddly little impact – its Largo seemed interminable – and only Malcolm Arnold's Serenade for guitar and strings really charmed, though by this stage we needed something more meaty. That finally came in a giddying performance of Elgar's Introduction and Allegro for strings, a profound masterpiece occupying little time; the ICO players went for the jugular with plenty of gorgeous portamento and rich sonority.