These Go To Eleven: The Problem of Noisy Orchestras |

reviews, news & interviews
These Go To Eleven: The Problem of Noisy Orchestras
These Go To Eleven: The Problem of Noisy Orchestras
In the quest for ever-greater volume, musicians in the pit are suffering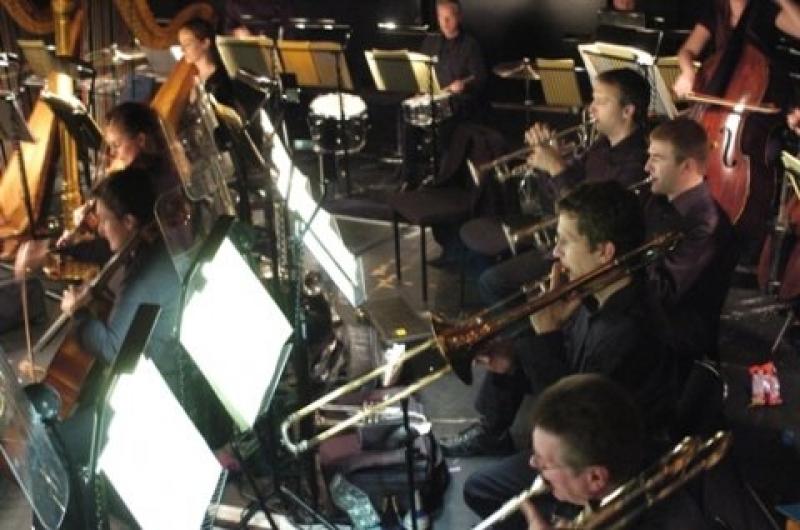 The RBS and the sound barrier: 'Players regularly subject their ears to high levels of noise in the pit'
"Last summer we played a gala performance at the London Coliseum which included extracts from Spartacus, and most of the brass players wore earplugs because the music was relentlessly loud," says Paul Murphy, Principal Conductor of the Royal Ballet Sinfonia, the orchestra of the Birmingham Royal Ballet.
From the conductor's podium, the music is more filtered than for the musicians, Murphy says, but even so, after some performances he occasionally suffers bouts of tinnitus. "Although it is true that sometimes we can perceive pieces to be louder than they actually are, particularly those that are poorly written for the instruments, players regularly subject their ears to high levels of noise in the pit," he says.
When asked which other ballet scores are super-loud, Murphy immediately names Tchaikovsky's Sleeping Beauty and The Nutcracker. This writer sat through an act of Beauty in the Royal Opera House's orchestral pit recently, and it was almost terrifyingly loud. Sixty-five people all playing their own instruments in a large enclosed space where noise gets trapped and reverberates – the performance was sensational, but I couldn't quite feel the delicacy of Aurora from my seat behind the cymbal player.
In general, ballet venues – with the exception of theatres like the Royal Opera House and London Coliseum – have bad acoustics, says Murphy. Venues usually have no "bloom", which means the sound does not resonate, as it does in a cathedral, and the notes die quickly.
Performing on stage is also hazardous for the ears. As in the pit, it depends how close a player is to the brass or other particularly loud instruments. First violins have it easier, though those sitting at the back of the first and second violins get the loud noise of the piccolo and horn sections.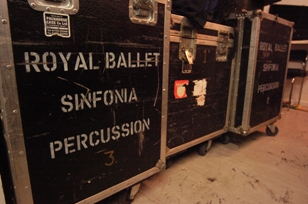 The way a theatre is designed is also important. Chris Lewis, assistant orchestra manager of the Royal Ballet Sinfonia, says some pits are worse than others: "We don't take as many string players as we usually use to the Theatre Royal in Plymouth, because it's all on one level. The pit is fairly deep and the stage hangs over it a long way which causes a lot of the sound to get trapped in the pit."
Some orchestra pits and stages have risers, which are parts of the floor or stage that can move up or down. This helps to direct sound over or below the heads of other players, thus protecting their hearing. At the Birmingham Hippodrome, the home of the Sinfonia, Lewis can put the percussion players on a lower level, so their loud sounds do not go straight towards other players.
The players also use mikes in Plymouth, so they can play more quietly. This is something orchestra musicians rarely do, but in certain venues where sound exposure is high due to the way the theatre is designed, it can help.
This isn't necessary at the Hippodrome, which has more usable space around each player: more space helps to cut the risk of damage to players' hearing. (Usable space is space that is flat and has clear sight lines to the conductor; some other pits have corners from where musicians cannot see the conductor.) Lewis also places screens in the orchestra pit to protect players from each other.
But screens are not always the answer, as David McCallum, trumpet player with the BBC Concert Orchestra, said at a recent BBC conference on classical music and hearing. The BBC is currently working in partnership with the Health and Safety Executive (HSE) and the orchestra sector to find practical solutions for musicians on issues around classical music, noise and musicians' hearing.
When McCallum played in Matthew Bourne's Swan Lake at a West End theatre, he was in a pit surrounded by screens – but they bounced the sound back onto him, making it an uncomfortable experience. And because he was surrounded by screens, he had to play louder, too. "The noise was incredible", he says, "and it was so loud that I had to work very hard to hear myself play."
Players themselves can also be worried about owning up to hearing loss, for fear they will lose their jobs. "This topic can be an emotive one, because [players'] livelihoods depend on them being able to hear properly," said Hugh Robertson, senior policy officer for Health and Safety at the TUC, at the same conference.
Earplugs do not always help: they can ease themselves out of the ears of wind and brass players, and can also trick players into playing too loudly. Mark Doust, who has played double bass with the City of Birmingham Symphony Orchestra for over 30 years, explains: "One of the big issues with any kind of hearing protection is the loss of contact with what is going on around you. Think, for example, of people using Walkmans or iPods. If you talk to them when they have their earpieces in, they are inclined to raise their voices in response, due to their difficulty in realising their sound projection. Likewise playing a musical instrument with an ensemble – it takes much more care, especially in quieter music, not to over-play."
Some CBSO players use an ear defender called "hearwig". "One of the orchestra's bassoon players particularly uses one as he is in front of the trumpets," says Doust. The hearwig is a padded hoop which sits behind and wraps around the head without touching it. It comes on its own floor stand, onto which the back legs of the chair are placed, has a central "spine" behind the chair to support the protector, and can be rocked forward and back for comfort. "Clearly certain seats are unable to use these, but it does not appear to have a negative feedback on the players behind," he adds.
Musicians themselves can be stoical about noise exposure, seeing it as an unavoidable part of the job
What can also help is restricting the length of time a musician is exposed to loud music for. This can be difficult to put into practice, for example, when there are two shows in a day (a matinee and an evening performance). McCallum recommends keeping rehearsal times down for loud pieces, and that players mark up scores to show where they should prepare themselves for noisy bits. Concert programmers should ideally ensure there is a balance of noisy and quieter pieces over the course of the working week.
Why are theatres and concert halls paying more attention to these issues now? The answer is that new noise regulations came in two years ago, requiring musicians' employers to prevent or reduce risks to health and safety from exposure to noise at work. There were initial worries that the regulations would be draconian, but they can be helpful for musicians, for example by making it easier for them to be assertive about requesting screens or altering seating arrangements, says McCallum.
Some problems are difficult to solve unless theatres are refurbished, which is expensive. Interestingly, the kinds of sounds being played can affect how orchestral players feel. "If the sound is 'comfortable' it becomes far more acceptable than a discordant sound which the mind and ear struggle to analyse," says Doust of the CBSO. "When Scriabin penned his Poem of Ecstasy the ending was cited as the loudest C major chord ever written. Yet today it is not regarded as uncomfortable, although it is extremely loud." In contrast, orchestrally, Messaien's Turangalîla Symphony is recognised as extremely loud and sustained, and can be quite uncomfortable if one is in front of the brass.
The indoor "Classical Spectaculars" which Raymond Gubbay operates can also be very loud. "A former conductor of these concerts used to advise us to put in earplugs when he did, towards the end of the 1812 Overture, because not only were you in an enclosed space but there was a choir, extra wind and military brass, a battery of muskets, and fireworks - a true spectacle that does nothing to encourage hearing comfort!" says Doust.
The CBSO, and some other orchestras, are currently running a programme of "noise monitoring". This means that staff try to get around all seats during rehearsal and concert with a data receiver, which should help to analyse which seats have more exposure. A particular difficulty for musicians is how much they need to play in order to survive financially and professionally. Some musicians are freelancers, working in different orchestras. Contract musicians will also sometimes play with other orchestras and ensembles in a freelance capacity. Many musicians teach music or record music on top of performing. Musicians are not in a position to turn down work, because they need to be seen as reliable and not lose future opportunities.
Sometimes in the pit, you just have to stop playing and cover your ears with your hands. Sometimes you even do this in the concert hall
Musicians can also increase their noise exposure without meaning to, through common activities such as mowing the lawn or listening to an iPod on the Tube. So a player's total exposure to loud noise in any given week can be quite high. Health and safety officials estimate that musicians need 14-18 hours' rest after a period of high noise exposure, but this is rarely practical. To date, there are few large-scale studies of the effect of noise on classical musicians – a gap that needs to be filled.
Sometimes musicians themselves can be stoical about noise exposure, seeing it as an unavoidable part of the job. But things are changing. In the last three years, students at the Royal Academy of Music have become much more aware of protecting their hearing, and every year the Academy sees an increasing number of students using ear plugs, says Nicola Mutton, the Academy's Director of Artistic Planning. The Academy now gives all its new students audiometric tests and seminars on noise exposure, as well as offering a second test for students as they graduate.
Meanwhile, musicians in other countries envy the UK's focus on health and safety. "Unfortunately, musicians are not as valued in our theatres", says one musician from a well-known Russian orchestra, "and if someone has health problems, it's easier to replace him with a young, rosy-cheeked musician who's bursting with health and desperate for the work. Sometimes in the pit, you just have to stop playing and cover your ears with your hands. Sometimes you even do this in the concert hall, although you try to conceal yourself behind your music stand, so at least you're not visible from the stalls seats and the conductor's eyes don't happen to find you," he says.
But whatever their working conditions, musicians have some choice in their home life. "After work all sounds are irritating", says the Russian musician, "so when I get home after a concert, I prefer not to listen to music, but to be in silence."
If you want to find out more about protecting your ears, hearing loss and tinnitus, please visit the Royal National Institute for Deaf People's website or call our Information Line free on 0808 808 0123 or 0808 808 9000 (textphone).
Visit www.soundadvice.info to find out more about noise at work.
Alice Lagnado works for Royal National Institute for Deaf People. She would be interested to hear about the experiences of musicians and others involved in classical music. Please write to her at alicelagnado@yahoo.org.uk
First violins have it easier, though those sitting at the back of the first and second violins get the loud noise of the piccolo and horn sections
Share this article