Voces8 Live from London Summer online review - choral excellence and more besides |

reviews, news & interviews
Voces8 Live from London Summer online review - choral excellence and more besides
Voces8 Live from London Summer online review - choral excellence and more besides
Another barnstorming festival ranges from singing to symphonies to silence
Violinist Jack Liebeck joins Voces8 to perform 'The Lark Ascending'
There is much to love about the latest Voces8 Live from London online festival. It goes beyond having a purely choral line-up, embracing instrumental music for the first time, while maintaining its focus on vocal performances of the highest standard.
In addition, the production values remain unimpeachable and the group has shown that there is a market across the world – they boast of selling tickets in 75 countries – for streamed concerts if the quality is good enough. But perhaps most admirable is the generosity of Voces8 in sharing their spotlight. The festival offers valuable performance opportunities to a range of groups and individuals and, while Voces8 make an appearance in each programme, there is a very collegial feel about the whole thing that is also evident in the equitable sharing of proceeds among the performers.
The festival concerts are recorded at the Voces8 centre, a decommissioned church in the City of London. They are bookended by an introductory interview and an "artist lounge", a more relaxed post-performance chat, both of which throw up some interesting talking-points. The slick multi-camera production belies the small scale of the operation. I was able to attend one of the recordings in the flesh and not only are artistic directors Barnaby and Paul Smith the onscreen presenters they also work flat out behind the cameras and at the mixing desk.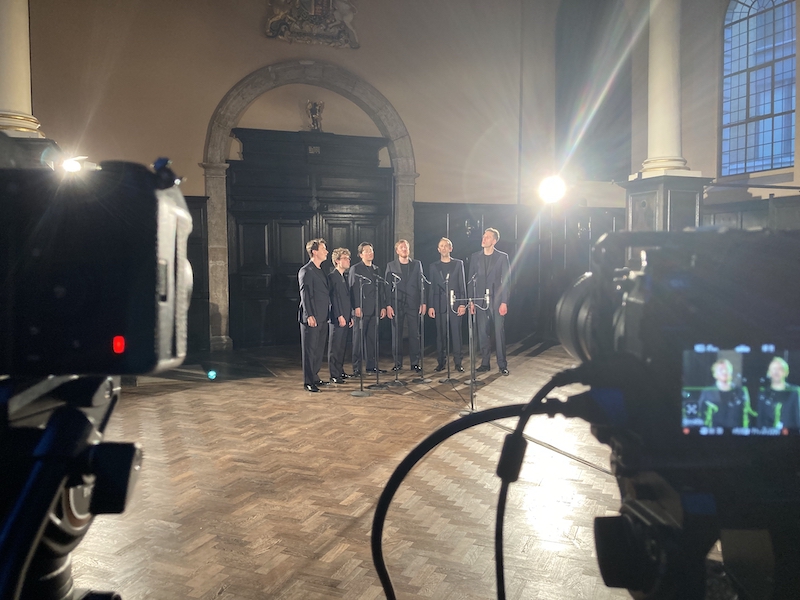 The choral concert featured Voces8 themselves, the ORA Singers with Zeb Soanes, The King's Singers and I Fagiolini. It was interesting hearing The King's Singers (pictured above by Andrea Haines) alongside Voces8: they deal in similarly structured concerts that move from Renaissance masterpieces through new commissions and end with swing or pop arrangements. The King's Singers obviously have a long history but the current line-up are noticeably youthful, and their repertoire was equally fresh. The highlight here was Bob Chilcott's setting of Philip Larkin's "Days", which had a freshness and harmonic charge I don't always hear in Chilcott's music.
Voces8 themselves were welcoming a new member, soprano Molly Noon, who seemed to slot in without any fuss. Their sounds glisten and gleam, and the premiere they gave of Taylor Scott Davis's Stardust was a slow burn, aspirational, always moving upwards, very American – in contrast to the uniquely British sound of Britten's The Evening Primrose.
ORA Singers gave a programme that interspersed readings by the silky-voiced Radio 4 announcer Zeb Soanes (pictured right by Rii Shroer), whose reading of a range of poetry was utterly compelling and bore witness to his early ambitions as actor. The music in between was mainly ORA commissions responding to older choral works. Harry Escott's O Light of Life takes Tallis's scrunchy false relations and gives them a contemporary edge, the slow-moving underlying texture decorated by skipping descants. Kerry Andrew's Psalme 150 had a bracing energy that made for a welcome change from the generally contemplative tone. Joanna Marsh's All Shall be Well, a world premiere, had fluid lines and a medieval flavour in keeping with the words of Julian of Norwich.
I Fagiolini can always be relied on to produce something unusual. Theirs was the concert I was present for, and it was a joy to be in the same room as the singers, to feel the vibrations, to experience the acoustic at first hand. For all the virtues of streamed concerts it was brought back to me that there is no substitute for hearing singing live. Their musical journey through the seasons was done with their usual wit – an extraordinary bit of French jazz (moodily shot in black and white and with an irresistible solo by Robert Hollingworth) sat alongside the nutty, delicious dissonances of Ed Hughes's Sun, New Moon and Women Shouting and another premiere by Joanna Marsh (pictured left), a mellifluous and moving setting of EE Cummings.
Outside the main festival there was also a mixed bag of Dutch items billed as "Live from Haarlem", of which only the first grabbed me – but it did really grab me. The excellent Laurens Collegium and Consensus Vocalis choirs offered arresting repertoire in superbly committed performances. David Lang's Protect yourself from infection, setting public health pandemic instructions from the 1918 flu outbreak in chant-like recitation, is the best musical pandemic response I have heard. The choral scene in the Netherlands is clearly a strong and vibrant one.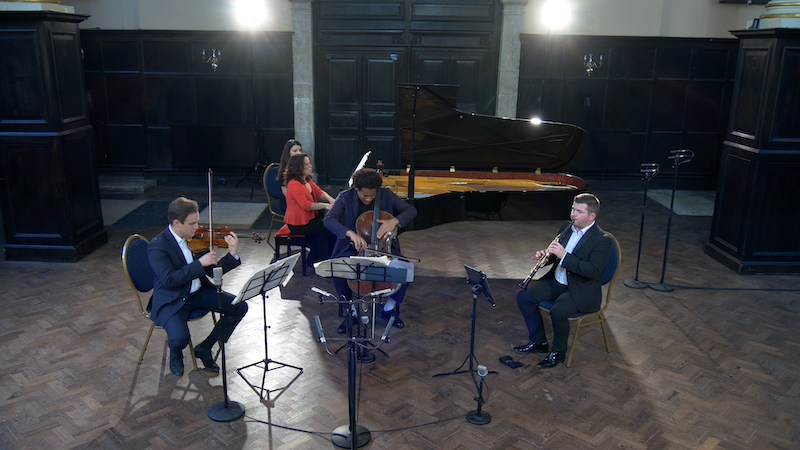 The instrumental concerts included a starry line-up of Jack Liebeck, Sheku Kanneh-Mason, Julian Bliss and Katya Apekisheva (pictured above) giving a first-rate account of perhaps the strangest piece in the mainstream chamber music canon, Messiaen's Quartet for the End of Time. I loved the way the players listened with evident pleasure during the movements they didn't play in, and the rapture of Liebeck's final violin movement was simultaneously monumental and humble. He also shone in the arrangement of The Lark Ascending for violin with the voices of Voces8, able in this context to dial back on the solo part and find vulnerability as well as soaring ecstasy.
The strings of Chineke!, conducted by rising star Matthew Lynch, cast their usual light on some little-known black composers. I had not heard of Fela Sowande (1905-1987) before – he was a Nigerian composer who lived in London for many years, whose African Suite (1955) sounds very English, in the vein of Holst and Bliss, but with flashes of things that English composers of the time wouldn't have done: pre-minimalist touches and rhythmic games that are the best things about the piece.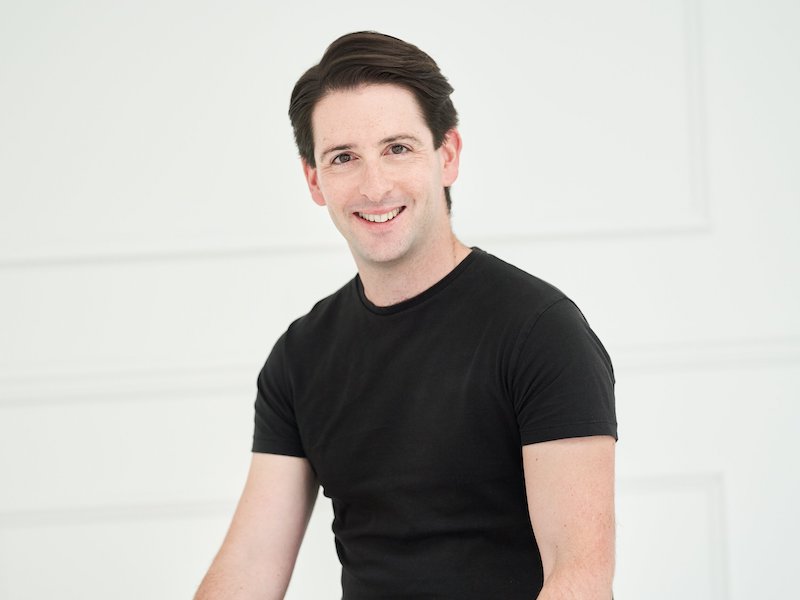 By far the most ambitious concert was the multi-disciplinary meditation "Renewal?", a "collaborative explosion" curated by Paul Smith (pictured above) and featuring, in addition to six new pieces by him (and a further two by Donna McKevitt), choral singing, contemporary dance, instrumental solos, Tibetan bowls as well as an outing for John Cage's 4'33". The concert explored the progression from darkness to a possible renewal via a period of silence – the pandemic period of artistic drought. The ambition was impressive and it achieved coherence despite items being filmed in multiple locations from Oxford to Zurich. For all the bells and whistles though, the best bits were perhaps the straightforward choral items: I particularly enjoyed Smith's touching Alone (setting Maya Angelou) and a stern – but ultimately redemptive – reading of Walton's The Twelve.
As I write there are still two concerts remaining – both orchestral – and the whole festival then remains online until 31 August. I have thoroughly enjoyed them for their musical excellence, their generous spirit and their thoughtful presentation. Although I am – like all the musicians in the festival, no doubt – eagerly awaiting a full return to live music, I am sure that streaming will remain an important part of the musical ecology: that is in no small part down to the readiness of groups like Voces8 to stick their necks out – financially and artistically – and take the risk. Although it has been a success, that was by no means inevitable.
The premiere Voces8 gave of 'Stardust' was a slow burn, aspirational, very American
rating
Explore topics
Share this article