Wallfisch, Northern Chamber Orchestra, Stoller Hall, Manchester review - Weinberg UK premiere |

reviews, news & interviews
Wallfisch, Northern Chamber Orchestra, Stoller Hall, Manchester review - Weinberg UK premiere
Wallfisch, Northern Chamber Orchestra, Stoller Hall, Manchester review - Weinberg UK premiere
Subtlety and haunting qualities in a little gem for solo cello and string orchestra
Saturday, 09 November 2019
Raphael Wallfisch: a joy to hear in Weinberg and Tchaikovsky
Everyone's doing Weinberg now, or so it seems. The Polish-born composer who became a close friend of Shostakovich was born 100 years ago, and there's plenty of his music to go round.
Raphael Wallfisch gave the UK premiere of his Cello Concertino (Opus 43B), with the Northern Chamber Orchestra in Manchester last night. The "B" is not insignificant – it's a reworked and shortened version of his Cello Concerto of 1948, scored for string orchestra accompaniment only, and wasn't published until two years ago.
At 16 minutes in length but still with four movements, the piece is certainly an attractive addition to the fairly limited repertoire of concertos for cello and orchestra. And it has some unique and intriguing qualities. It seems almost monothematic in each movement, based on clear melodies and mainly traditional, tonal harmonic language. But there are subtleties: the opening Adagio, beginning as a melancholy minor-scale solo song over muted string chords (and then repeated, as all good song tunes should be), seems the very soul of tradition – but, after an intense climax of emotion for the soloist, it returns in spicier guise. Nothing to frighten the horses, but a hint of deeper forces at work than might have at first appeared.
The second movement is another folk-like song, with an unmistakable Habanera rhythm, showing soloist and orchestra in dialogue and something very like variation style. The third, Allegro vivace, is a dance-like scherzo, still minor-key, with alternating solo-tutti presentations of its tune and developments, this time with Middle Eastern sounding inflexions in the scale, perhaps related to Weinberg's own Jewish heritage.
That quality continues in the solo cadenza which follows and links to the very solemn final Adagio, a conclusion that is moving and finally haunting (though with just a hint of peace in its last, major, chord). You can't help but think there's a link to the post-Holocaust context of the original work's creation. It may sound a miserable piece of work, but it isn't. The craftsmanship and skilful ambiguities of the writing are appealing, and of course it's concentrated and compact – a lot of ground is traversed in a short time.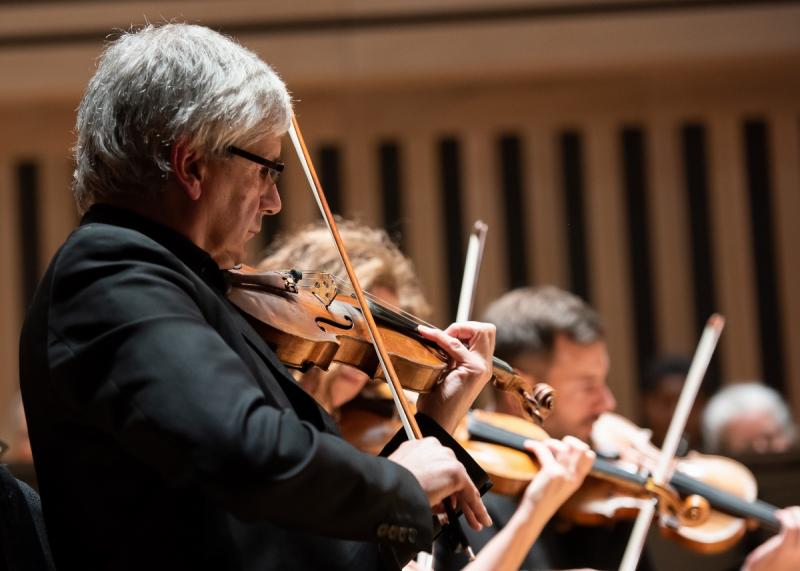 Wallfisch offered good value for money, as not only did he play the Weinberg work's solo with his customary eloquence and nobility, but he also performed the solo in Tchaikovsky's Variations on a Rococo Theme. He prefers, like many soloists today, Tchaikovsky's original version of the work, rather than the adaptation by Wilhelm Fitzenhagen which became its published and for many years only form. It's a great piece for a gifted soloist, and his eloquent melodic playing in variation three, impeccable harmonics in variation five and glorious cantabile in variation seven were joys to hear.
His virtues were matched by the playing of the Northern Chamber Orchestra (conductor-less, as always, under the first-desk leadership of Nicholas Ward, pictured above), with horn and flute solos outstanding. The NCO on their own began and ended the concert with two highly popular mainstream works (both first written by school-teachers for non-professionals, as it happens). They're still building their audience in a relatively new concert series at the Stoller Hall in Chetham's School of Music (the programme is also being repeated tonight in Macclesfield, where they are established visitors and often sell out), so these choices help.
Their quality of chamber music-style listening to each other's sound and forging an interpretation collectively were to the fore in Holst's St Paul's Suite: in the Stoller Hall 19 strings can make a formidable unison and a rich spread of tone when they want to. I liked their dynamic contrasts and the way the "Greensleeves" tune stayed half-hidden in the texture on its first appearance in the Finale. Schubert's Fifth Symphony brought sprightly pacing and a sense of unalloyed joy to the conclusion of the concert.
The piece is certainly an attractive addition to the fairly limited repertoire of concertos for cello and orchestra
rating
Explore topics
Share this article