Bavouzet, Manchester Camerata, Takács-Nagy, Stoller Hall, Manchester, review - concertos as opera |

reviews, news & interviews
Bavouzet, Manchester Camerata, Takács-Nagy, Stoller Hall, Manchester, review - concertos as opera
Bavouzet, Manchester Camerata, Takács-Nagy, Stoller Hall, Manchester, review - concertos as opera
Drama takes the stage in characterful views of Mozart
Thursday, 26 September 2019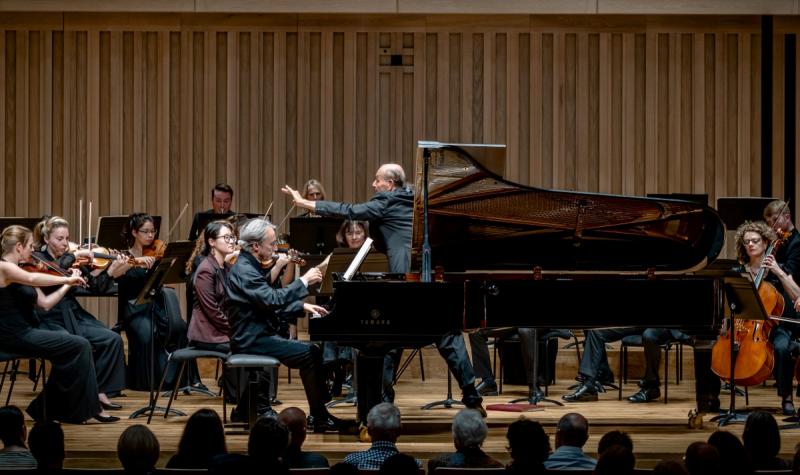 Operatic style: Jean-Efflam Bavouzet (piano), Gábor Takács-Nagy and Manchester Camerata
Manchester Camerata's series of in-concert recordings featuring Mozart piano concertos with Jean-Efflam Bavouzet is well under way now, and this programme, like others before it, included a couple of his opera o
vertures too.
Why so? "Because all Mozart piano concertos are also mini-operas," to quote Camerata music director Gábor Takács-Nagy, who likes talking to his audiences about what he and his fellow-musicians are up to.
Fair point – at least, it's almost a truism that Mozart often introduces his themes as if they were full-fledged characters unveiling their personalities, that his structures can seem like glorified versions of classical arias, and that he loved to give his audiences a comedy-style finale. So that's where Takács-Nagy is coming from here, and Bavouzet, playing a big-toned Yamaha concert grand, seems very content to go along with the idea of the concerto as drama, with himself in the limelight, hyped-up contrasts from the orchestral supporting cast, and helter-skelter final scenes.Takács-Nagy, at times, also seems to enjoy taking a vocal role in proceedings, an extension of the mini-opera concept which I could hear even on the very back row and which could conceivably give the recording engineers a little work to do, as there was no close-up mic-ing here.

The Camerata (cellos excepted, of course) stood up to deliver their opening overtures – first an actually operatic one, from Il Re Pastore (K208), played with vigorous and pointed articulation and soft-loud coups de théâtre a-plenty. Then Symphony No. 29 (K201), that miracle of teenage invention, which Takács-Nagy characterises as an example of the child-like in Mozart's personality.

He's right – but children can be seemingly innocent when there's a lot going on behind the wide-eyed look. In his reading there was charm a-plenty in the first movement, delicacy in the second, jollity and even a touch of mock-adulthood in the minuet (and, which I liked, an unexpectedly solemn trio), and a waxing-and-waning delivery of the finale which was highly effective.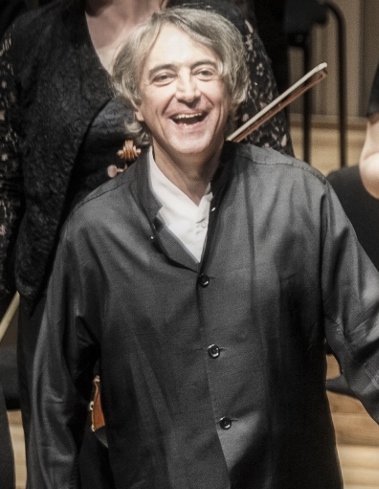 Jean-Efflam Bavouzet (pictured left) played Piano Concerto N. 8 (K246) with C major fullness of tone and used the sustaining pedal to reinforce it. Its opening movement was almost a serenade-style march, its Andante a lovely solo aria with appropriate touches of whimsy, and its finale a parade of comedy turns in the episodes, ending with a chord that sounded like a door slamming shut on angry exit by the pianist, who's disqualified from singing in the final chorus! Bavouzet's cadenzas (echt-Mozart in this performance) brought in a touch of quizzicality in the first movement and some suitably vocalist-like showing off to finish the second.

The Overture to Zaide (K344) brought the full orchestra briefly onstage, with its four horns and double woodwind (ex clarinets), and again we were treated to flash-bang scenic effects, through both pace and dynamic contrast. It's wonderfully listenable, and Gábor Takács-Nagy almost apologized for the over-emphases by telling us he'd realized they're necessary to get the right result in the recordings.

Finally we heard Piano Concerto No. 9 (K271) – long known as the "Jeunehomme" but now more correctly nick-named "Jenamy'" after Victoire Jenamy, the lady for whom it was written. This is one of those works of genius of which one never tires. Jean-Efflam Bavouzet played the solo from memory, full of joie-de-vivre and with an engaging individuality animating the melodic flow (and a romp through the augmented sixths and flourishes of the cadenza). The C minor Andantino really was like an opera scena, with pathos and tragedy from the very opening and the cadenza more meditation than display.

And the Rondo – marked Presto – was avowedly as fast as they could make it, perhaps almost too fast for string articulation but giving Bavouzet every opportunity for soloistic fun and games – the sudden intervention of minuet tempo just one ironic quip among many – and sheer exuberance at the end.

Bavouzet seems very content to go along with the idea of the concerto as drama
rating
Explore topics
Share this article