The Crown Jewels, Garrick Theatre review - star laden comedy fails to sparkle |

reviews, news & interviews
The Crown Jewels, Garrick Theatre review - star laden comedy fails to sparkle
The Crown Jewels, Garrick Theatre review - star laden comedy fails to sparkle
Al Murray and Carrie Hope Fletcher provide the only high points in a disappointing production
It was you who talked me into this wasn't it? Al Murray and Mel Giedroyc in The Crown Jewelsin
At first, it's hard to believe that the true story of Colonel Blood's audacious attempt to steal The Crown Jewels from the Tower of London in 1671 has not provided the basis for a play before. After two hours of Simon Nye's pedestrian telling of the tale as a comedy, you have your answer.
We open on a lover of the King who regales us in song – since it's Carrie Hope Fletcher (this production is not short of star quality), we can forgive the tinny piped-in music and enjoy her tremendous singing voice. The character returns a couple of times but (and this is a recurring theme in a disjointed production) receives no development in the writing, so, by the third ditty, we're wondering who she is.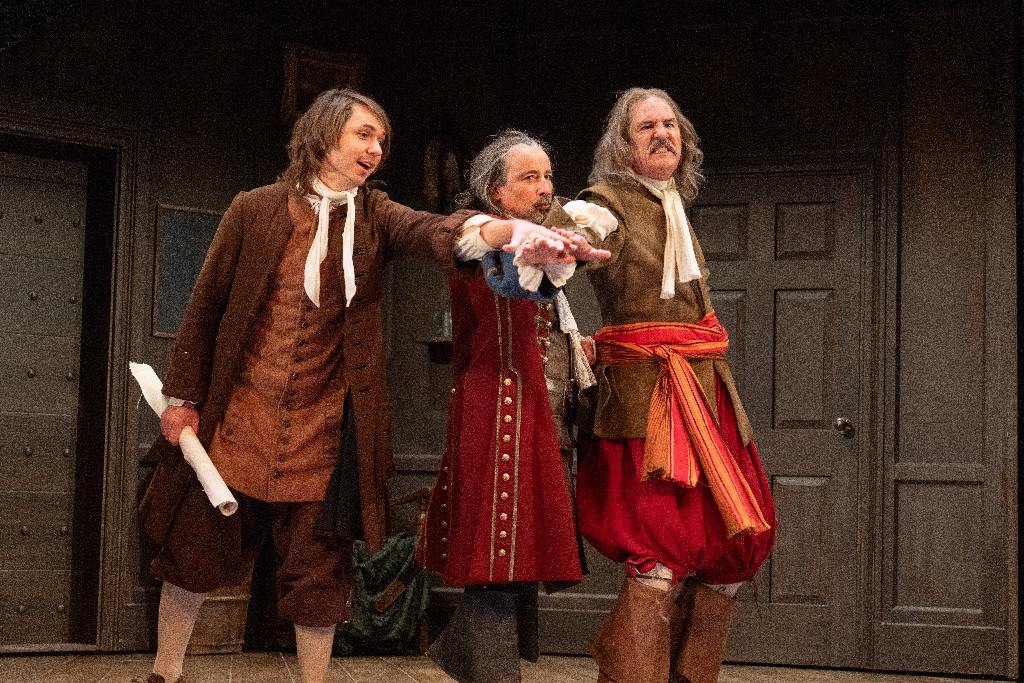 We're not wondering who King Charles II is – he's The Pub Landlord, Al Murray's celebrated master of all he surveys. Indeed, it's only when Murray goes "full Landlord", bantering with the audience, having a pop at our European neighbours, ad-libbing free of the confines of the script, that the evening really comes alive. But, after a genuinely funny interlude, the only time that laughter filled the house all evening, alas, we're back to the play.
Historical comedy can be done well, Blackadder the gold standard with The Flashman Papers not far behind. Director, Sean Foley, knows how to pull off the conceit as he had a smash hit with The Upstart Crow, which gave us a grumpy Shakespeare garnering more laughs than A Midsummer Night's Dream ever did. But you need more than a lot of people shouting, silly wigs and a few jokes Benny Hill might have turned down 50 years ago, to pull off the trick.
Aidan McArdle (pictured above with Joe Thomas and Neil Morrisey) is our villain, Blood, an Irish nationalist with a grudge against the King and a dream of retiring to County Kildare. He wants the sell his glittering bounty to lead a rebellion against the Crown and revenge the excesses of Cromwell, though this is only explained in a perfunctory manner. His band comprises a curiously underpowered Neil Morrissey and a bemused Joe Thomas as his drunk sidekick, Perrot, and milquetoast son, Tom, and Tanvi Virmani, an actress addicted to shouting. She swears a bit which still, inexplicably, can be enough to provoke a laugh from some, even if the plethora of cock jokes were largely met with indifference as was her reworking of Meg Ryan's scene from When Harry Met Sally.
Like most of the cast, Mel Giedroyc doubles and, if the randy middle-aged woman (wife of the ageing guard of the Jewels, Talbot Edwards, doubled by Murray) is as tediously familiar as you would expect, her coyly sexy French noblewoman has a lot of fun, but is dropped from the narrative as soon as we get to know her. Adonis Siddique gives the best turn all night as the King's obsequious aide-de-camp, Wythe Edwards, although even that praise is tempered by the inevitable northern accent he is required to affect for a not-so-bright underling. That said, he can time a punchline and pull off an Oliver Hardy style exasperated like look across the fourth wall, certainly not something one can say of every member of the cast.
The revolve is used to good effect, but Michael Taylor's sets all manage to look like different rooms of a pub in Stratford Upon Avon. His costumes dazzle, but even then somehow the show disappoints, as they're not quite as spectacular as those donned by Charles' successor a century or so later, George III in Hamilton. You can see more of the cost of your ticket spent on the marketing than you can on stage.
Comedy is hard to get right and it's also wildly subjective in its reception, so I always try to lean into a show, find the humour and gloss over the jokes that fall flat. But such generosity is hard to extend to a production that only succeeds when the story is left behind and the stage turns into a platform for proven West End performers to strut their stuff. Nye and Foley both have impressive track records with awards aplenty, but this is Nye's first time writing for the stage - and it shows. The online booking page suggests 12 as the minimum age to enjoy the The Crown Jewels: it might also be the maximum IQ.
It's only when Murray goes "full Landlord", bantering with the audience, that the evening really comes alive
rating
Explore topics
Share this article