Ricky Gervais, SuperNature, Netflix review - a provocateur at work |

reviews, news & interviews
Ricky Gervais, SuperNature, Netflix review - a provocateur at work
Ricky Gervais, SuperNature, Netflix review - a provocateur at work
An equal opportunities offender delivers a masterclass in meta comedy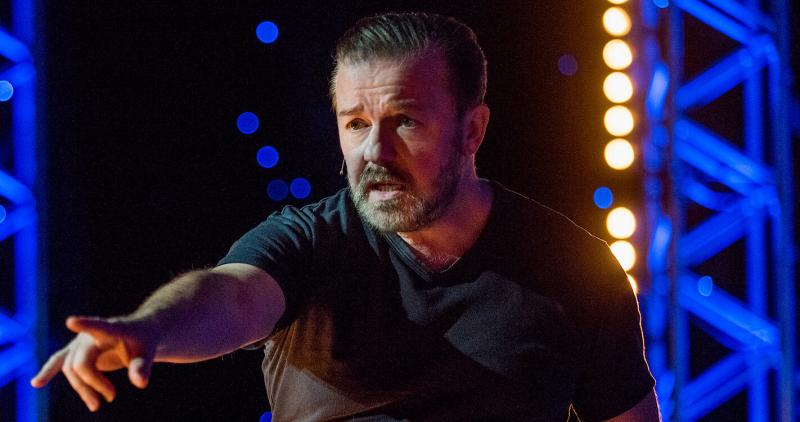 Ricky Gervais mixes a masterclass in comedy with affectionate tales
Irony can be a trump card for a provocative comic such as Ricky Gervais, and he plays it right at the top of his SuperNature, an updated version of a show he started touring in 2019, which was rudely interrupted by the pandemic and is now his latest Netflix special.
"Irony, where I say things I don't mean. There's going to be a lot of that throughout the show," he says, launching into a clever skit purportedly saying women aren't funny, but which then moves on to, for some, the most pressing issue of the day, self-ID.
"I love the new women, Gervais says. "They're great, aren't they? The new ones we've been seeing lately. The ones with beards and cocks."
Actually, this segment is only a small part of SuperNature and what follows is a masterclass in meta comedy where Gervais breaks down both the gag, and the audience's response to it (and by extension the furore it may cause beyond the room), as well as the concept of punching up rather than down in comedy, and being able to appreciate the art even if one doesn't like the artist. (Louis CK and Kevin Hart are both named here – not the first time there are dated references in the hour-long show.)
Gervais aims several of the gags at himself and some of the highfalutin, surrealist flights of ego are hilarious, as Gervais (a "a white, heterosexual millionaire") says he knows what it is to be part of a minority, comparing himself to Rosa Parks – only he would never travel by bus, obviously. There's plenty to be offended by if you don't see what the joke really is – or its target – but he's an equal opportunities offender, at least.
Among the very well constructed comedy there are more conversational segments – about a medical examination (cue finger-up-bum gags), contemplating death, why fat people are fat, the difference between cats and dogs, and why God invented AIDS. Again, some of it is dated, and it covers some of the same ground as previous shows.
He explains the show's title – his belief that nature is super, while belief in the supernatural isn't – and I daresay some will be triggered by his barbs at both the religious and those who believe in humans' interaction with the spectral plane.
Gervais ends the show with some affectionate stories about his mum and his school friends. Nothing offensive there, but plenty to laugh at.