After Life, Netflix, review - Ricky Gervais's grief emoji |

reviews, news & interviews
After Life, Netflix, review - Ricky Gervais's grief emoji
After Life, Netflix, review - Ricky Gervais's grief emoji
The comedian does death in a sitcom about a widower who can't move on
Pet project: Ricky Gervais writes, directs and stars in 'After Life'
The limitless goodwill generated by The Office earned Ricky Gervais the right to do and say as he pleased. Thus, hosting the Golden Globes, he was toweringly rude to Hollywood royalty. In Extras he gleefully portrayed celebrities as vain and ghastly. In The Invention of Lying he explored the logical consequence of a world in which people say what they really think.
Add to that the brisk frankness of his stand-up shows, in which he insulted the religious and derided the overweight. Speaking the truth was his self-styled superpower.
His misanthropy arrives at a logical terminus in After Life (Netflix), a sitcom about suicidal depression. His protagonist Tony is a middle-aged local journalist who has not coped since the death from cancer of his wife Lisa (Kerry Godliman, pictured below with Gervais). She has left behind inspirational video messages to get him through the day but they don't seem to be working. He eats curry from the tin, barely bothers to do any work in the office, and often discourses on the pointlessness of existence. "A good day," he explains to new colleague Sandy (Mandeep Dhillon), "is when I don't go around wanting to shoot people in the face and then turn the gun on myself." The only thing preventing him from going through with it is his German shepherd Brandy.
Tony's position is that all humans ought to feel the same way as him: "we're a disgusting, narcissistic, selfish parasite and the world would be a better place without us. It should be everyone's moral duty to kill themselves". His boss Matt (Tom Basden), who is also his brother-in-law, remonstrates that rudeness cannot be society's default setting. "That's the beauty of it," Tony replies. "There's no advantage to being nice and thoughtful and caring and having integrity. It's a disadvantage if anything."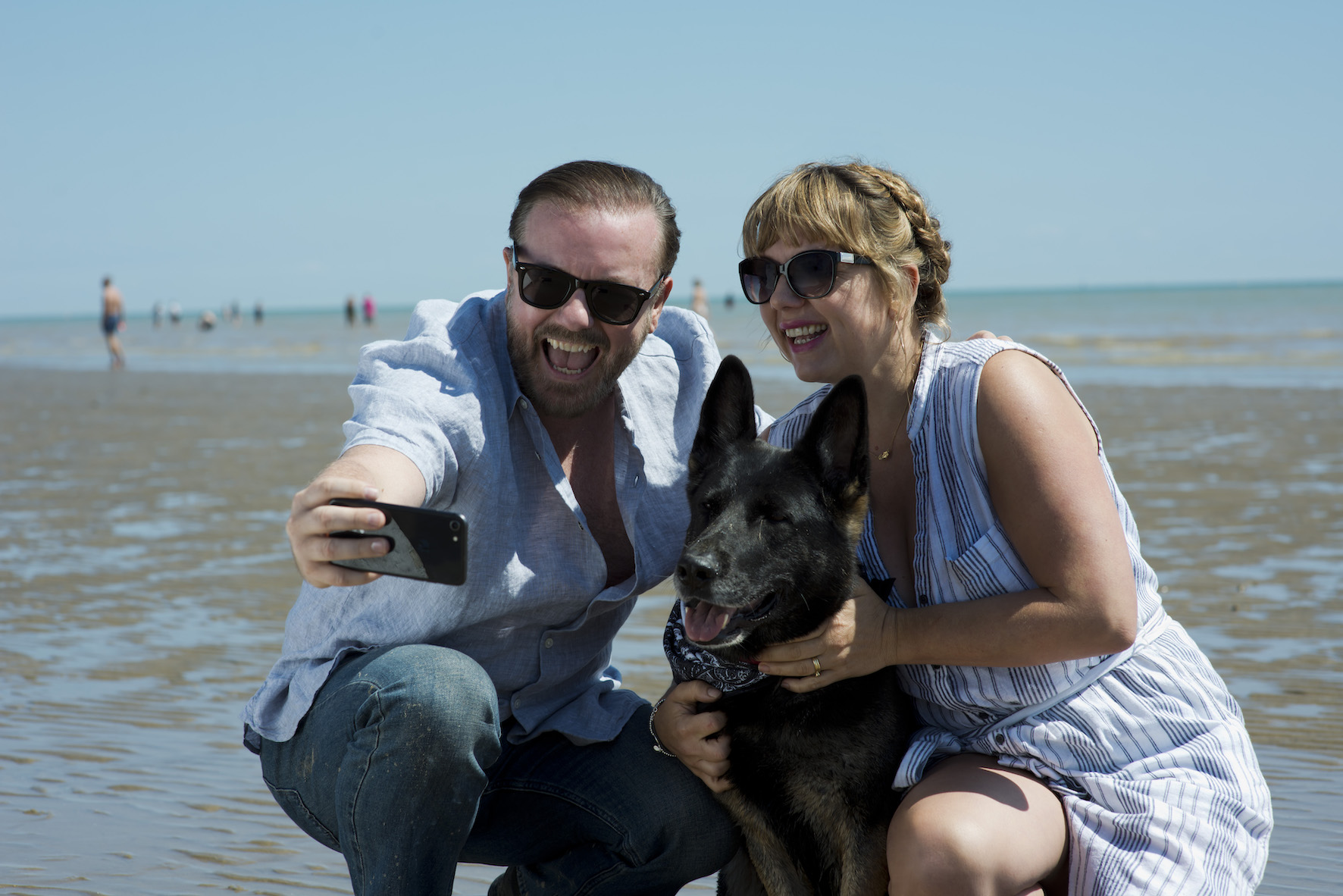 There's probably something in that, and yet it doesn't feel as if Gervais, who directs his own scripts, has sweated this stuff very deeply. He has loaded the dice in favour of his argument by giving Tony a pointless job in a pointless newspaper. Tony smokes heroin supplied by a local addict but their impact on him is not explored. He plunges fully clothed into the sea then turns round and swims back. At an office outing to see a stand-up he explains, when asked by the comic, why he doesn't find anything funny. These are all snapshots of despair, but there is an odd lack of curiosity about the architecture of grief. The first moment of genuine moral jeopardy is held back till the end of the fourth episode.
Mostly Gervais is playing old tunes from his back catalogue. The idea that there is no God gets another outing - a colleague is summarily flattened when she makes a weak case for His existence. The celebs who are the source of cheap laughs here include James Corden, Kenneth Branagh and Jackie Collins. He remains remorselessly obsessed with obesity. One kid is apostrophised as a "tubby little ginger cunt". An overweight colleague (Tony Way) is "a fat cunt eating crisps". A woman who has a near fatal accident when impaled by a metal spike is saved by her fat, she argues, only to be informed by Tony that if she hadn't been fat the spike would have missed her. Perhaps this is externalised self-loathing: Lisa refers to Tony as a "fat twat".
Gervais's pulling power means he can summon stars to more or less underwritten roles: David Bradley plays his father with dementia, Ashley Jensen is his father's nice nurse, Paul Kaye a shrink who scrolls through his phone during sessions, Penelope Wilton a more perky sort of mourner, Diane Morgan the luckless butt of Tony's aggression in the office. There are also fun cameos for a sex worker who does his cleaning and a postman who can't be bothered to walk as far as the front door.
This is self-pity as comedy, a philosophical thought bubble by way of plot. It is competently made, and pleasant to look at, and gently amusing. And it is at least scrupulously loyal to the true nature of sitcom, which traps its protagonists in an inescapable loop. But it's hard to imagine a long afterlife for After Life.