Derek, Channel 4 |

reviews, news & interviews
Derek, Channel 4
Derek, Channel 4
Ricky Gervais's latest vehicle will stir debate, but many nagging doubts remain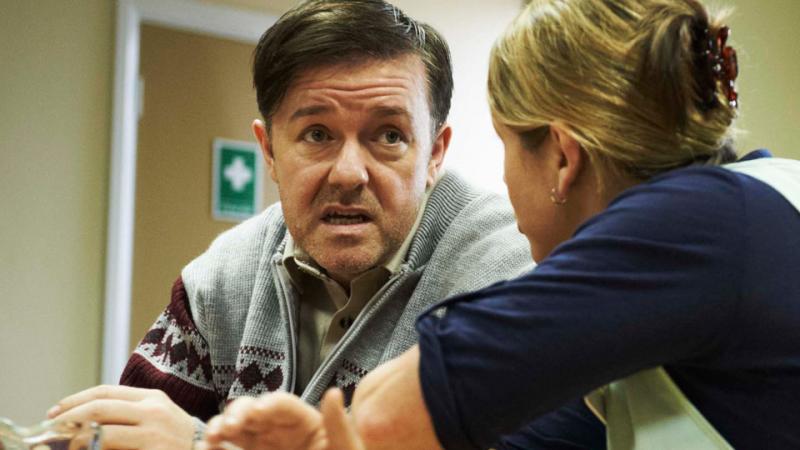 Derek (Ricky Gervais) and Hannah (Kerry Godliman) work in a care home
Ricky Gervais doesn't make it easy for critics or viewers. He has always pushed the boundaries of modern comedy with a cast of unlikeable characters, starting with his 11 O'Clock Show inquisitor to deluded fool David Brent in The Office and failed actor Andy Millman in Extras, as well as "himself" in The Ricky Gervais Show and Life's Too Short.
But within all his creations there has been an element of vulnerability that made them believable and ultimately sympathetic. And now his latest offering, which he wrote and directed, has at its heart a character, the titular Derek, whom Gervais describes as "different", but who to the rest of us would appear to have learning difficulties.
Gervais has said that Derek (a character he first performed several years ago as part of the comedy triple bill The Rubberneckers with Jimmy Carr and Robin Ince at the Edinburgh Fringe), is cleverer than Father Ted's Father Dougal or Rowan Atkinson's Mr Bean. But surely the former was a likeable idiot and the latter a buffoon – and his assertion, for me at least, fails when we see that Derek is given a Hitler-style haircut, jutting lower jaw and a shuffling running-walking gait. He's an avid autograph hunter, a group of humanity that Gervais has derided in his live act as having messed-up DNA. Derek also loves The Secret Millionaire and viral videos involving hamsters playing the piano.
Debating points aside, Derek (the pilot of which was shown last night) was filmed in Gervais's favoured mockumentary style. Derek Noakes works in a care home for the elderly - although his job is undefined - and was showing a TV crew around. He's simple and kind, and performs acts of simple kindness to those around him, such as holding their hands or running errands for them. As care worker Hannah (Kerry Godliman) says, everybody likes Derek. But he lacks any social graces and says whatever comes into his head and, when she wondered if one of her charge's grandson, Tom, was gay, he went straight up and asked him, not understanding that her curiosity was piqued by finding him very fanciable.
Derek's best mate is Douglas, the home's no-nonsense caretaker, played by Karl Pilkington (pictured right with Gervais, sporting another ridiculous hairstyle that invites our laughter), with whom he also lives, and there was another pal introduced although not developed, a fellow autograph-hunter. Derek and Hannah are also mates and went to the pub together, and last night's one laugh-out-loud moment was when she nutted a woman in the pub who was making rude remarks about Derek looking like a tramp. Funny though the scene was, it was, like the relationships between the principals, hard to believe. What wasn't funny at all was the heavily telegraphed physical comedy – Derek sitting on a bowl of custard, Derek falling in a pond.
The show got better as the half-hour played out and there were several exquisite moments, most of them supplied by an astonishingly accomplished performance by stand-up comic Godliman, stealing every scene she was in. She indicated with the merest of looks her character's compassion, her loneliness and her longing for Tom. But Gervais had his lump-in-the-throat moments too and Derek's grief at losing his favourite old girl, Joan, was truly affecting; in a wordless scene Derek was seen saying goodbye to her, lifting her dead hand to pat his head one last time.
Gervais is already writing a full series of Derek, so must assume (or know) that the contract is in the bag. But the nagging doubts remained – why has he chosen to play Derek as a caricature, and would this pilot have been commissioned if his name wasn't attached to it? And, if he really is making a point about how we as a society negatively view anybody "different", why not really go for it and cast an actor with learning difficulties, or Asperger syndrome, or whatever condition it is that a Hitler haircut, jutting lower jaw and shuffling walking/running gait are symptoms of?
There were several exquisite moments, most of them supplied by an astonishingly accomplished performance by Kerry Godliman
Share this article