Best of 2016: Comedy |

reviews, news & interviews
Best of 2016: Comedy
Best of 2016: Comedy
We needed something to laugh at. Here's who helped...
Tuesday, 27 December 2016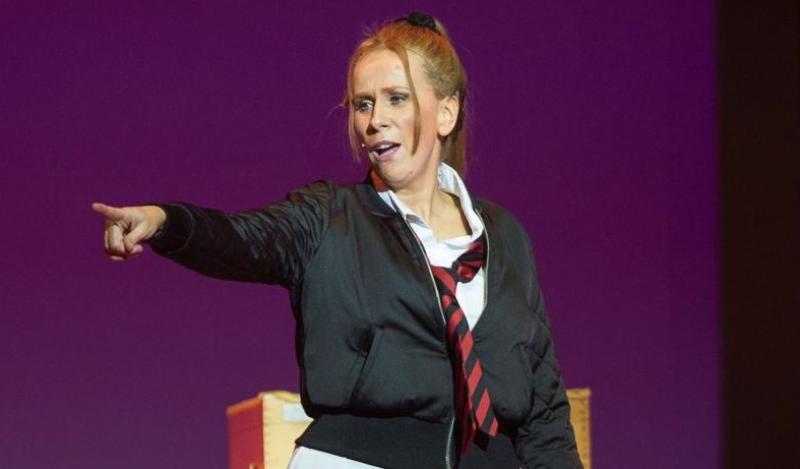 Catherine Tate as schoolgirl Lauren in the live stage version of her television show
There have been some treats on the comedy circuit in 2016, a year when we definitely needed something to laugh at. Here, in no particular order, are my comedy highlights of the past 12 months. I hope you had as much fun seeing them, or reading about them on theartsdesk.
There have been some treats on the comedy circuit in 2016, a year when we definitely needed something to laugh at. Here, in no particular order, are my comedy highlights of the past 12 months. I hope you had as much fun seeing them, or reading about them on theartsdesk.
What a way to bring a television show to life - with a rollicking great entertainment like this. The show was stuffed with characters we haven't seen on our screens since 2007, and Catherine Tate hasn't performed comedy live since her early days at the Edinburgh Fringe, but even the fluffed lines were turned into great material. She was ably abetted on stage by long-time collaborators Mathew Horne and Niky Wardley, and co-writer Brett Goldstein. Tate brought back all the TV series' favourite characters in new sketches and in exquisite detail captured the nuances of her characters' voices and movement; we all know these people, including Lauren the schoolgirl (main picture) and foul-mouthed Nan (pictured right). The live format magnificently reinvigorated Tate as a performer and, with smart direction by Sean Foley, the show zipped along.
Richard Gadd: Monkey See Monkey Do
From the moment I saw this at the Edinburgh Fringe, it was my winner for the prestigious Edinburgh Comedy Award, and so it proved. It is an astonishing show, one that could have easily been in the festival's theatre section, such is its depth and complexity; at its heart is a deeply personal and revelatory story about an incident in Richard Gadd's life that caused him to re-evaluate who he is both as a person and as a man. It's a high-energy (not least for Gadd, who spends most of it on a running machine), high-concept multimedia show in which he interacts with pre-recorded inserts to expose his anxieties and tell his story. It's an often unsettling hour, but one with lots of laugh-out-loud moments. It's also a thoughtful and highly original examination of masculinity and I cannot wait to see it again.
Richard Gadd is at Soho Theatre from 9 January to 4 February 2017
Bridget Christie: Because You Demanded It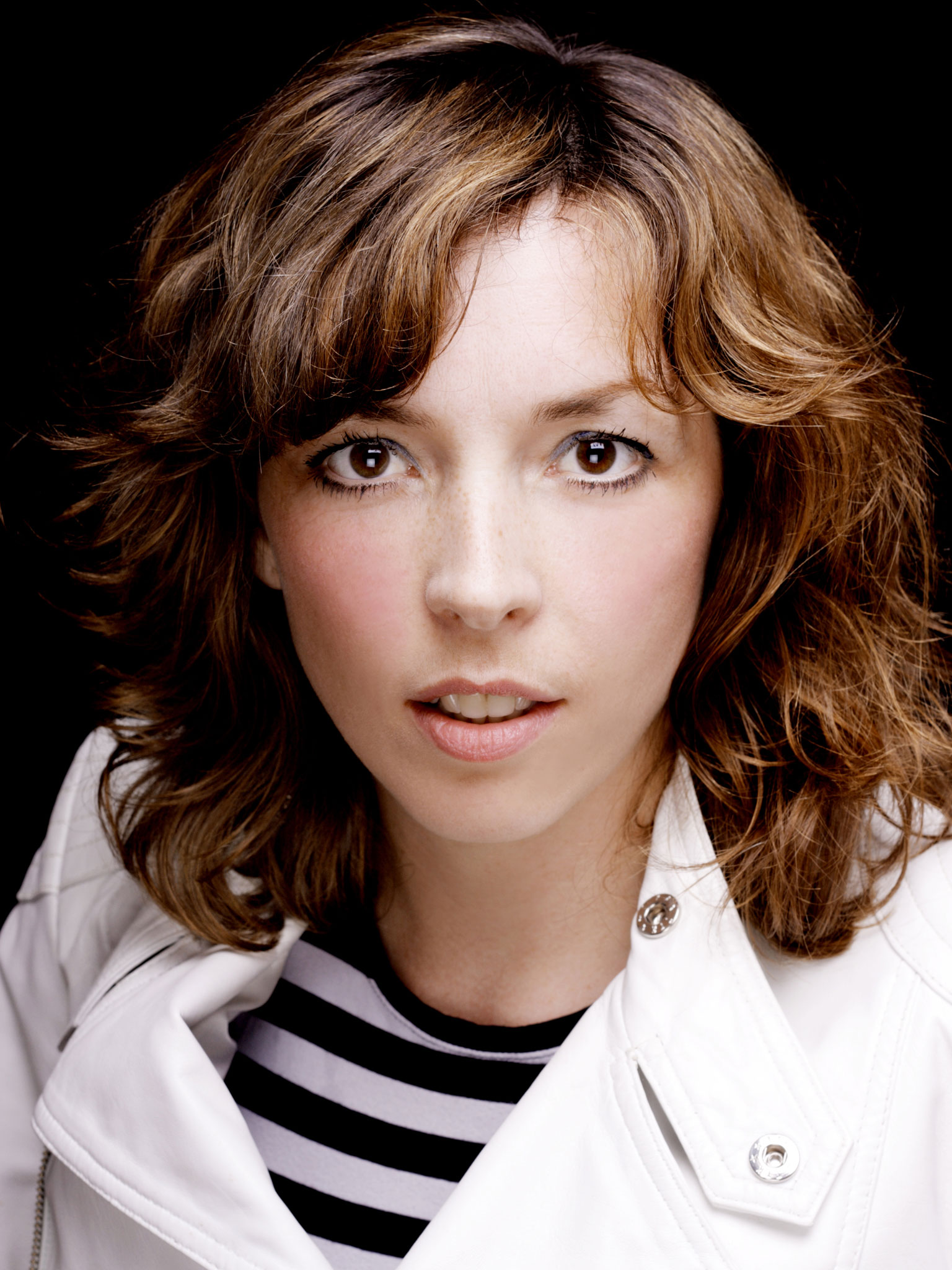 As she was starting the previews for her planned show (about death and the afterlife) to take to the Edinburgh Fringe in August, the EU referendum vote on 23 June 2016 turned out to be for Brexit. The result devastated Bridget Christie and she wanted to make sense of it – so she wrote an entirely new show reflect on what Brexit means to her, and possibly for this country and her children's future. It was a brilliantly accomplished piece of work, using Christie's love of gardening as a metaphor (all those foreign plants we love, such as fuchsias, that blend so well with our natives) and it was delivered with passion but also grace under fire. It demands a second viewing, and the touring version will be updated and extended.
Bridget Christie is touring 31 January to 22 June 2017
David Baddiel: My Family: Not the Sitcom
It's not often that a comedy show raises some interesting ethical questions. Described by the writer and comic as a "massively disrespectful celebration" of his parents' lives, My Family: Not the Sitcom certainly lived up to that but, considering that his mother is dead and his father is suffering from a form of dementia, neither could give their approval for the show. Yet because it was done with such obvious affection, that consideration became a nagging doubt rather than a burning issue. Baddiel described with telling anecdotes his attention-hungry mother and his irascible father, and didn't spare himself as he described his unconventional childhood, in which his mother's "friend" – her lover of many years – was an addendum to their suburban family life. This was a brilliantly constructed show with clever callbacks and lots of big laughs. As for the ethics? Well nobody would have left the theatre without being grateful for their less "interesting" parents. A fine and funny show that pushed the boundaries of comedy.
Fleabag
Phoebe Waller-Bridge (pictured right by Rii Schroer) has – like a reality-TV contestant – been on a journey. Her one-woman show - about an angry, sweary and sex-obsessed young woman whose life is going nowhere and who has destroyed her relationships with her boyfriend, her business partner and best friend by her sexual voraciousness - first saw the light of day at the Edinburgh Fringe in 2013 (where it was showered with critical raves) and then in 2016 she broadened it out into a six-part sitcom on BBC Two. That was also a critical and ratings hit, and confirmed her as a rising star of both theatre and comedy. Then the story came full circle when Waller-Bridge performed a season of the solo version at the Soho Theatre (where it was again directed by Vicky Jones), and what a treat it was. It was a singular feeling hearing how one line in the theatre piece translated into a long sequence on TV, and it made for an even richer and more satisfying experience watching her on stage, sitting on a stool to tell Fleabag's story, or supplying the voices of the other characters.
Reeves and Mortimer: 25 Years of Reeves and Mortimer: The Poignant Moments
Even if the show had turned out to be rubbish, the audience would have enjoyed every minute, as Bob Mortimer nearly didn't make it on stage with Vic Reeves after emergency heart surgery delayed this live tour to celebrate a quarter of a century of working together. Fortunately, he's now blooming and the show was as utterly, wonderfully daft as all their fans hoped. There were welcome appearances by most of the fans' favourite characters, including Greg Mitchell the talking Labrador, awful folk singers Mulligan and O'Hare, and pretentious contemporary dance group Action! Image! Exchange!. The delighted audience knew their lines, with "What's on the end of the stick, Vic?" and "Trumped right up" in response to Judge Nutmeg's query of "What are the charges?" coming bang on cue. We may have been wallowing in nostalgia, but who cares?
James Acaster: Reset
He may always be the bridesmaid rather then the bride at the Edinburgh Comedy Awards (five nominations) but with his intelligent, offbeat humour and a wry delivery, James Acaster has rightly built up an impressive following at the Fringe and beyond, having improved his craft year on year. Reset is a gem, a beautifully written and performed essay about having one's time again. In Acaster's very individual take on the subject, it could mean him going into the witness protection programme, or being an aid worker in the developing world, or becoming a beekeeper – or all three, in a breathtakingly detailed piece of storytelling. For those who missed any of his last three shows, or who want to see them again, Acaster will soon be touring his "trelogy" of Recognise, Represent and Reset.
James Acaster is touring The Trelogy from 8 February to 23 June

Lucy McCormick: Triple Threat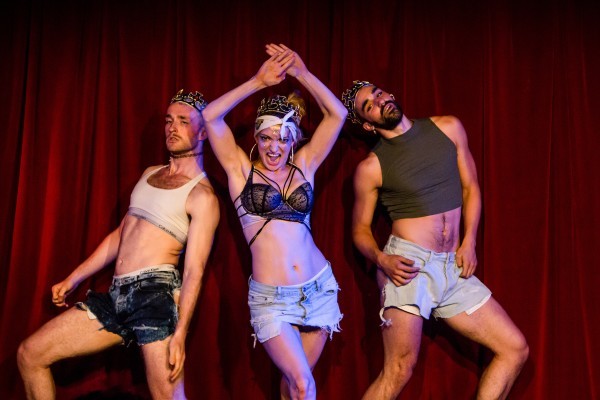 A colleague badgered me to see this show at the Edinburgh Fringe, which I confess I may well have overlooked if left to my own devices – but I am so grateful to her as what an absolute hoot it turned out to be. It was a mass of sweat, glitter, coffee granules and Nutella as all manner of objects – including a large purple dildo - were employed to tell the New Testament story resulting in how Jesus Christ came to die on a cross. Among the mayhem, where Lucy McCormick is assisted by two hunky angels in their whitey tighties, there were neat visual gags, and one in particular has stayed with me since August - the Massacre of the Innocents being enacted by McCormick greedily gulping down a large carton of an Innocent smoothie. Outrageous, funny, witty, original, subversive and utterly daft with some shockingly blasphemous scenes; I repeat my warning - it's not for the religious or the easily offended.
Lucy McCormick: Triple Threat is at Soho Theatre from 28 March to 22 April

And finally: this has been a cruel year in so many ways, and comedy hasn't been immune. We have lost so many great names – Caroline Aherne, Garry Shandling, Ronnie Corbett, Paul Daniels, Andrew Sachs, Frank Kelly and Gene Wilder, plus two great wits in Sir Terry Wogan and AA Gill. But the death that most saddened and shocked me was that of Victoria Wood at the age of 62. A comedy hero to me and a national treasure (a phrase I am sure this prodigiously talented but modest woman would have hated) to others, she was a pleasure to know professionally and I treasure the brief time I spent in her company. She is sorely missed.
The live format magnificently reinvigorated Catherine Tate as a performer
Share this article