Michael McIntyre, Brighton Centre review - observational everyman |

reviews, news & interviews
Michael McIntyre, Brighton Centre review - observational everyman
Michael McIntyre, Brighton Centre review - observational everyman
Jovial comic's first tour in five years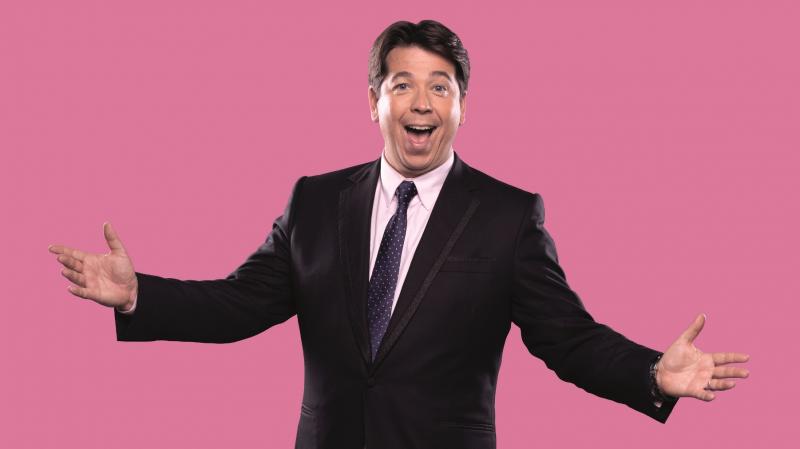 Michael McIntyre is touring his new show Macnificent
It takes some chutzpah to do a substantial section of a comedy show in 2023 (and touring until mid-2024) that deals with your pandemic woes, but that's Michael McIntyre for you – he has never been short of confidence.
To be fair, it's the closing section of a solidly constructed performance of his everyman comedy, but runs the risk of being stale for those seeing him at the end of the tour.
Macnificent is his first touring show in five years, during which his career as host of various shiny-floor shows – clips of which we see in a pre-show reel – has gone from strength to strength. His latest, The Wheel on BBC One, is much like the comic himself – jovial and lighthearted, entertaining if unchallenging – a combination that wasn't as attractive to American television executives, who recently canned the US version of The Wheel after one season.
As a stand-up, McIntyre has carved a career out of observational comedy that takes a grain of truth from something everyday – mobile phones, dieting, being an anxious parent, even bread – and gradually building a story that reaches almost surreal heights. The end point of some routines is often unbelievable, but such is his brio – and physically acting out some gags – that the audience is swept along. We want it to be true even though we suspect that it's only the starting sentence that is.
And so Macnificent is full of tales about life in a long marriage, being the father of two teenagers, facing the perils of US Immigration and deciding he needed to lose some weight. There's some material that strays away from his "I'm just a normal bloke like you" shtick, as he describes how his gardener deals with leaves, or ordering breakfast in a swanky Los Angeles hotel with a supermodel at the next table, but such is his bonhomie that he pulls it off.
There's a strong section on the language we use to pretend that we stick to the government's recommended drinking limits – he and wife might have "just a splash" or maybe "a little nightcap" to follow – but the section on the world's breads, complete with accents, sounds like a warmed-over version of his spice rack routine.
Another lengthy section is about our mobile phone addiction, during which he cheekily admits to "accidentally" viewing semi-naked women on TikTok – not because he was lingering on the images, but because the algorithm has decided he does. It's a neat construct, and one that he gets away with because he's so wholesome, and it involves a bit of wonderfully daft physical comedy involving the new bed he and his wife bought.
McIntyre landed on a recipe for success early in his career – polished observational comedy that often reaches farcical conclusions, skilfully performed – and this doesn't disappoint.
McIntyre's observational comedy takes a grain of truth from something everyday
rating
Explore topics
Share this article