Phil Wang, RFH review - smut and smarts |

reviews, news & interviews
Phil Wang, RFH review - smut and smarts
Phil Wang, RFH review - smut and smarts
Nicely curated show that covers lots of topics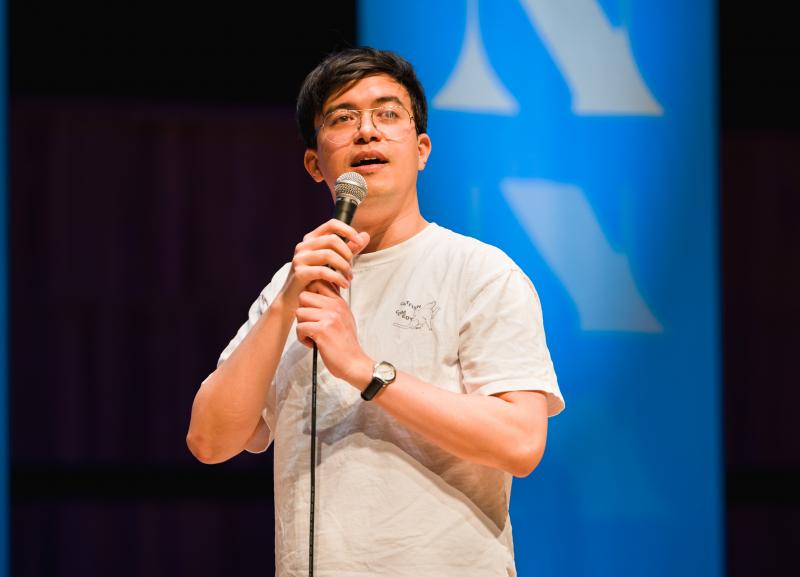 Phil Wang's charm allows him to pull off a penis-related gag with offence
Phil Wang has an interesting background: he has a Chinese-Malaysian father and a white English mother, was born in the UK, and spent his childhood in Malaysia before returning to the UK at 16. His comedy has always mined this rich seam, and now in his latest touring show, Wang in There, Baby!, he mines it a bit more with his opening gags.
First up is a discussion about rice, and very informative it is too, as he discusses the different positions English and Chinese people take on it – and what you're really eating when you order fried rice in a restaurant. There's more food-related material as he considers the ethics of eating octopus, before he talks about cancel culture, being sort of famous and why he doesn't cycle because he "isn't angry or unreasonable enough". Such is his mild manner, that bit of shade doesn't feel accusatory – although it went down very well with a London audience.
In a show composed of mostly unrelated jokes (but with some clever callbacks to link them), Wang also talks about the phrase "touch wood" and the panic people feel when there is no wood readily available to touch. But don't worry, chaps, Wang has the solution (one not available to females, sadly).
He likes a bit of smut, does Wang, but not so much that you couldn't take your proverbial maiden aunt to see him.
Wang is naughty but nice and, as he has proved on his appearances on Taskmaster and Have I Got News for You, is bright and quick-witted – and he's charming, too, which means he can pull off gags about measuring his member (for research purposes only, you understand), and even one referencing Kendrick Lamar's lyrics, which often contain the N-word. It's a potential elephant trap, but Wang skilfully navigates the gag back to the safety of silliness as he describes his inventive workaround should you wish to sing along to the rapper's songs.
And while some of material is ho-hum, it's a nicely curated set of gags with a few unexpected payoffs – and Wang is very pleasant company for 75 minutes.
He likes a bit of smut, does Wang, but not so much that you couldn't take your proverbial maiden aunt to see him
rating
Explore topics
Share this article