Ricky Gervais, BIC review - nudging the boundaries again |

reviews, news & interviews
Ricky Gervais, BIC review - nudging the boundaries again
Ricky Gervais, BIC review - nudging the boundaries again
And what's with the paedophile jokes?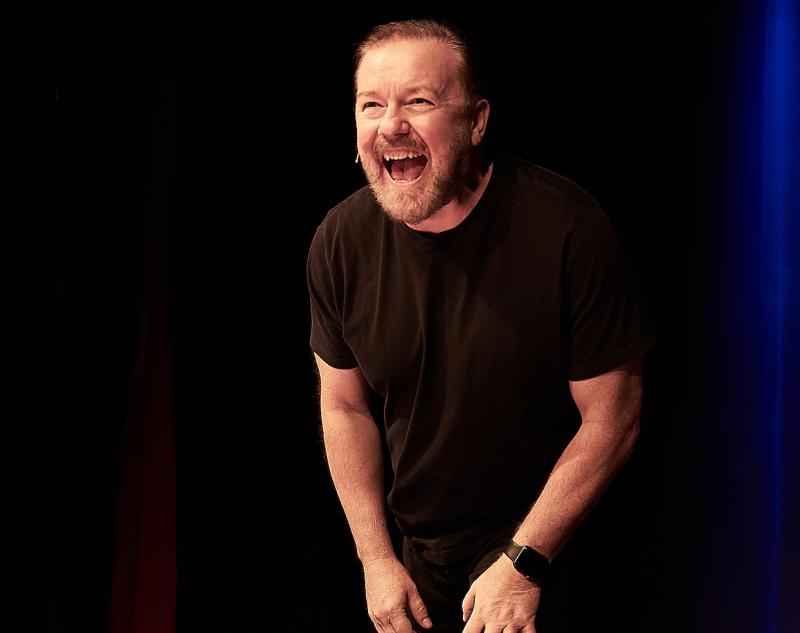 Ricky Gervais says he is testing new material for his next Netflix show
Ricky Gervais tells us at the top of the show that there was a backlash to his 2022 Netflix special SuperNature. So big, he says, that it's become the most watched comedy special of the year. "So I've learnt my lesson," he says with a side-eye to the audience.
This show, Armageddon, is going to push the boundaries a bit further, he continues, because he's road-testing material for the next Netflix special, to work out what's acceptable to include. It's a canny conceit; we're now complicit if we laugh at any "unacceptable" material, while Gervais can chide us for enjoying something he suggests may be going too far.
As ever with Gervais, there are jokes that approach the "unacceptable" line – about selfish disabled people, inefficient child labourers and child brides in Pakistan. But then in the next breath he lands a perfectly formed gag that no one could possibly object to – for instance, he says how illiberal much of the "liberal" world now is and how low the bar for the insult "fascist" is now set (it just means "liking a Joe Rogan tweet").
But while I'm all for upsetting the perpetually offended, there's a number of the former type of gag in Armageddon, even, dare I say it, a little laziness in going for an obvious payoff rather than the more nuanced gags that form the greater part of the show. And does he have to mention paedophiles quite as often as he does?
The shortcuts to some of the laughs (and the show has a high laugh count) can be frustrating for those who, like me, believe Gervais is a talented writer – as his recent success at the National Comedy Awards for After Life would attest.
He tartly pokes fun at wokery, and mentions freedom of speech, how words change over time and hypocrisy, but disappointingly doesn't develop these strong themes, or ends with a crowd-pleasing gag. There's a lectern on stage which suggests we may get a mind-expanding hour, but it's used merely to store a can of beer for the comic to slake his thirst.
As ever, Gervais is having his cake and eating it, but that's part of his shtick, along with the smugness, the knowingness, the arch irony, the never becoming too earnest even when he is talking about animals, which he values more than humans (if I understand him correctly). It's all, for the hard of thinking, part of the act, but when he delivers a little homily by way of a curtain call it seems entirely sincere: as long as no one is getting hurt, he says, laughter is good.
Gervais seemed a little underpowered when I saw Armageddon at the Bournemouth International Centre, but when it was good, it was very, very good.
As ever, Gervais is having his cake and eating it, but that's part of his shtick
rating
Explore topics
Share this article