Deep Water review - not even laughably bad |

reviews, news & interviews
Deep Water review - not even laughably bad
Deep Water review - not even laughably bad
Hugely disappointing return to the screen by British erotic thriller veteran Adrian Lyne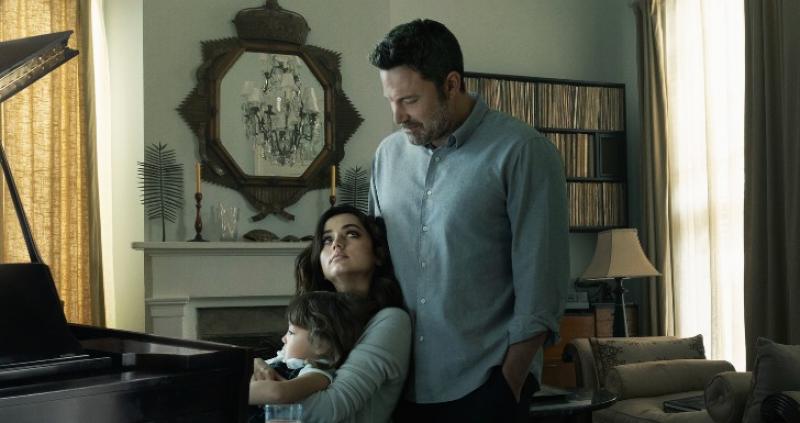 Unhappy families: Melinda (Ana de Armas) wonders when Vic (Ben Affleck) will get a shave
Patricia Highsmith must be spinning in her grave. This ridiculously incompetent adaptation of her 1957 crime novel lacks all suspense or credibility. It's hard to believe that Adrian Lyne, responsible for huge box-office hits like the provocative thriller Fatal Attraction and the dodgy but watchable 9 ½ Weeks and Indecent Proposal, could make something quite so feeble as Deep Water.
The movie was originally intended for a cinema release, but COVID-19 provided the perfect excuse for shuffling it out for streaming in the hope that its stars would draw an audience at home. Deep Water has been sitting on a shelf for so long that the on-set romance between its leads, which would have helped with publicity, is long over.
Ben Affleck phones in his performance as Vic, a wealthy husband whose permanent stubble and untucked shirts don't appear to be inflaming much passion in his sexy wife. Ana de Armas plays Melinda, a classic femme fatale trophy bride, who takes a series of younger, clean-shaven lovers to ensure erotic satisfaction and no beard burn. The couple's lives together seem to revolve around a series of parties at their and other rich friends' houses, which are interspersed with scenes in which they parent their insufferably cute daughter, Trixie (Grace Jenkins).
Melinda flaunts her sexual conquests in front of her husband, who tolerates them as long as he gets to help her choose her shoes (Deep Water is an advert for "fuck me" heels and a reminder of Lyne's long-term penchant for legs and ass). It's only when Vic faces his friends' humiliating pity for his blatant cuckoldry that he snaps. It's the stupidity of Melinda's young lovers that seems to infuriate him most – the casting of Brendan Miller as Joel, who looks as if a cloning experiment between Brad Pitt and Patrick Swayze has gone horribly wrong, is one of the few smart moves here.
There's very little of Highsmith's wonderfully disturbing descriptions of Vic and his inner world. In the novel, he breeds snails as an experiment, and as a keen entomologist he is happy to let his captured bedbugs nibble him in the name of science. The film never gets inside his head in the discomfiting way that Highsmith made her trademark. Instead, we get one scene after another of rich folk entertaining themselves at catered shindigs, desultory car conversations, and Affleck looking moody and morose.
Poor Ana de Armas (pictured above). The actress, who showed how great a screen presence she could be given Phoebe Waller-Bridge's dialogue in No Time to Die, looks here as if she's been enrolled in Nymphomania for Beginners Class and can't wait for term to be over. The action scenes lack all tension, the plot is clueless, and the car-bicycle chase finale is an object lesson in how not to end a film. Surely there are better ways to spend your time than watching Deep Water?
Deep Water is on Amazon Prime
Ana de Armas looks as if she's been enrolled in Nymphomania for Beginners Class
rating
Buy
Explore topics
Share this article