The Way Back |

reviews, news & interviews
The Way Back
The Way Back
If it's Tuesday it must be Mongolia in Peter Weir's misbegotten slog of a film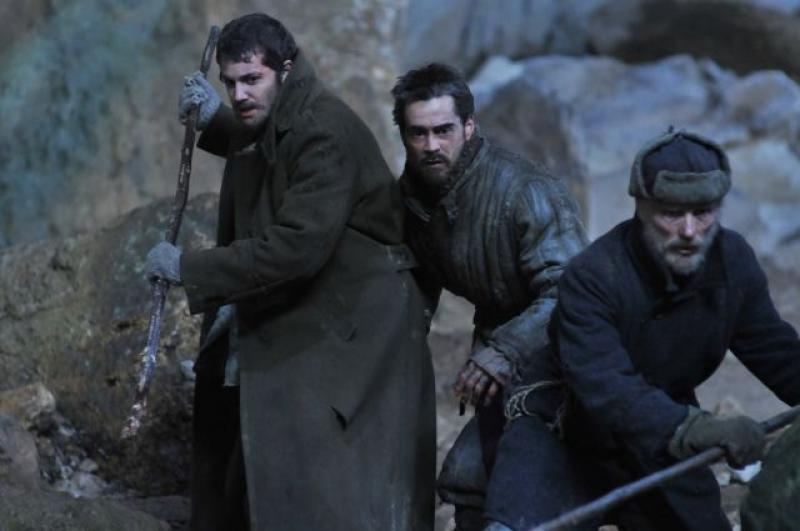 Next stop, the Himalayas, as an array of name actors shlep their way to freedom
Whatever else one thinks of Hollywood, one can hardly accuse Tinseltown of overdosing audiences on good cheer this holiday season. Filmgoers States-side can at the moment choose between James Franco hacking at his flesh, Mark Wahlberg landing a blood-spattering punch or two, and a seriously grizzled Jeff Bridges going none too gently into the good night.
But as if to jump the gun on any of the award-season heavyweights, the UK first gets Peter Weir's
The Way Back
, a film about an epic walk to freedom that all but shouts its own desire to run and not walk up the aisle on Oscar night.
On that front, this film doesn't have a hope in hell, but as an adventure movie remake of And Then There Were None, well, now we're talking. Quite how six-time Academy Award-nominee Weir has managed to misfire in so dramatic a way is one of the reigning movie mysteries of the moment, though not nearly as puzzling as the fatal lack of drama to this celluloid reshaping of a real-life quest that would find several of the participants faltering along the way. Which of the seven escapees fleeing the Soviet Gulag in 1941 actually survived the trans-continental, year-long hike that resulted in those lucky enough to make it alive starting afresh in the West? (The film, as is to be expected, fictionalises the actual story, as chronicled in the Slavomir Rawicz novel, The Long Walk: The True Story of a Trek to Freedom.)
Who was the weakest link? You could play the guessing game prompted by the sorts of credits that always accompany ventures where name actors (Colin Farrell, Ed Harris, and Jim Sturgess here leading that particular charge) jostle up against unknowns (Dragos Bucur and Alexandru Potocean among them). Or you can regard these men as so many specks on an overly aestheticised landscape, where no adversity passes Weir's posturing camera without succumbing to the picturesque - Farrell's purposefully disgusting teeth being the exception that proves the rule. Who knew night blindness, snakes and mosquitoes could look so cool?
The Way Back lists among its backers National Geographic Entertainment, as befits what comes to represent very possibly the sine qua non of National Geographic photo shoots, this time in narrative form. At one point or other, each of the actors gets his moment to pose against a presumably unforgiving landscape that for the most part here looks as benignly welcoming as the various nationalities who greet these travellers' arrivals into unknown territory as if they had merely stopped by for a cup of tea. (The depiction of the cheery Indians who greet the men's emergence into their midst from the Himalayas is hilariously patronising.) If the globe were this easily manoeuvered, you wonder how it is that there ever came to be a Gulag. The film is better viewed if you tune out Weir and Keith Clarke's script and simply take Oscar-winner Russell Boyd's camerawork in scenic isolation.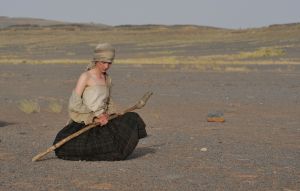 For the record, Farrell lends both those begrimed teeth and some serious tattoos to the part of the wide-eyed, pro-Stalinist Valka, and the actor's zombified, unhinged theatrics are met in differing ways by Sturgess's indomitable, rather dully noble Janusz ("just keep walking" is his mantra) and Harris's wild-haired American, Mr Smith, who takes concepts of expatriation to a new extreme. The female species is more or less exclusively represented by Atonement's Saoirse Ronan (pictured above), playing the Polish teenager, Irena, who joins the fearless posse and thereby is able to ask all the questions that we've been wanting to know from the first frame.
Never answered, though, is what The Way Back amounts to beyond a particularly audacious travelogue intended to open our eyes to the wonders of human fortitude, even if I, for my part, kept wondering whether the group might at some point happen upon Chekhov's poor, provincial three sisters. (Think of the domestic possibilities there!) You'll learn far more about humankind's capacity for resilience, trust me, by following James Franco down that 127 Hours ravine leading to one man's singular reckoning with himself. I was neither moved nor even particularly engaged by the extraordinary act of endurance on view in The Way Back, though I did take note of the extended history lesson at the end. All that's missing is a final quiz.
Watch the trailer for The Way Back
The men resemble so many specks on an overly aestheticised landscape, where Colin Farrell's teeth are the most disgusting thing on view
Explore topics
Share this article