The Marc Bolan 35th Memorial Concert, Shepherd's Bush Empire |

reviews, news & interviews
The Marc Bolan 35th Memorial Concert, Shepherd's Bush Empire
The Marc Bolan 35th Memorial Concert, Shepherd's Bush Empire
A nostalgic three-hour party celebrates the music of one of the Seventies' most underrated songwriters
Sunday, 16 September 2012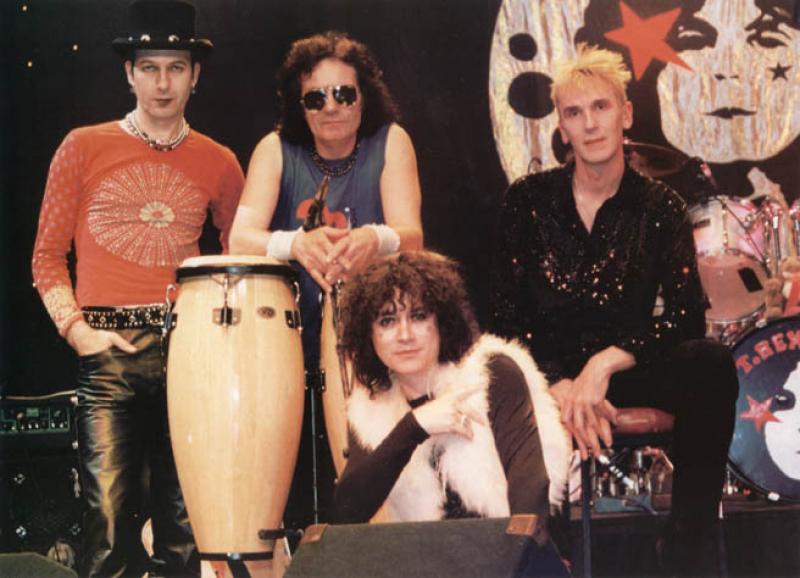 T Rextasy: not Marc Bolan with not Mickey Finn and the rest of not T.Rex in not 1972
Marc Bolan's voice was as inseparable from his songs as the sheen and shimmer of one of his Biba satin jackets was inseparable from the jacket itself. That unique faux-posh phrasing, singing whimsical, surreal lyrics, became texturally essential to every T Rex song. Because his voice was such an integral aspect of his music, I had mixed feelings about last night's tribute concert in aid of the PRS for Music Members Benevolent Fund.
Would the diverse mix of artists try to mimic the Bolan warble, or take the wiser course of putting their own spin on his material?
On the whole things went extremely well. Yes, there were one or two characterless performances that evoked those not-by-the-original-artists budget albums of the era, such as the Music For Pleasure Hot Hits series, which consisted of immaculate but lifeless cover versions by session musicians. But in the end, because this was all about nostalgia, it kind of worked. Nothing brings back the Seventies more vividly than seeing one of those LPs at a car boot sale, with its blonde bikinied cover girl still smiling at you the way she did when you were a sex-obsessed 14-year-old virgin.
Linda Lewis injected some Tina Turner-ish sass and sizzle into 'Children of the Revolution'
So let's not spoil things by naming and shaming the Hot Hits pretenders, but move swiftly on to the performances which made the evening worthwhile. Special Gold Stars (one for each cheek) go to the still rather cheekily sexy Linda Lewis, who injected some Tina Turner-ish sass and sizzle into "Children of the Revolution", and to Marc Almond (who we were told changed the spelling of his first name in tribute to Bolan), for imbuing every bonkers line of the histrionic "Teenage Dream" with emotion, as if it all really meant something.
Kudos, too, to Boy George for all his song choices, particularly "Rabbit Fighter", just because it's such a mad yet lithely sexy song and he caught that vibe without resorting to doing a Bolan. And last but not least, Steve Harley offered a touchingly simple acoustic take on the early album track "Lofty Skies". It was a little ragged around the edges but it came from the heart. And it was great to hear a few songs that weren't hit singles, for much of Bolan's best material falls into this catagory.
Honorary mentions should go to Sandie Shaw for still not wearing shoes and for giving her all to "Life's a Gas", and to Tony Visconti for writing some exquisite new string arrangements for several of the songs which the Dirty Pretty Strings (pun definitely intended) performed with flawless precision. And to two other pop veterans from the early Seventies: Lynsey de Paul and a rather vaudevillian Noddy Holder, for gamely filling in the gaps with wisecracks and anecdotes while technicians moved stuff around.
Last and by no means least there was the band who accompanied nearly all the performers last night. T Rextasy have been playing at being T Rex for some 20 years now, and do so with a great deal of conviction and panache, largely because they are fronted by a gentleman who calls himself Danielz. The only feasible explanation for Danielz's uncannily accurate Bolan performance is that Danielz thinks he is Bolan. His warble is a little over-egged at times but that's just nitpicking. If you blurred your eyes you could convince yourself, at least for a moment, that the diminutive figure on stage with (one presumes) the exact right vintage of sunburst-finish Gibson Les Paul guitar is your teenage hero. And of course that's what everyone at the Shepherds Bush Empire wanted to believe, including, I suspect, most of the performers on stage, as Danielz shook his corkscrew hair, trotted out those seminal guitar riffs, and even bowed the Bolan bow at the end of every number.
T Rex drummer Bill Legend (sadly the only original member still with us) came on stage for 15 seconds, mumbled something, and then went off again. And Linda Lewis modelled a jacket Bolan had given her when they "used to hang out a lot together". Apparently she just happened across it when she was trying to find something to wear for the evening. This memorial tribute was cheesy, touching, but above all rocking, and I'm very glad I was there. Roll on the 40th.
Compare and contrast: watch T Rextasy perform "Jeepster"...
....and the original
This memorial tribute was cheesy, touching, but above all rocking
rating
Share this article