Moses in Egypt, Welsh National Opera |

reviews, news & interviews
Moses in Egypt, Welsh National Opera
Moses in Egypt, Welsh National Opera
Rossini's biblical masterpiece brilliantly staged and superbly sung
Saturday, 04 October 2014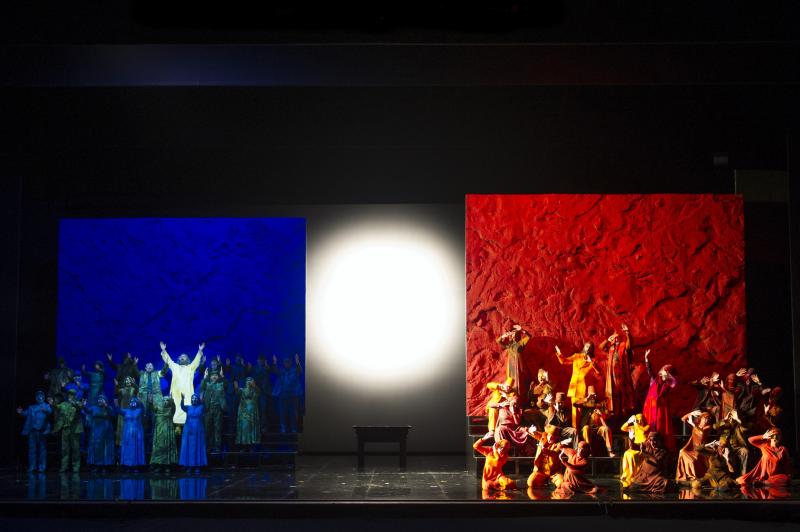 Moses in Egypt: The divided nations with localised hailstones
So easily parcelled up as a master of opera buffa, Rossini is a composer who constantly surprises by the emotional and intellectual range of his best work. William Tell, which opened WNO's current season three weeks ago, is a major progenitor of Verdi, even arguably Wagner: grand opera devoid of what Wagner himself called effects without causes. Now the company has added the much earlier Moses in Egypt, very much not buffa, but not strictly grand either, more like oratorio by a composer whose theatrical instincts were so strong that everything he wrote ended up as opera.
This is of course an exaggeration. Moses, in the original Italian version done in Cardiff, is as much about misplaced, interracial love (a theme also of Tell, as well as of Verdi's Nabucco and most famously Aida) as it is about God and the plagues of Egypt, and it has an array of bravura arias and duets to prove it. But it also has a constant flow of choruses, and even arias with chorus, almost like the dialogue arias in Bach's passions. And while the style flickers back and forth between the earnest biblical intensity of Moses and the Hebrews on the one hand, and the pure Italian coloratura of the illicit lovers, Osiride (the Egyptian heir apparent) and the Hebrew girl Elcia, on the other, the quality hardly slackens at any point.
Quite simply, in terms of sheer invention and the technical wizardry to support it, Rossini in this form stands head and shoulders above any other Italian opera composer before Verdi. There are thrilling, unforgettable moments: the first act duet for Osiride and Elcia, with distant trumpets telling her that the Hebrews are leaving so she must too – a piece Bizet surely had in mind in Carmen's castanet song with the trumpet retreat; Amaltea's wonderful aria with chorus in Act 2; the exquisite quartet with harp later that act. But even the more conventional pieces are somehow better, more striking than one expects. One is continually caught off guard: a surprising, exhilarating experience.
This is choreography without choreographer, movement as emotion, stillness as authority
WNO do the work proud. David Pountney's and designer Raimund Bauer's staging – though, as with the apple in William Tell, it fudges the most sensational effect: the parting of the Red Sea – is beautifully devised in general as a visual correlative of the basic elements of the plot. Famously, the curtain goes up on total darkness (the first plague), but as light returns the colours slowly emerge in blue-green fatigues for the Hebrews, red and orange for the Egyptians, divided left and right, like the Sharks and Jets in West Side Story, but modern dress only up to a point, with antique nuances: Moses in a long white robe, Pharoah with headdress. All is finely harmonized, with costumes by Marie-Jeanne Lecca and lighting by Fabrice Kebour.
The stage direction is also superb; the characters really move to the music, which means they move a good deal and well. This is choreography without choreographer, movement as emotion, stillness as authority. Gradually the colours flow into one another as the passions begin to confuse the racial stereotypes. I'm not sure I swallow Pountney's final curtain, where the sea disgorges its prey, and all, Hebrews and Egyptians, embrace – an idea neither biblical, Rossinian nor, alas, modern. But it's true that the composer's dispatching of Pharoah's men is a bit perfunctory, and does seem to leave something unsaid.
Before that, however, the tensions produce a string of memorable performances. Claire Booth's Elcia (pictured right with David Alegret) is outstanding, vocally warm and secure, a portrait of emotional agony with shades of Mozart's Elektra, but in a way more touching because more human. Admittedly it's not easy to share her affection for David Alegret's unsmiling, somewhat one-dimensional Osiride, though he handles the vocal bravura well. More interesting – only partly because Rossini makes her so – is Christine Rice's Amaltea, Pharoah's wife but a Hebrew sympathiser. Her brilliant "La pace mia smarrita" with chorus was a high point of the opening night.
Pharoah himself, torn between realpolitik and intermittent plagues, is a convincing, well-rounded portrait by Andrew Foster-Williams. Would that his modern equivalents had a sorcerer or two to bring them to heel. Here Nicky Spence (Mambre) performs the task ably, short of actual sorcery, which is left to Moses himself, starting with darkness, proceeding to hailstones, then finally (remember the Cambridge Circus weather forecast: "coming in from the north-north west") death of all the first-born. Rossini resists the temptation to turn the founder of Jewish law into a coloratura bass, and instead depicts him like Jesus before Pilate, dignified, unmoveable, above the common rush of semiquavers. Miklós Sebestyén is superb in the role, while the semiquavers are mainly delegated to his brother, Aaron, the excellent Barry Banks.
Carlo Rizzi is again in charge (on the night Lothar Koenigs announced his departure from WNO next year), and as ever draws brilliant playing from the orchestra, in a score rich in wind solos and powerful brass-writing. The chorus meanwhile maintain their reputation as simply the best: refined, powerful and intelligent. Alexander Martin, their chorus master, took the first bow, and rightly so.
Subscribe to theartsdesk.com
Thank you for continuing to read our work on theartsdesk.com. For unlimited access to every article in its entirety, including our archive of more than 10,000 pieces, we're asking for £3.95 per month or £30 per year. We feel it's a very good deal, and hope you do too.
To take an annual subscription now simply click here.
And if you're looking for that extra gift for a friend or family member, why not treat them to a theartsdesk.com gift subscription?