Speed-the-Plow, Playhouse Theatre |

reviews, news & interviews
Speed-the-Plow, Playhouse Theatre
Speed-the-Plow, Playhouse Theatre
Mamet revival and its star Lindsay Lohan escape disaster, but fail to deliver a triumph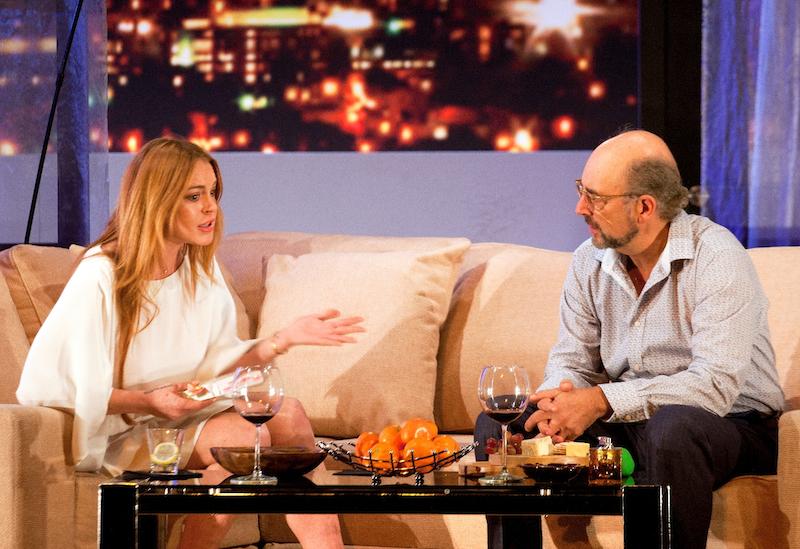 There's no business like showbusiness: Karen (Lindsay Lohan) makes a deal with movie executive Bobby (Richard Schiff)
To do Mamet's work justice, you must be able to deliver dialogue with the speed, skill and breathtaking bravura confidence of Usain Bolt. In Lindsay Posner's much-hyped but frustratingly sluggish revival at the Playhouse Theatre, only one of three cast members rises to that challenge – and it's the one who's generated by far the fewest column inches. British actor Nigel Lindsay is the breakout star of a strange experiment in meta-satire, in which Mamet's denunciation of a movie-going public allowing crass commercialism to override creative integrity gains surreal significance. Doubtless this is a production that will be remembered more for the drama occurring offstage than on.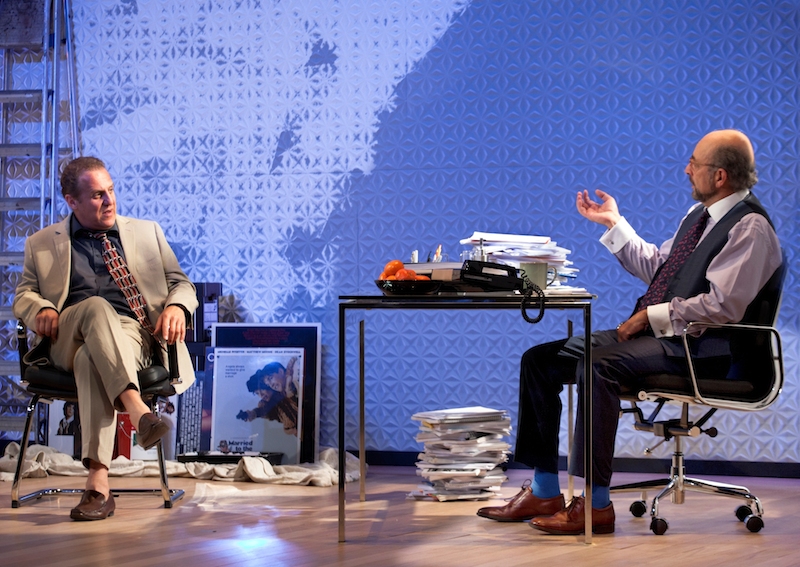 Yet, Mamet's 1988 skewering of Hollywood greed, ambition and cynical reciprocity still has thematic urgency, the targets of his wrath largely unchanged. Newly appointed executive Bobby Gould (Richard Schiff, pictured right with Lindsay) explains his role as developing either "remakes of films that haven't been made yet" or a pale imitation of "the thing that everyone saw last year", and the marvellously eloquent insincerity that flows between him and down-on-his-luck producer Charlie Fox (Lindsay), bringing Bobby a guaranteed smash in exchange for a redemptive credit, is a parodic masterpiece.
Their mutually beneficial opportunism is disrupted by temp secretary Karen (Lindsay Lohan, pictured below), who convinces Bobby to abandon his sure thing in favour of adapting a worthy, apocalyptic tome by "an Eastern sissy writer". This hasty Damascene conversion is notoriously difficult to deliver; here, it's achieved by Schiff never really convincing as a studio shark in the first place, so it's less a transformation than the welcome removal of an ill-fitting hat. He's far more comfortable delivering quavering desolation as disillusioned Bobby laments that his rise to the top, for which he sacrificed his morality, has simply made him a bigger target.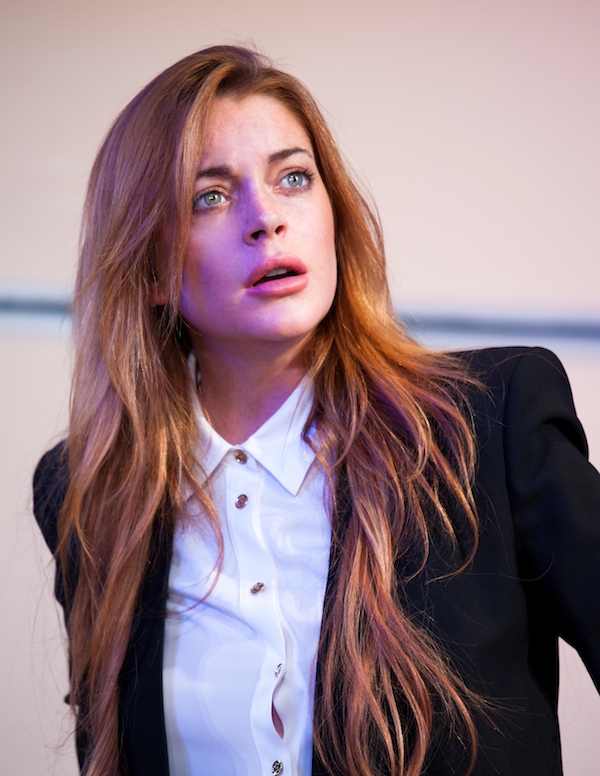 Lindsay offers a rivetingly humane take on the personification of capitalist temptation – not the psychopathic Mephistopheles of Matthew Warchus's unmatched 2008 Old Vic version, but a clammy used-car salesman desperate to land a deal. It's a resonant interpretation for this post-recession age and allows him to explore a wide range of emotions, from oleaginous glee and brutish fury to stricken incomprehension. Schiff, no stranger to lightening-speed speech after his years on Sorkin's West Wing, succeeds in finding Mamet's rhythm, but coasts along it rather than punching it; that the climactic conflict lands is tribute to Lindsay's ability to generate the requisite power without full support from his sparring partner.
Schiff pays it forward by, in turn, propping up husky-voiced, endearingly childlike Lohan with a series of deft comic reactions that vastly flatter the recipient. The tabloid target is not the eye-watering car crash many predicted, calling on the prompt book just once, but is capable only of surviving the play, not bringing much of anything to it. Between lines – delivered with unvaried intonation that makes a nonsense of the stop/start punctuation – she simply switches off like a computer conserving energy, with no indication of spontaneous, collaborative live performance. She succeeds in escaping "Lindsay Lohan" but fails to create Karen, resulting in an immaculately styled void.
In the best productions, Speed-the-Plow is an excoriating attack that wields words like deadly weapons, breakneck menace competing with pitch-black barbs. Posner's subdued rendition is perfectly serviceable, but not so much great art as – to quote Mamet – "a commodity".
Speed-the-Plow is at Playhouse Theatre until 29 November
Lohan is not the car crash many predicted, but is capable only of surviving the play, not bringing anything to it
rating
Share this article