Cristina, Regina di Svezia, Chelsea Opera Group, Cadogan Hall |

reviews, news & interviews
Cristina, Regina di Svezia, Chelsea Opera Group, Cadogan Hall
Cristina, Regina di Svezia, Chelsea Opera Group, Cadogan Hall
No neglected gem, Foroni's cod-historical opera showcases soprano Helena Dix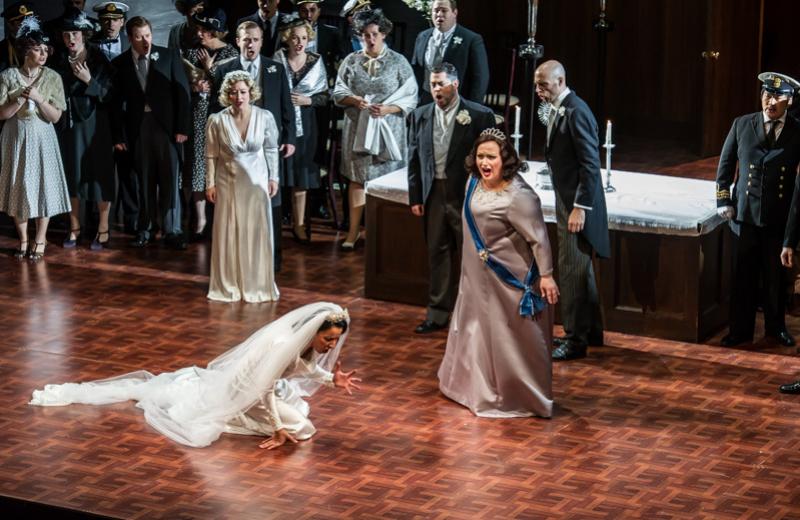 Helena Dix's Queen Christina denounces reluctant bride Maria (Lucia Cirillo) at Wexford last year
One queen is much like another in so-called "historical" Italian early to mid 19th-century opera. Elizabeth of England, Christina of Sweden, take your pick, they all fall for a tenor courtier who loves Another (the seconda donna, soprano or mezzo). With Donizetti, the musical drama is almost as disposable as the plot until a stonking number or two rolls up.
Jacopo Foroni, more or less unknown until Wexford resurrected him a year ago, has a few more felicitous orchestral touches but nothing as memorable as Donizetti's best.
Cristina, regina di Svezia
served at Wexford, and last night in concert at the behest of the splendid Chelsea Opera Group, as a star vehicle for Australian soprano Helena Dix, who, with a Metropolitan Opera cover just in the bag, seems about to make it big.
And in New York she probably will: the opera queens just love this sort of all-guns-firing, generous diva with the right top notes. If I'm a little more reserved in my enthusiasm, it's because I'm not sure the bright soprano sound is entirely ballasted: I wanted a bit more tone colour, more precision in the brief coloratura which there's so much more of in Donizetti, and for that matter in the role of Elvira in Verdi's Ernani, which Dix is covering at the Met. In the odd and indiscriminate shape of Foroni's opera, she starts off crowning the sort of big ensembles Verdi knew better to place at the centre of the drama (here, in typical overkill but lots of work for the chorus, there are plenty more to come). And she rises regally to Christina's dilemma of abdication which makes this a bigger drama than the usual in the genre, a final showdown of duty versus love which foreshadows in situation, but certainly not in the clunky libretto or the one-size-fits-all music, Verdi's Don Carlos.
COG always casts from strength. Here it already had two perfect foils ready-made from Wexford in the less demanding roles of lover and rival: fully Italianate sounding (and looking) American tenor John Bellemer as Gabriele de la Gardie, and the most stylish singer on the concert platform, mezzo Lucia Cirillo, as Maria Eufrosinia, making a perfunctory duet early on in the drama seem interesting (the two pictured at Wexford above). Top marks for style and meaning, too, as always, to veteran David Wilson-Johnson as a Lord High Chancellor well attuned to the sensitivities of a better number, with Dix equally sympathetic at this stage. William Dazeley might be pushing it one step too far as Italianate baritone, arriving late on the scene in the odd dramatic structure, but he gave the cadenza of Carlo Gustavo's Act Two aria his all.
Comprimario parts all did honour to their contributions. As for the COG Orchestra and Chorus, I've never heard them sound better under the ardent baton of Andrew Greenwood (Deborah Miles-Johnson, too, deserves credit for transforming the dedicated amateur choristers). The orchestra actually made me sit up and listen for the only two memorable melodies. The first, in the opening Sinfonia, had me racking my brains for where I'd heard it and the light flashed just before the first scene – it's the sad ditty sung by Ophelia in Ambroise Thomas's Hamlet, and the programme note cites it as a popular Swedish tune, the Näckens Polka. The other was a real surprise: in the Act Two introduction, transporting us to an island in the Swedish archipelago, was the rich chordal sequence of Liszt's "Harmonies du Soir". A borrowing by Foroni, probably, rather than a plagiarism on Liszt's part, as the first version of what became the Études d'exécution transcendante first appeared in 1838 and Cristina's Stockholm world premiere followed 11 years later.
These touches certainly piqued interest. For the rest, it was enough to accept that no touch of genius was going to emerge and to enjoy the sheer energy and dedication of the performance – at levels rather deafening in the confines of the Cadogan Hall – as best one could. It's surely time, though, to place Foroni's Queen Christina back in her coffin.
Chelsea Opera Group's next opera is Massenet's Le roi de Lahore at the Queen Elizabeth Hall on 1 March 2015