Partners in Crime, BBC One |

reviews, news & interviews
Partners in Crime, BBC One
Partners in Crime, BBC One
David Walliams and Jessica Raine have fun as amateur sleuths in updated Agatha Christie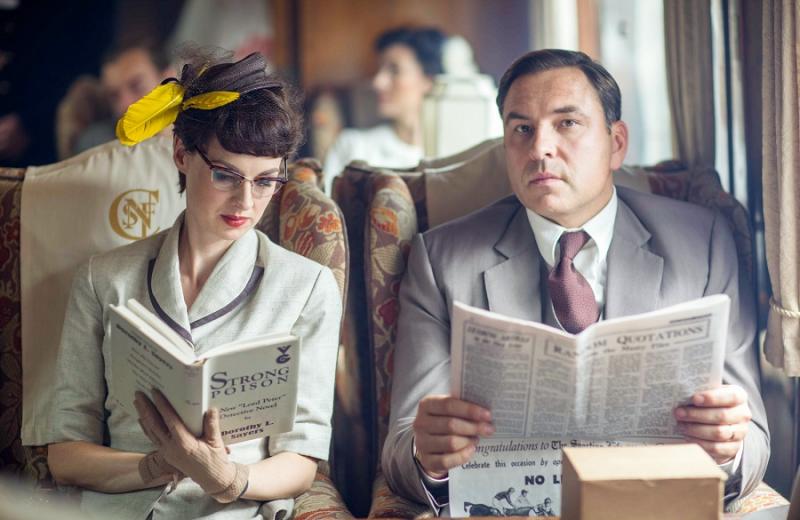 Could care Tuppence: Jessica Raine and David Walliams in 'Partners in Crime'
Poirot curls an eyebrow and Miss Marple twinkles, but there haven't been a lot of out-and-out laughs in Agatha Christie's television career. Partners in Crime comes as a pleasurable surprise. It stars David Walliams and Jessica Raine as Tommy and Tuppence Beresford, a married couple on their uppers who take up detective work almost by accident.
The Beresfords had a long career: Christie wrote the first novel to feature them in 1922 and the fourth in 1973. There were also some short stories collected as Partners in Crime, each a spoof of other crime writers including Chesterton, Conan Doyle, Edgar Wallace and several more or less forgotten authors. (She even spoofed Poirot.) But it is Tommy and Tuppence's debut case which forms the basis of the first three-parter in a six-episode series.
The books were last adapted in 1983 with Francesca Annis and James Warwick as amateur sleuths. This time round, the action of The Secret Adversary has been shifted from the aftermath of the First World War to several years after the Second, when London is a mess of bombed-out ruins and the Red Peril is a looming threat. The Beresfords, failing to make money as fledgling suburban beekeepers, find themselves caught up in a mysterious Soviet assassination attempt when a woman who sits opposite them on the train from Paris to Calais promptly vanishes, while her protector is murdered, and yet no mention is made of either in the press.
The plot – adapted by the marmite playwright Zinnie Harris – just about sings for its supper, with moments that lure you to the edge of your seat, a couple of dastardly villains and a genuine cliffhanger to close the first episode. But the real joy is to be found in the comic contrast between plodding Tommy, who feels safest with facts, and willowy Tuppence with her fine nose for intrigue and crime fiction – when we first meet her on the train, she's devouring a Dorothy L Sayers.
Raine, very much at home in 1952 after her stint in Call the Midwife, is a hoot with her bee-stung moue and beady peepers. Walliams will never be an award-winning actor or an entirely convincing toff, but as Raine's foil he nicely plays against his instinct for flamboyance. James Fleet has fun as an avuncular spymaster with traditional tastes ("the codeword is 200 not out"), while Matthew Steer (pictured above) enjoys himself as a laboratory boffin with a wooden hand.
The period design lends weight to a sense that the business of having fun should be taken seriously. Hence the perfectly crumbling sets, the period costumes, the lovingly detailed backdrops and the street scenes that include costermongers and even a busking tap troupe. This is Agatha Christie letting her hair down, with a little help. The climactic scene is set in a peep show club, if you please. One will have to take it on trust that it's accurate to the period.