Ben Building: Mussolini, Monuments and Modernism, BBC Four |

reviews, news & interviews
Ben Building: Mussolini, Monuments and Modernism, BBC Four
Ben Building: Mussolini, Monuments and Modernism, BBC Four
Il Duce gets the treatment in Jonathan Meades's gallery of great dictators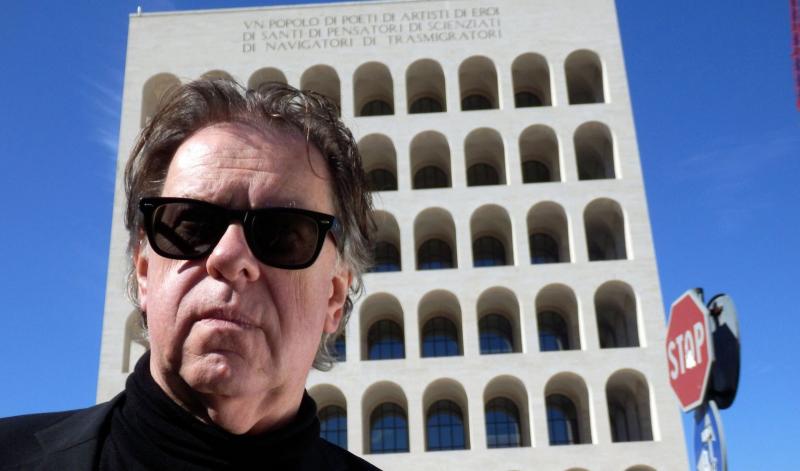 Meades bids to upstage Rome's Palazzo della Civiltà Italiana
One can only speculate about the mysterious allure which dictators seem to hold for Jonathan Meades, and perhaps one should keep one's conclusions to oneself to avoid reprisals.
One can only speculate about the mysterious allure which dictators seem to hold for Jonathan Meades, and perhaps one should keep one's conclusions to oneself to avoid reprisals. Having previously turned his perverse eye and tumultuous vocabulary on Stalin (Joe Building) and Hitler (Jerry Building), Meades arrived perforce at Ben Building, in which (with director/cameraman Frank Hanly) he took a trip around Benito Mussolini and the cultural trappings of fascist Italy.
For all his militaristic grandstanding, operatic posturing and enthusiasm for quasi-imperial fancy dress, Mussolini was unusual among the 20th century's great dictators in being in some respects ambiguous, "a dictator who failed to dictate." Not for him the hideous and bottomless campaigns of extermination which were second nature to Hitler and Stalin, and while Mussolini (as Meades would have it) claimed to regard peace as merely wasted time between wars, his military endeavours were mostly fatuous and inconsequential. He wasn't even especially racist, until he fell into the trap of hanging on Hitler's coat-tails. According to our dyspeptic guide, Mussolini was never even able to explain adequately what "fascism" meant. A description of it as "a super-relativist movement" suggested a somewhat theoretical construct lacking in real-world grip.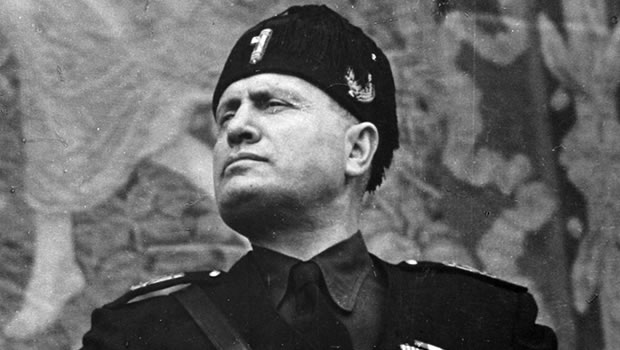 Not that this made him less than odious and despicable. Meades found numerous ways to damn Il Duce (pictured right), casually letting slip deadly rhetorical torpedoes as he tramped ferociously around Italy's towns and landscapes. I liked this one: "The only journalists he approved of were in what might be called the Alastair Campbell tradition, of toadying and bullying and spouting propaganda."
Meades – sometimes in miniature, sometimes looming ominously out of the screen, sometimes soundtracked by falling bombs or Duke Ellington's "East St Louis Toodle-Oo" – also aligned Mussolini's fascism with a contemporary evil. "Italy went to war in the name of a dictator who believed himself to be a god but wasn't," he postulated, "whilst Islamofascism goes to war in the name of a god who cannot believe in himself because he's fictional. There is in neither instance gain."
This was a 90-minute film, and I felt Meades began to meander a bit around the hour mark, perhaps reeling from the recoil of his own rhetoric or not-so-bon mots like "the man who put the schism into Fascism". Happily he revived in time to drive home his central thesis. This was the way that Mussolini's oddly laissez-faire attitude to architecture meant that while other regimes became identified by their monolithic and brutalistic structures, building in the Duce's Italy was far less rigidly constrained by ideological blueprints, and consequently could develop stylistic breadth.
Meades meditated multisyllabically over the contrasting styles of the vast military memorials of Redipuglia ("hymning the refulgent Modernist future to come") and Monte Grappa (with its "exhortations to patriotic death"), before whisking us away to the Modernism-defying, romantically rustic dwellings of Garbatella. Art deco got a look in with Armando Brasini's quasi-Imperial Roman structure for the 1925 Paris Exhibition. (Sacrario Militare del Monte Grappa, pictured above).
Moreover, Mussolini having been executed by Communist partisans after Italy had repudiated its alliance with the Germans, it was felt that the slate had in some way been wiped clean, and nobody felt it necessary to tear down the built legacy of the Fascist years. Fiat's Lingotto factory in Turin was a Futurist-Modernist masterpiece which starred in 1969's The Italian Job. The EUR development in Rome, intended as the site of a never-held 1942 exhibition to celebrate 20 years of Fascism, thrives as a residential and business complex, dominated by the Palazzo della Civiltà Italiana, a super-cool, geometric colosseum. This now finds itself so on-trend that it's the new headquarters of fashion house Fendi. Oddly, Meades didn't mention this.