Proms 64 & 66 review: Royal Concertgebouw Orchestra, Gatti - halfway to paradise with Bruckner and Mahler |

reviews, news & interviews
Proms 64 & 66 review: Royal Concertgebouw Orchestra, Gatti - halfway to paradise with Bruckner and Mahler
Proms 64 & 66 review: Royal Concertgebouw Orchestra, Gatti - halfway to paradise with Bruckner and Mahler
Amsterdam's finest falter on the way to heaven, but get there in the end
Sunday, 03 September 2017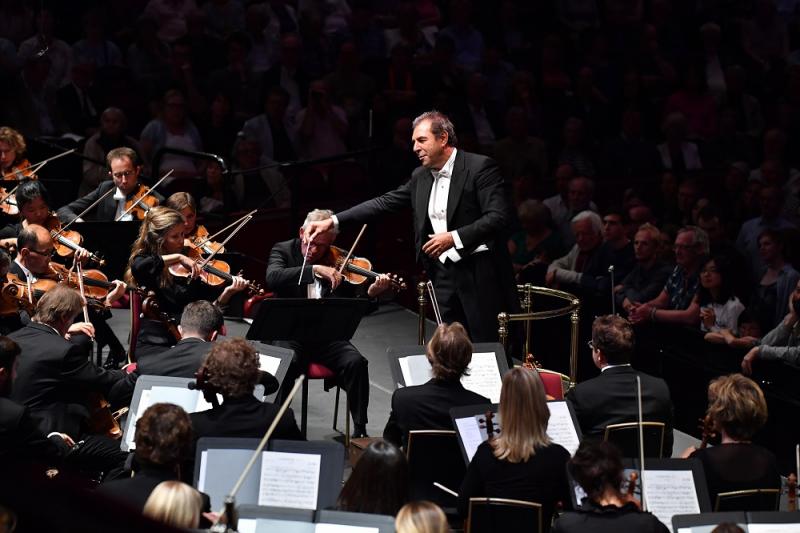 Daniele Gatti and the strings of the Royal Concergebouw Orchestra
How do you get to heaven, especially if you need to reach the pearly gates by way of the earthbound acoustics of the Royal Albert Hall? With Chief Conductor Daniele Gatti as their spirit guide, the sumptuously arrayed pilgrim band of the Royal Concertbegouw Orchestra from Amsterdam sought different routes in the centrepieces of their pair of Proms.
In
Bruckner
's majestic, yet often intimidating, Ninth Symphony, unfinished on the composer's death in 1896 and presented here without any of the fabricated finales that later hands have slapped on it, the way turned out to be blocked despite the deep refinement this peerlessly polished orchestra brought to the journey. The next evening, in
Mahler
's Fourth, they accomplished with joy – and even fun – the transcendence that the previous night's pain and stress had failed to achieve. Famously, Mahler himself loved this band. On this showing, the reciprocal devotion has not waned.
For their first outing, the Concertgebouw prefaced their Bruckner with In-Schrift by the fearsomely productive Wolfgang Rihm. Written in 1995 for the basilica of St Mark's in Venice, this compact but epic battle between separated groups of instruments begins with an ecclesiastical F sharp clang of five tubular bells from the percussion rank. Below them sit a phalanx of brass, with more horns, cellos and basses in the second row, then woodwind and harp in the front-line. Violins and violas are absent, with leave. If this sounds more military than liturgical, then Rihm's punchy volleys of sound – as much Stravinsky, who also wrote for St Mark's, as Gabrieli – make a big, impressively marshalled push to fill an echoing space. The aftermaths of these striking salvos reverberate long and hard. In this hall, the strategy worked well, all the way from ultra-deep bass trombones somewhere in the catacombs to bird-like flutes fluttering up in the eaves. Percussion-driven heartbeats hinted at combat trauma as much as sacred awe. Bongos and woodblocks set up a bat-like chatter while the swaggering heavy brass, in the ascendent all evening, strove to burst into the relief of some full-dress, Wagner-like funeral music. But they always found some interruption in the way.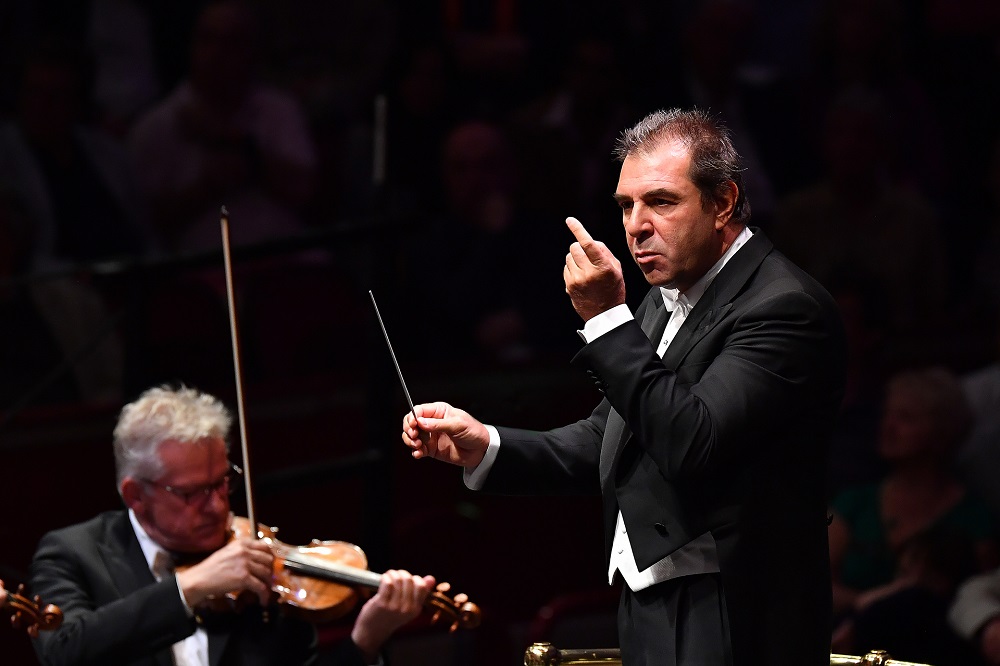 That sense of thwarted aspiration continued through the great sonic prairies of Bruckner's Ninth. With the massed battalions of Concertgebouw capable of such richness together with such subtlety, and Gatti willing to let their gorgeous sound linger, this should have been a performance that stormed heaven. Deliberately, Gatti stressed the proto-modernist discontinuities, the screeching breakdowns, that halt this mighty trudge towards knowledge of the symphony's dedicatee – none other than Bruckner's "Dear Lord God". With Rihm in our ears, it felt logical for Gatti to underline, through his leisurely tempi, the stop-start quality of these serial raids on immortality. With low horns, oboes and flutes in the finest of fettles, and the bitter chocolate of the Amsterdam strings ravishing in the stupendous Adagio, Gatti had the perfect ingredients at his fingertips. The shade of Bernard Haitink will, for many, hover over this partnership of work and orchestra. Gatti sometimes did channel Haitink-like gravitas and stillness. Yet certain passages felt listless, becalmed, while the Adagio's breath-stopping farewell discords only deepened the mood of unfulfilled longing. Beautifully dressed up, this Bruckner did not quite know where to go.
On Saturday, the Amsterdamers led out Haydn's Symphony No. 82 – the "Bear" – as a warm-up act for Mahler's Fourth. Unwise? The Parisians for whom Haydn wrote it thought that the Vivace finale, with its bagpipe-like drone and folksy woodwind on the top, brought to mind music to make a chained beast dance. Well, the orchestra (slimmed down to classical dimensions) sounded a little like some tethered wild thing itself: sleek, hefty but restrained, slightly absent in heart if not in gesture. Could they be just too refined for this sophisticated rusticity, its plain, melodic C major honesty always so artfully complicated without any loss of basic innocence? Haydn in this guise can resemble Queen Marie Antoinette decked out as a shepherdess, and it takes a rare flair to keep up the charade.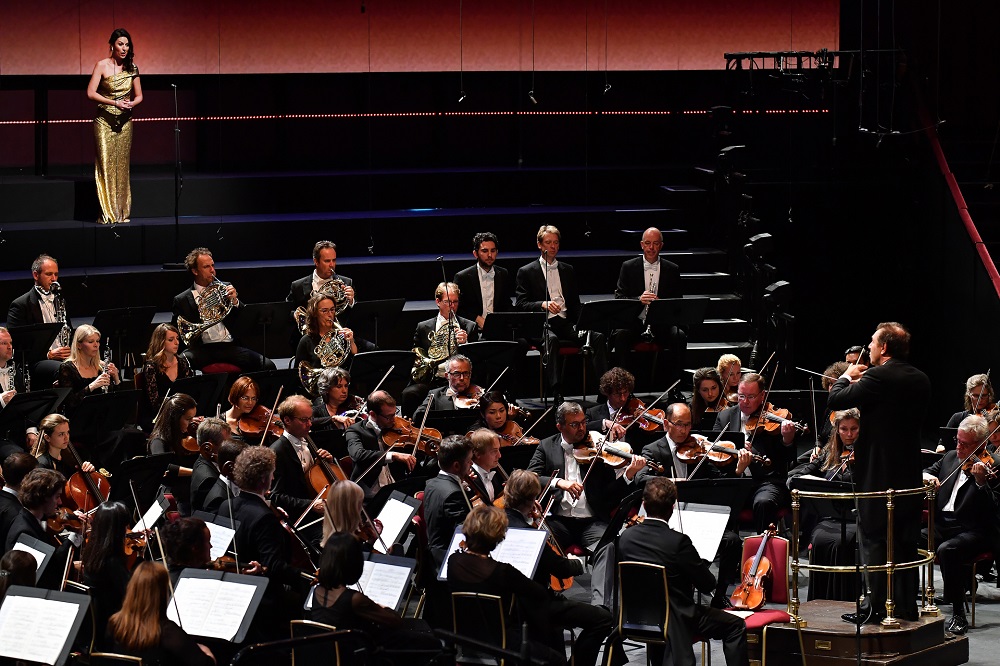 If we hoped that all would turn out right with Mahler, Gatti and his replenished forces did not disappoint. Yes, this child's glimpse of heaven – complete with the soprano song from Des Knaben Wunderhorn that bestows such an enchanted climax – wanders into its musical paradise via some devilish by-ways. But Gatti and his players never lost sight of an underlying geniality, from the playful bounce and chug of the first movement – sleighbells to the fore – to the tipsy danse macabre of the scherzo. If we spotted demons here, they were still of the pantomime variety.
Mahler's insistence on swinging, relaxed, unhurried tempi meant that Gatti could allow his all-star cast of instrumentalists to shine. Especially in the divine wood-and-brass chit-chat of the scherzo, each voice felt fresh, firm, thoroughly assured and sometimes even cheeky, from the flutes led by Kersten McCall to the oboes (Alexei Ogrintchouk) and the horns (Laurens Woudenberg and friends). By the third movement, the concluding starburst of E major bliss drove all doubts away with a thrilling radiance. Then, behind and above the band, Chen Reiss (pictured above aloft) sang of the child's heaven with a sweet strength that never cloyed. Mahler and mischief are never too far apart, and she rightly went for sassiness, not schmaltz. For some sopranos, the obligation to sing from behind the Concertgebouw might imply a season in hell rather than paradise. Not here: ethereal but still grounded, Reiss wafted us up into the clouds with an angelic – but never sentimental – touch.
If we spotted demons here, they were still of the pantomime variety
rating
Share this article