Justice, Brixton Academy |

reviews, news & interviews
Justice, Brixton Academy
Justice, Brixton Academy
What's the French for "crash bang wallop"?
Saturday, 11 February 2012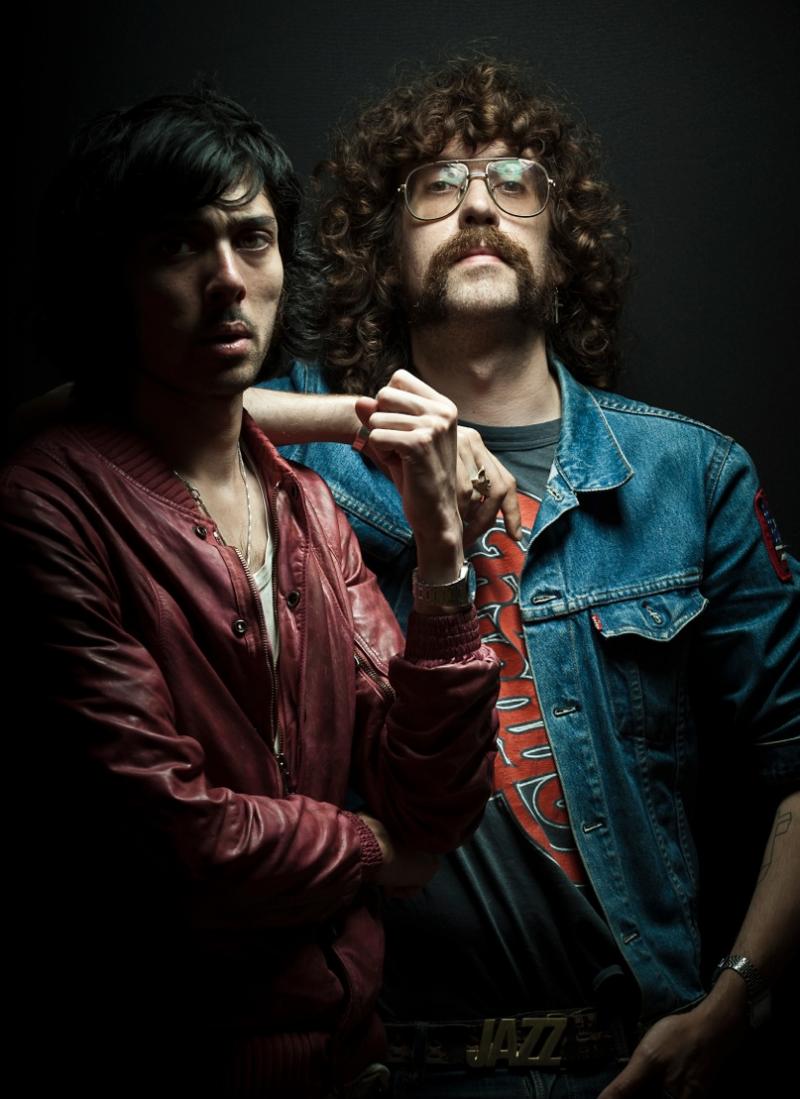 Xavier de Rosnay and Gaspard Augé: preposterous
Justice – pronounce it "Joosteece", for they are as French as they come – deconstruct the opposition between style and substance. Everything about them is preposterous, from the hipster facial hair via the rock-pig antics in their A Cross The Universe tour "documentary" DVD to the way that almost the entirety of their musical palette is cribbed from their countrymen and close associates Daft Punk.
They are masters of the big, empty gesture taken to ridiculous extremes, of blustering noise and gut-punching beats made strangely friendly, of the reduction of both rock and rave music to a concentrated
son et lumiere
show like the street urchin bastard offspring of Jean-Michel Jarre.
It is instructive that the duo, along with Daft Punk, were in the vanguard of dance music's penetration into Middle America, which has finally been consolidated with the recent hyper-success of Skrillex and (yet another Frenchman!) David Guetta – because their big trick is delivering it with a sense of spectacle and performance that rock audiences can understand. Hence it was no surprise that they are headlining an NME-sponsored tour; the weekly paper might not be the force it once was and has lately been gamely attempting diversification, but its brand remains a signifier for all that is guitar- and haircut-led.
The audience at Brixton Academy last night certainly seemed pretty indie-rock dominated, with Maccabees and Kasabian T-shirts more prominent than the kind of outré outfits or smarter labels one might expect (depending on age) from a clubbing crowd. They behaved like a rock crowd, too, facing front and limiting their dancing for the most part to bouncing up and down and punching the air from the start of the set. Not that there's anything wrong with that, of course, and Justice provided an absolutely precision engineered audiovisual accompaniment to an hour of jumping and fist-pumping.
On record, Justice concentrate the set of influences Daft Punk distilled on their 2001 Discovery album – disco, acid house, electro, 1970s prog rock and 1980s stadium rock, Quincy Jones-style slick soul production, synth-led movie soundtracks and more – yet further, as if taking DP's song "Harder, Better, Faster, Stronger" as a command. On stage, they intensified the sound yet more, combining it with a stage set and lighting rig that almost certainly cost more than the average family home, to produce something like pop culture boiled down to a designer drug and delivered with a blunt needle to the jugular.
It was actually impossible to tell whether Gaspard Augé and Xavier de Rosnay were really doing anything on stage to contribute to the sound. Certainly they crouched over various esoteric pieces of equipment layed out on the console before them twisting various knobs, but for all anyone in the audience knew they could have been sending instructions to a Large Hadron Collider rather than actually altering the music which came out of the speakers. It didn't matter, though. The two men were merely the centrepiece for the visual part of the spectacle, space captains grappling with the controls of an out-of-control starship as planets exploded – or at least thousands of very, very bright lights strobed – around them.
Whether being done on the fly or not, tracks from their two albums, † and Audio, Video, Disco were certainly chopped up, extended and generally brutalised. Certain motifs recurred again and again: the Roland 303 synth of acid house distorted and blown up to stadium size; the arpeggiations of The Who circa Tommy; growling bass sounds that resembled superbike or dragster engines; stabs of brass from disco and Blaxploitation funk; four-to-the-floor booms sounding as if made by kickdrums the size of Trafalgar Square; ecstatic voices repeating barely decipherable refrains. At first, like the concert equivalent of CGI-led blockbuster movies, it seemed more about effect than affect, about impressing and dazzling more than involving the audience. But step by step its reduction of everything to pure riff battered the defences, its rock elements given the hypnotic qualities of dance, until it was impossible to resist cracking a grin.
Watch the video for "Audio, Video, Disco":
For all its bombast and silliness, like heavy metal before it, Justice's take on rave is cathartic. And whether or not their performance in itself was "authentic" in the way an earlier generation of rock fans would demand, it functioned furiously well for the Brixton crowd. It had elements that could very well have been poking fun at the whole notion of rock performance: when a set of glowing perspex organ pipes rose out of the central console, the whole sci-fi aesthetic suddenly looked more Doctor Who than Star Wars, and when the console itself split in half near the end to reveal an organ keyboard the whiff of kitsch was overpowering. Yet the direct, visceral impact of the sound itself, and Justice's obvious love for their source materials, undermined these underminings of their performance. Perhaps it really was sound and fury, signifying no more than would a huge firework display... but if so, what a uniquely and exquisitely put together display it was.
For all its bombast, like heavy metal before it, Justice's take on rave is cathartic
rating
Share this article