theartsdesk in Budapest: Hay Goes to Hungary |

reviews, news & interviews
theartsdesk in Budapest: Hay Goes to Hungary
theartsdesk in Budapest: Hay Goes to Hungary
Wales-based festival decamps to Central Europe for talks about China and Africa
Jung Chang: 'her warning about China is uncompromising'
Four weeks ahead of its core event in the Welsh border town of Hay-on-Wye the world's leading festival of literature, ideas and the arts rolls into Budapest. Celebrating its 25th year and 15th location, this is the first time "the Woodstock of the Mind" – Bill Clinton's phrase - has been held in a country behind what used to be the Iron Curtain.
Two decades ago, Central and Eastern Europe was where people looked for glimpses of the future; the removal of the Iron Curtain fomented excitement in uncertainty, the retreat of the Soviet empire created a vacuum. Now, with the future even more uncertain, journalists, writers and political commentators have turned their attention to the so-called BRIC countries; the more clued-up have also, finally, started paying attention to Africa. The line-up for Hay Budapest reflects this new dynamic; we are in Central Europe and despite the smattering of Hungarian novelists, many of the debates whirl around Africa and China.
The subject of Africa, as one would expect, is high on Geldof's agenda
First, former New Statesman editor John Kampfner interviewed Wild Swans memoirist Jung Chang about her new epic biography of Mao Zedong. Chang's personal story is a tragic, heroic and redemptive one and she is a wonderfully serene and charming lady, but her warning about China is uncompromising. On the day that Chen Guangcheng, the blind activist, had "his house surrounded with a hundred thugs", Chang was at pains to remind us that the current regime still encouraged worship of Mao, "a man responsible for the deaths of 70 million Chinese", as well as employing an army of people to limit access to information. In a debate tellingly sponsored by Google, Chang gave the pertinent example of a blog about her own book being deleted in front of her eyes as she logged on from her study in London. At a later event, she expressed her pessimism for the future of freedom in her homeland, a sobering reminder – accentuated here in Hungary - that repressive communist regimes are far from over.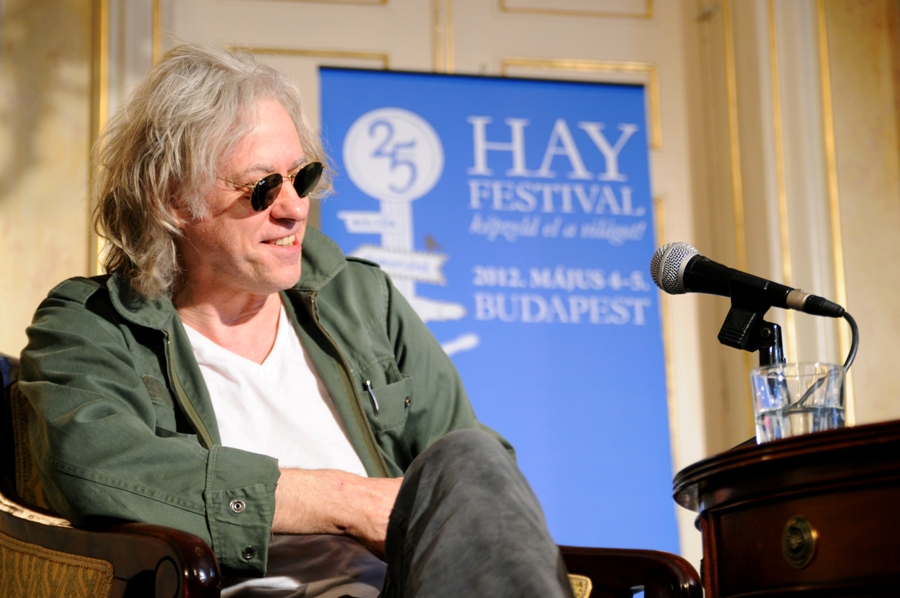 Bob Geldof (pictured right), here both to talk to Festival Director Peter Florence and to play a concert at the city's Pecsa music hall, also reminded us of the bad old days. From the stage, he reminisced about the first time he played in Budapest, with the Boomtown Rats back in 1978; "1956 was very much still in your lives," he remembered, referring to the anti-Soviet uprising that led to the exile of thousands of Hungarians, including the parents of fellow Hay delegate, the author Tibor Fischer. Playing the song "Banana Republic", he talked about how its lyrics take on new resonances as the world evolves. Ireland has moved on; there are different problems now. But from the Soviet bloc to apartheid-era Soweto to the teeming shanty-towns of Africa's newest cities – which Geldof evocatively describes as "Dickensian stews" – old struggles are replaced by new challenges.
The subject of Africa, as one would expect, is high on Geldof's agenda and he is hyper-articulate in his attack on what is in his view the outmoded thinking that dominates European governmental agendas. "The old ideas can't resolve climate change, the world economy, nuclear terrorism. A hundred years ago, in 1912, nobody understood World War One was coming. Science is like magic," he concludes. "It can't resolve the human condition, never has. In the new paradigm, we will have to be civilised, compromised and cooperative. The new world is happening where the poor live: that's the new dynamic."
It is left to the Nigerian novelist, Ben Okri – winner of the 1991 Booker Prize for The Famished Road (pictured left) – to bring some of the threads of conversation that have been weaving themselves through the festival together. He predicts that the relationship between China and Africa will be crucial to the future, that "it could turn out to be the next anti-colonial struggle". In conversation with the Welsh writer Jon Gower, Okri admits to being both "struck" and "saddened" by what he calls "the paradox of Africa": the juxtaposition between the Africa of the Western imagination – the starving, poverty-stricken Africa of journalism – and the Africa he knows – "complicated, living, rich, full of sadness and possibilities and magic and family and tradition and pain, the loss of the past and a strange new future. "I'd like to weave an essay of what it is that runs through Africa," he says.
It is an ambition that unites all of the disparate cultural figures here. Once again, Peter Florence and his team have curated a programme of events that fizzes and crackles with the ideas that have shaped and will shape our world in the years to come. Hay Festival is now invited to cities all over the world on a weekly basis and on this evidence it is no wonder. In introducing Geldof, Florence reminds us of one of his points of connection with the singer – "you can be politically engaged without being part of the political system" – in doing so reminding us what is so special about Hay, and about literature. All stories have a point and all of us have a story; this growing festival franchise provides a platform for those stories to be shared with the world.
Peter Florence and his team have curated a programme of events that crackles with the ideas that have shaped and will shape our world
Explore topics
Share this article
Subscribe to theartsdesk.com
Thank you for continuing to read our work on theartsdesk.com. For unlimited access to every article in its entirety, including our archive of more than 10,000 pieces, we're asking for £3.95 per month or £30 per year. We feel it's a very good deal, and hope you do too.
To take an annual subscription now simply click here.
And if you're looking for that extra gift for a friend or family member, why not treat them to a theartsdesk.com gift subscription?