Globe to Globe: Hamlet, Shakespeare's Globe |

reviews, news & interviews
Globe to Globe: Hamlet, Shakespeare's Globe
Globe to Globe: Hamlet, Shakespeare's Globe
Lithuanian take on the Danish play puts on a frantic disposition. (Curtains.)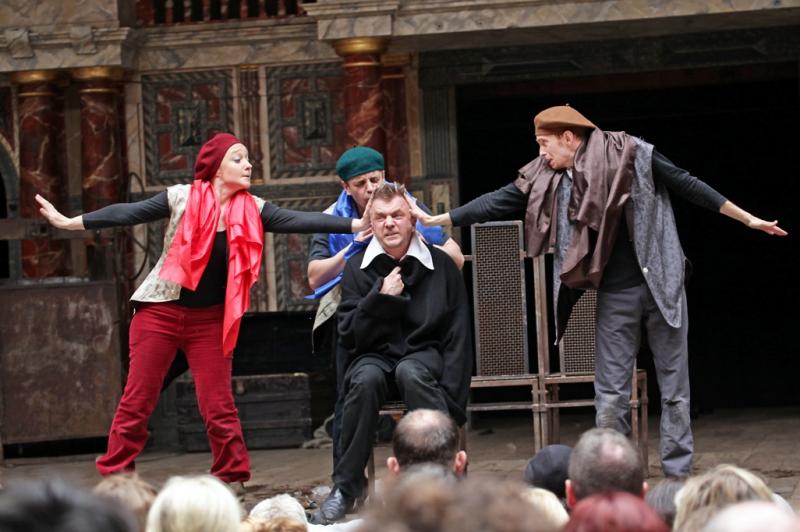 Andrius Mamontovas's Hamletas instructs the players to speak their lines without overacting. Not the Lithuanian way
We're fresh out of superlatives. The Globe to Globe season has put a girdle around the earth in 37 languages, and the visiting companies have now left the building. You have to high-five the Globe's chutzpah for mounting this wondrous contribution to London 2012's World Shakespeare Festival in the first place. But in quite properly keeping the biggest till last, it surely took extra testicles to stage the famous play about a royal family in turmoil on this of all weekends. Either side of the matinee and the climactic evening performance, another royal family processed down the adjacent waterway, accompanied by 999 vessels and cheered by a million onlookers.
Much thought will presumably have gone into commissioning the big one, on who gets to occupy Elsinore. No doubt giving the Danish play to Denmark was considered, or maybe even to Fortinbras's Norway, but the honour of staging Hamlet went instead to a company representing one of the season's smaller linguistic footprints: Teatras Meno Fortas of Lithuania.
Madness governed without any visible form of restraint
The Lithuanian Hamlet encapsulated much of what has been bracing about Globe to Globe. Passing a familiar text through a Baltic prism brought out novel vistas, the most glaring one being that Elsinore is another word for Bedlam. It's not an absolutely new idea: Ian Rickson's Hamlet at the Young Vic located Michael Sheen's Prince in some sort of psychiatric facility. But in this Hamlet, a place where a king's throne and bedchamber can be usurped by his brother, madness governed without any visible form of restraint. In a kingdom peopled by deranged marionettes, Klaudijus (Vytautas Rumšas) screamed as madly as anyone. The trousers of Andrius Mamontovas's jerky Hamletas were soon round his ankles like a visitor from Whitehall farce. Viktoria Kuodyte's high-spirited Ofelija was diagnostically doolally from the off. When she advised her father that she thought Hamletas round the twist, a whole audience (many of them Lithuanian) would have been thinking the same thing: it takes one to know one, luv. You hoped she had a dial going up to 11 for her final descent into actual madness. (She did.)
Meanwhile, Hamlet's feigned insanity took the form of lying stock still, a rare moment of peace for a production putting on a frantic disposition. Ruthlessly cut to do away with Rosencrantz and Guildenstern, Polonius's advice to Laertes, the player's King Priam speech and even the death of the royal couple, the sense of hurtling kinetic force trimmed the prince's solo musings to the bone. Mamontovas, a big musical star in Lithuania, didn't seem notably paralysed by fear of action. The props department joined in the lunacy. Metal orbs rolled across the stage, a giant circular saw hung menacingly over the action, a block of ice was smashed to reveal the assassin's knife. Metal chairs and tables were dragged hither and thither by the cast. Two (somewhat baffling) monster goblets encapsulated the production's outsize aesthetic.
There were some pleasing directorial touches from Eimunas Nekrošius. The players squawked like parrots as they delivered their lines. Hamletas blew dust in their faces to turn them into creatures of his plot. The arras of Polonijus (Povilas Budrys) was actually a trunk into which he was strapped. The pile of bodies was wheeled off at the end on a table. Nor was it only the enacting of the old King's murder that was done in dumb show. Even the duel was played out to the swish of epées wielded by the rest of the cast. The one really egregious taste lapse came from the cocktail-bar noodling of an electric piano mounted in the gallery.
The same musician thwacked a bass drum as Fortinbras howled over the prince's corpse. While this was not an especially moving account of the play, Fortinbras's grief will have mirrored that of anyone stricken by the end of Globe to Globe. This magnificent adventure, in show after show, has said the obvious thing about theatre, and said it supremely well - that cultures may find reasons to be at one another's throats, but there is something primordial that binds all of us: the human need to stand up and tell stories, stories of love and death, hope and betrayal, stories that make us howl with laughter and with pain. That is what all the unifying applause - ecstatic once more last night - has been about. Only the domestic take on the most English play remains to complete the set – The Globe's own Henry V. (Rogue thought: it would have been a giggle seeing what a French company might make of Agincourt.)
GREAT DANES
Alan Mahon, Tobacco Factory, Bristol. Hamlet as wayward teen spirit
Benedict Cumberbatch, Barbican. Visuals threaten to swamp Shakespeare – and, yes, Sherlock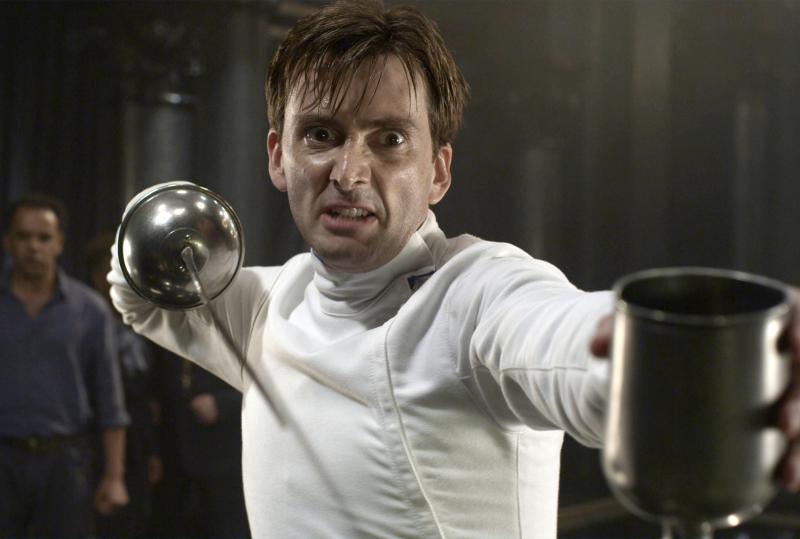 David Tennant, RSC/BBC. Star looks for life in an infinite space beyond the Tardis
Lars Eidinger, Schaubühne Berlin. Acrobatic Hamlet, outshone by the earth and the rain
Maxine Peake, Royal Exchange, Manchester. An underwhelming production, but Peake is gripping as the young Prince
Michael Sheen, Young Vic. Sheen is riveting as the crazed Danish Prince in Ian Rickson's terrifying psychiatric-hospital staging
Rory Kinnear, National Theatre. Kinnear isn't a romantic Prince, but an unsettled, battling one in Nicholas Hytner's staging which is modern, militaristic and unfussy
Andrew Scott, Almeida Theatre Predictably unpredictable performance subject to Robert Icke's slow-burn clarity
This magnificent adventure, in show after show, has said the obvious thing about theatre, and said it supremely well
rating
Share this article
Subscribe to theartsdesk.com
Thank you for continuing to read our work on theartsdesk.com. For unlimited access to every article in its entirety, including our archive of more than 10,000 pieces, we're asking for £3.95 per month or £30 per year. We feel it's a very good deal, and hope you do too.
To take an annual subscription now simply click here.
And if you're looking for that extra gift for a friend or family member, why not treat them to a theartsdesk.com gift subscription?