Rock of Ages the Musical, Shaftesbury Theatre |

reviews, news & interviews
Rock of Ages the Musical, Shaftesbury Theatre
Rock of Ages the Musical, Shaftesbury Theatre
Silly but fun tribute to the era when rock was still sexy
Wednesday, 28 September 2011
Rock of Ages: Stacee Jaxx (Shayne Ward) heads towards the gutter while Sherrie (Amy Pemberton) looks on
A long time ago in a galaxy far, far away, all women were dressed by Frederick's of Hollywood and all men were a cross between David Lee Roth and Jon Bon Jovi. The Eighties-set Rock of Ages is so outlandish, it might as well be set on another planet. Instead, the all-singing, all-dancing action centres on a bar along LA's Sunset Boulevard.
There's no doubt that Rock of Ages is absurd, but that hasn't stopped it being reconfigured for a film that's in production now. The high-octane cast includes Alec Baldwin, Mary J Blige, Tom Cruise, Paul Giamatti and Catherine Zeta-Jones. Its Broadway run continues, the show has toured America and is also being staged in Melbourne. Five years on after first surfacing in LA, Rock of Ages has become a franchise, like so many jukebox musicals before it. Now, it's being tried out on us. We don't get Twisted Sister's Dee Snider. Instead we get X Factor winner Shayne Ward as gutter-bound rock god Stacee Jaxx and all-rounder Justin Lee Collins as club owner Dennis Dupree. Drew (Oliver Tompsett) and Sherrie (Amy Pemberton) are the love interest (pictured right). The action is hurried on by Simon Lipkin's Lonny, Dennis Dupree's assistant and the show's in-built narrator. All have suspect American accents.
Sherrie has left small-town America for LA, looking for bright lights and stardom. Her guidebook takes her to Dupree's domain, Sunset Strip's The Bourbon Room. Floor-sweeper, dogsbody and wannabe rocker Drew inevitably falls for her. Their love hits a few bumps, and Sherrie has to take a few gulps to make her way in the mean, seedy world of Hollywood. But they get there. There are also a few problems in store for The Bourbon Room. A wicked developer wants to flatten the Strip and replace it with strip malls. The Bourbon Room is destined for the wrecking ball. With the ear of the mayor, our developer has the suitcase of cash he needs to smooth his path. You can guess how his plans go, and what does or does not happen to The Bourbon Room. Meanwhile, Stacee Jaxx, the singer and frontman of hair-metal titans Arsenal, is going solo. Their career began at The Bourbon Room and Dennis Dupree wants them to debut their new singer there; Drew fancies his chances as the support act. (Pictured above: Justin Lee Collins, Simon Lipkin and Sandy Moffat.)
Rock of Ages is built around some of pop's most overblown anthems. Has it ever been possible to hear "The Final Countdown" and not laugh? Certainly not in Rock of Ages. Sadly, Def Leppard's "Rock of Ages" doesn't get an outing, as the rights owners wouldn't allow it to be performed. Boo. But instead we're offered a raft of top-banana tunes that are both impossible to get out of your head and heaven for the up-for-it audience. Night Ranger's "Sister Christian" wasn't a hit here, but it's just as memorable as Bon Jovi's "Wanted Dead or Alive". Whitesnake's "Here I Go Again" (their frontman David Coverdale is seen in the show's recorded introduction), Foreigner's "I Want to Know What Love Is" and Pat Benatar's "Hit me With Your Best Shot" are nowadays irresistible, whatever their context. Time passing has broken down (my) prejudices about this sort of rock pop (not to be confused with pop rock).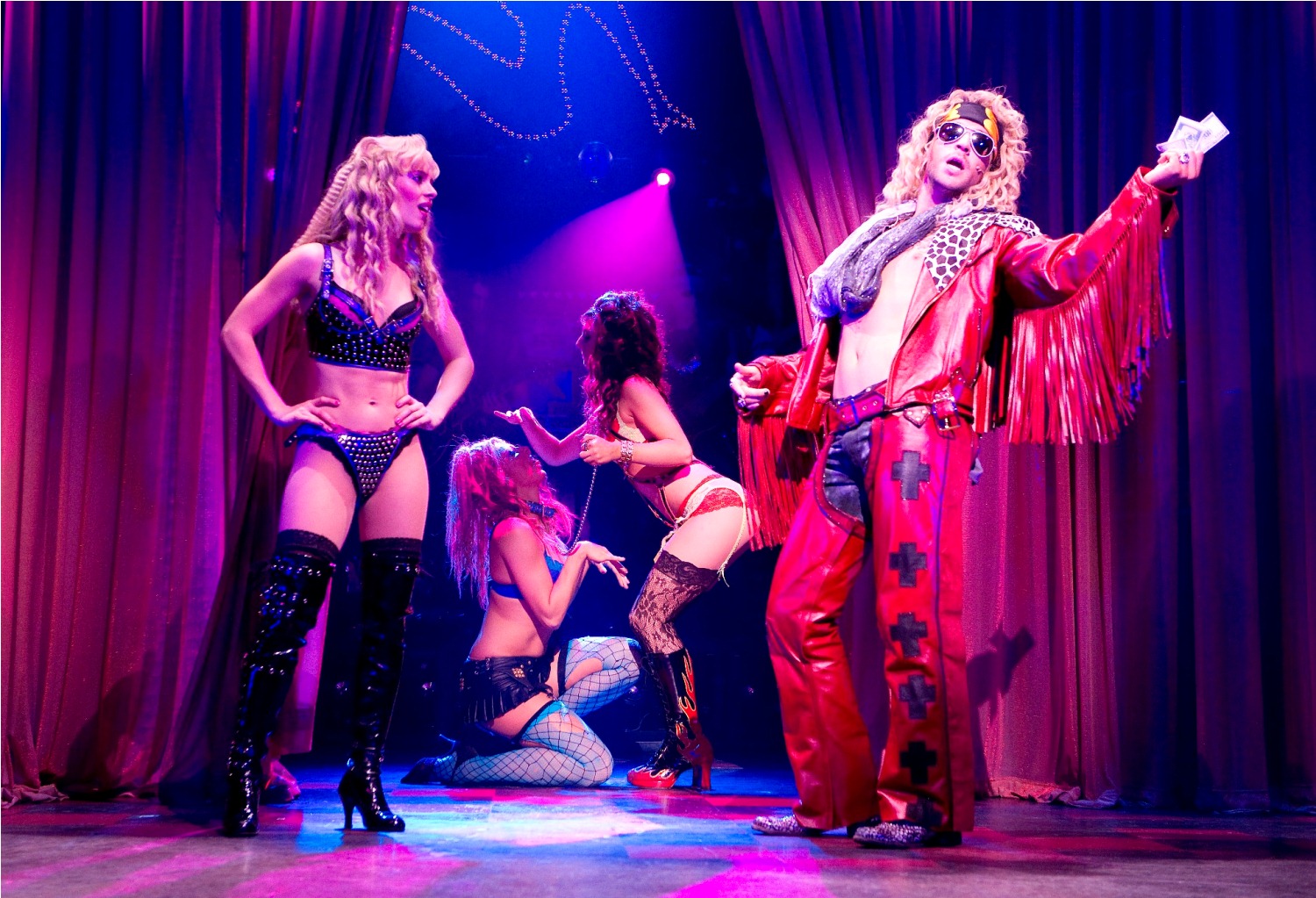 The tissue-thin plot means the songs are Rock of Ages' only consistent element. It is a long show, and flags midway in the first act and a third of the way through the second. As Lonny, Lipkin is the show-stealer. His presence is forceful, instantly connecting with the audience. Lonny is hilarious, the right side of knowing. Ward gets it right too, with Stacee Jaxx's descent from the top to close to the bottom pitched well, but he lacks Lipkin's fire. Collins's Dennis Dupree is straightforward, likeable, father-figure-ish. Both Tompsett as Drew and Pemberton as Sherrie are cute cardboard cut-outs. Pemberton doesn't have a rock singing voice and appears to be modelling her whole performance on Kylie Minogue (pictured above right: Pemberton with Ward). There are laughs aplenty with Rohan Tickell as panto-villain developer Hertz. His son Franz (Sandy Moffat) is damn funny too, and plays oddly like Rik Mayall as Alan B'Stard.
Some questions. Burger King is repeatedly mentioned. Slush Puppy is too. Banners in the auditorium are emblazoned with the Coors and Jack Daniels logos. Is this product placement? Why are developer Franz and his son German? With the masses of tribute bands trudging the length and breadth of the land (the show's live band could hit the road as one), can putting these songs across this way attract a loyal audience? Is Dennis Dupree named after The Cryan' Shames's song "Dennis Dupree from Danville"? Do the show's producers know the Shaftesbury Theatre is opposite the old offices of British music weekly Melody Maker?
Whatever the answers, the cartoonish Rock of Ages remains a hoot. Being even less substantial than We Will Rock You is not a problem. But be sure to suspend disbelief on an industrial scale.
The passing of time has broken down prejudices about this sort of rock pop (not to be confused with pop rock)
rating
Share this article