The Hollow Crown: Henry V, BBC Two
The Hollow Crown: Henry V, BBC Two
Tom Hiddleston offers a star of England in melancholy mode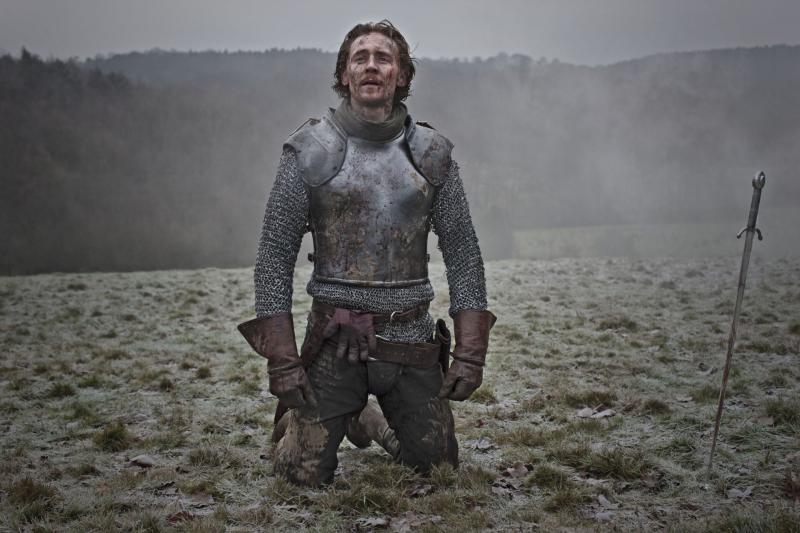 Man and God (and mud): Tom Hiddleston appeals to the deity as Henry V
Forget the ages-old talk of London buses arranging their schedules so that they all arrive at once. The capital's patterns of public transport have nothing on the rapidity with which Henry V has hoved into view of late, whether at Shakespeare's Globe, on tour from the all-male Propeller company, in repertory at Islington's Old Red Lion pub theatre or as a baleful conclusion to the BBC's impressive Hollow Crown series of the Bard-on-film.
And one thing seems certain after this most recent version: a play often renowned for its braying jingoism has rarely seemed so mournful, as if the "star of England" were a comet-king awaiting that grievous moment when he, too, would burn out.
For that, credit theatre director Thea Sharrock in a small-screen directing debut, better on emotional resonance than cinematic bravura, that rethinks this testosterone-thumping text as a wounding elegy framed by death. You want derring-do and gags, interpolated songs alongside an unbridled savagery that turns to sweetness near the end? Ed Hall's your man on that one with his amazing Propeller troupe, just as Jamie Parker at the Globe gives the sort of unabashed star turn on which that address thrives (albeit considerably compromised by the weather on a recent inclement night).
Sharrock comes at the play in an altogether different way, and not only because Ben Power's extensively cut (the Scroop/Grey subplot is gone), re-ordered adaptation frames events with the funeral of the warrior-king, Henry, who, we are reminded, died of dysentery in 1422, age 35. (Well, he at least outlasted poor ol' Richard II by two years.) The prevailing tone is evident from the slowly spoken, sepulchral sounds at the start of John Hurt, who plays a (mostly unseen) Chorus, only to make a fleetingly sad-eyed appearance at the very end. On stage, this character serves to invite us to open wide our imaginations; on screen, he's our shivery guide toward the grave, a destination that Henry and his entourage (pictured above) will come to know all too well. (He's also here presented as a witness to history via a cunning surprise that threads the character, if not Hurt himself, throughout the action.)
The result couldn't be further from the vaulting screen Henrys proffered over time by Olivier and Branagh in a play whose surging rhetoric and military manoeuvres make Henry V a candidate for the movies much more than the introspective Richard II. (That despite the staginess of the Chorus's placement of the action, most of which gets excised here.) But perhaps as if in sympathy with Henry's own brooding on a legacy that strikes him as far from honourable, more than any in my experience Tom Hiddleston's Henry has something of the questing anxiety of the child-ruler Richard. Here for a change is a deeply fallible leader in uneasy correspondence with God (and on good terms, one assumes, with his dentist, given the actor's Hollywood-perfect teeth that somewhat cut against the begrimed visage of the battle scenes).
You search in vain for the fun, and sometimes the fury, of a play that folds tennis balls, Franglais, and roisterous good humour into its tempestuous tale of Hal-turned-Harry's rise and rise: Owen Teale's puffy, po-faced Fluellen, for instance, is unrecognisable from the roguish Sam Cox in the same role at the Globe, while Melanie Thierry's doe-eyed Katherine lacks the pursed lips and wicked glint that Karl Davies lends to the part for Propeller. In context, Julie Walters's fruity Mistress Quickly (pictured left) seems even more oddly placed here than she did in Richard Eyre's (superlative) Henry IV two-parter: a good-time girl surrounded by woe which she will confront only when recounting her beloved Falstaff's death.
That said, there's much to commend a Henry V for our uncertain age. Hiddleston's shining-faced charisma is qualified by a sense of life's fragility that finds his eyes misting over, for instance, on "we few, we happy few". In supporting roles, Tom Brooke delivers a notably yobbish Nym, Geraldine Chaplin is a charming Nurse-style companion to Katherine, and Gwilym Lee makes much of the often-overlooked role of the soldier, Williams, who ponders aloud whether a noble death might not in fact be an oxymoron. Contemplation surely has its place in this play, as Sharrock acutely makes clear. But if you find this Henry V not to your taste, another one is not far off: Jude Law returns to the Bardic fray in this very role late next year.
Tom Hiddleston cuts the first Henry V in my experience to carry with him something of the questing anxiety of the child-ruler, Richard II
Share this article