Sean Shibe, Wigmore Hall review - a bewitching hour
Sean Shibe, Wigmore Hall review - a bewitching hour
Pavanes and elegies hold a live audience in hushed, intense thrall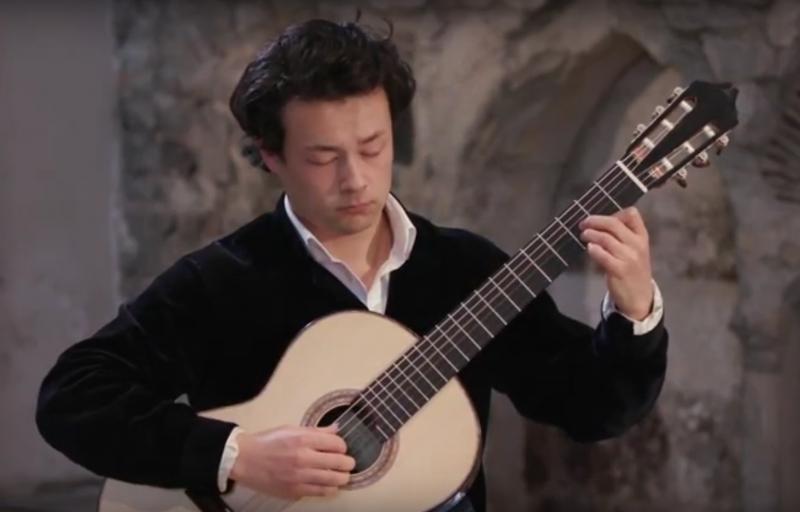 Sean Shibe giving a recital for the 2020 Southrepps Festival
Last time I was in a Wigmore audience for a Sean Shibe recital, his electric-guitar second half had many regulars fleeing the hall (he later said that the amplification had been meddled with – it was too loud, though the work in question, Georges Lentz's Ingwe, was always going to be a stunner).
No softLOUD this time, only mostly soft, a meditative journey from the relative simplicity of 16th century lute music to the mid-20th century, every modest harmonic twist in the later stages striking fresh on the ear.
You wanted to be out in the country on a summer night listening to this programmeThis time the orange-red jump suit donned for the Lentz had been replaced by a white ruff against black. Not joky or affected: think all those portraits of Jacobean gentlemen with a suggestion of what Eliot described as Webster's "skull beneath the skin" about them. Had there been a broadcast, you'd wonder if there were any listeners in the hall at all; that uncanny, intense silence that Shibe always wins, no matter the crowd or the situation, held throughout. Mesmerising melodic turns over a two-note bass set the mood in Robert Ballard II's Branles de Village; Blondeau and de Narváezadded subtle riches, endings always magically manoeuvred.
The ruff remained but guitair replaced lute as we vaulted the centuries. Is playing like this, with a haunting, utterly distinctive vibrato on the melody lines and illusions of depth, the only way to hear Satie's Gymnopédie No. 1 and Gnossiennes 1 and 3? It just felt so right at the time. Poulenc, Antonio José and Mompou offered further elegies where discreet harmonic novelty struck as seismic shifts in context, and the grand Pavane to end was Ravel's for a dead princess – originally for piano, peerlessly coloured for orchestra, this transcription somewhere in the middle. You wanted to be out in the country on a summer night listening to this programme, but Shibe reached out as always to the back row of the Wigmore, never forcing the sound but creating the atmosphere. The simple Scottish air which he offered as encore was as perfect as anything in an enchanted hour.
Watch Sean Shibe perform much of this programme - minus the Ravel, plus some of David Fennessy's Rosewood pieces - for the West Wicklow Festival.

That uncanny, intense silence that Shibe always wins, no matter the crowd or the situation, held throughout
rating
Explore topics
Share this article