theartsdesk Q&A: choreographer Christopher Scott |

reviews, news & interviews
theartsdesk Q&A: choreographer Christopher Scott
theartsdesk Q&A: choreographer Christopher Scott
The creator of the sizzling dance scenes for 'In The Heights' on how they came about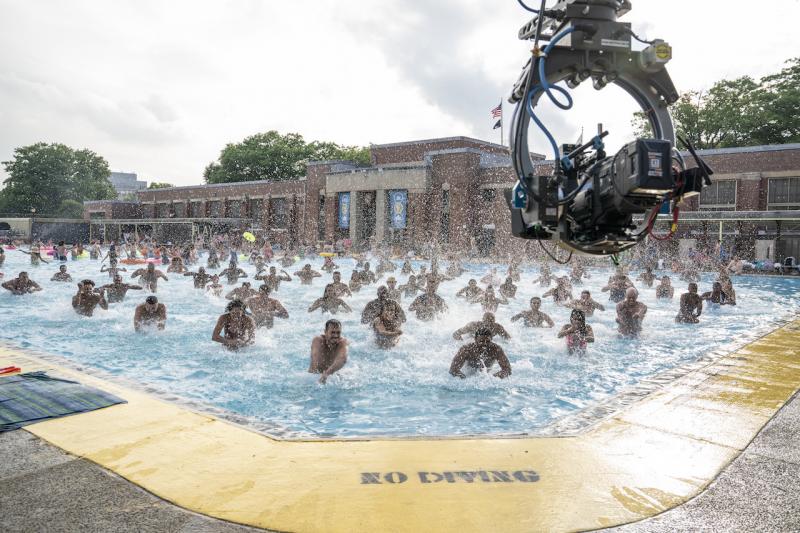 B-boys and B-girls in the swim. Shooting the pool scene for 'In the Heights'
Having won recognition for his streetdance routines on American TV's So You Think You Can Dance, choreographer Christopher Scott was asked to help bring Lin-Manuel Miranda's pre-Hamilton stage hit to the big screen. In The Heights was shot entirely on location on the streets of Washingt
on Heights, a largely Dominican neighbourhood in New York. He tells
theartsdesk
's Jenny Gilbert how he went about creating the film's explosive
dance
scenes, and why he thinks the
movie-musical
is having a major resurgence.
CHRISTOPHER SCOTT: I came to this film through commercial choreography and specifically street dance. I started out as a tap dancer, then gravitated toward breaking, popping and krumping and learnt to speak that language. I've particularly wanted to showcase street as an artform because I think a lot of people see it as just a bunch of tricks – you know, all that headspinning and such like. But street has a rich foundation that holds up the same way as ballet does. How do you show people that? Well, let's put a ballerina in among four B-boys and let's connect the dots for people visually. That's always been my style.
JENNY GILBERT: And it's apt because this story is all about the mix of people and cultures in a very specific location – Washington Heights, New York. How did you decide which dance traditions to include?
Being able to hear much of Lin-Manuel's music in advance meant I was able to identify the many styles of dance it might speak to. Lots of latin styles, originating in Cuba and the Dominican Republic, and street styles as well. As I'm listening I'm thinking specifics, like – that's the moment when we've got to bring in the flexers.
Flexers?
It's a style from Brooklyn, New York, a whole rich style which comes from the [Caribbean] islands. I'd never seen flexing in a musical before, and this is the musical it just had to be in.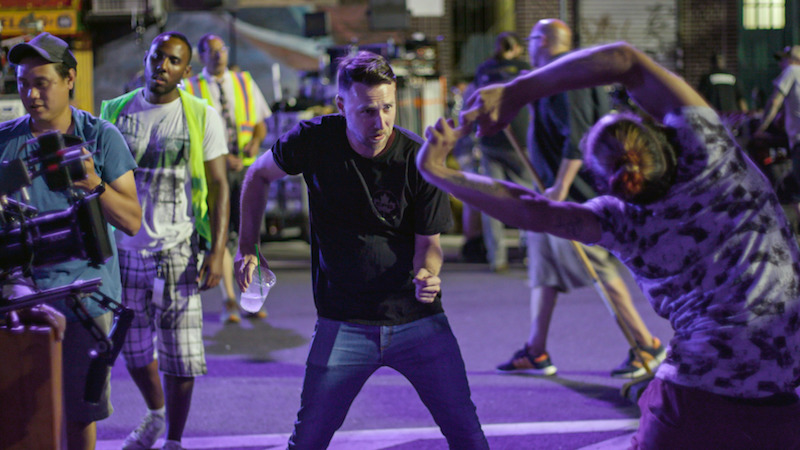 So did Lin-Manuel Miranda write new music for the film, adding to what was in the 2010 stage version?
He did. There's a lot that's new. And because we had to lose some songs here and there even while shooting, we'd find that we suddenly needed some new bits of music to shift things along dramatically. And we'd be thinking, oh god, how long is that going to take? It's going to hold us up. But the very next day, we'd have that new number. And it would be so inspiring, and make so much sense. Lin-Manuel is fast, and it's crazy to see. I felt fortunate to get a front-row seat to that man's genius.
Given how many plates he has been spinning, in films and on Broadway, he can't have been hanging around waiting for the muse to strike.
Right. And you know he was also in a show on Broadway [Freestyle Love Supreme, later also a film] that's all about free-style rap, so he was making up a new show every single night. Man, his muscle is strong in that department. That show was born during rehearsal breaks for In the Heights.
My own education began by learning not to use the term salsa
When you took on the choreography for the film, how specific was your brief? Were you free to decide how each dance sequence should go?
It was a huge collaboration with the director Jon Chu. We've been working together for 10 years, so we already had a system for getting a project together, a shorthand. The same is true with Alice Brooks the cinematographer. I know I can reach out to her in the middle of choreographing and ask – does this work for the camera? And she'll go, 'maybe, but what if we do this…?' Everyone was free to contribute on this film. There were no egos. It all just flowed.
With Jon, our process starts with sitting down in a room to listen to the songs. We ramble off a ton of ideas, he writes them on a whiteboard as we go, then we circle our favourites. Some of them just go in the bank, to be pulled out whenever. So when after the final edit someone asks whose idea was that? We just don't know.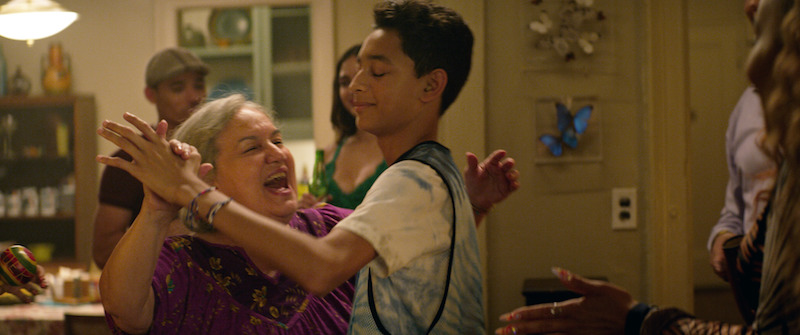 You've said you're no purist, you're very happy to mix genres and styles. What kind of research did you do to find those styles?
When it comes to the street styles, that's home territory for me. The foreign language was the latin styles, and I knew it was important that these were delivered in an authentic way. Once a style gets commercialised, it's a problem for the people that live the culture. They feel offended, disenfranchised, and things get lost in translation. Like on set when someone says do you want us to bring on the breakdancers? I wanna say, do you mean the breakers, or the B-boys and the B-girls? I was determined that the latin dance in this film wasn't going to suffer from generalisation in that way.
My own education began by learning not to use the term salsa. It's mambo, not salsa. Once the music got commercialised and they christened the music salsa, the dance just kind of got dragged along with it. But it's actually mambo. So I'm glad if this film can go a little way to educate people.
So I did the research, but I also brought in Eddie Torres Jr. as associate choreographer – he's a master of the latin styles. When you watch him dance, phew! He's the one who kicks off the night club scene by shouting 'Fiesta! In the Heights!' He brought all the Latin dance authenticity that's in that movie. I remember on his first meeting, to get the job, he spent the whole time breaking down the history of the various latin dances, how the rhythms arose via the slave trade, the slaves being allowed to play rhythms on drums on Sundays. He wanted me to understand where the music comes from. And you can't make a movie like this until you do.
The locals were hanging out of their windows and watching from their fire escapes
So can you walk the walk now? Can you do any of these dances?
Yes I can, I've been in training, and the experience has changed me. When you study a dance like Cuban rumba, after spending your whole life thinking rumba belongs in the ballroom, you find it's totally different. You have to be quick to spot it in the movie. But it's there.
We've talked about this film being about diversity, the particular melting pot of one neighbourhood in New York. But it strikes me that the film is also strong on other kinds of diversity – youth and age, fat and thin. There are some pretty chunky dancers rocking it in some of those scenes. Did you have to get amateurs in to get that range of shapes and ages?
Every dancer you see in the movie is professional. The hard part was finding the older latino and latina dancers, because the agencies just don't have 60-year-olds on their books. We had to find them through personal contacts so my no.1 job was scouting. It was important that those neighbourhood dance scenes should look like real people in a real community. Because of course we were shooting on actual streets in Washington Heights. The locals would be hanging out of their windows or watching from their fire escapes. They were really with us, and that was special.
Using a public space, you must have had to shoot those scenes quickly.
It was crazy. "Carnaval" [the big street rave, pictured above, at the climax of the film] was shot in one day. It's a seven-minute dance number that should have been impossible in that time. Before this movie, I was passionate about dance performances being sharp and clean, but I've learnt that sometimes you have to let that go. The character Isnavi says that "your dreams aren't always a sparkly diamond, sometimes they're rough" – and it's true. Some of the dancing in "Carnaval" looks quite raw, and I'm proud of that. Each dancer was doing it their own way, they each had their own story, and that's great.
'West Side Story' shifted the movie-musical into another gear, and it's about to go to the next level
But there are flights of amazing dance virtuosity in the film too. Like the scene at the lido [pictured top]. Whoever would have thought that B-boying could work at the bottom of a pool?
Well, you seek out the best dancers, put them together, and see what happens. It's so much more creative than having everything figured out in advance and telling people what to do. So we got those B-boys in the pool, and they just started competing with each other and doing these incredible underwater things. I wish we could have included more.
Of course that pool scene immediately evokes Busby Berkeley. Did you consciously reference other old musical films?
West Side Story is a huge influence for me. That was the musical that got me into dance. So even in the opening and closing numbers of In The Heights, which don't bear any resemblance to anything in West Side Story, the spirit of Jerome Robbins's choreography is there in the sense of organised movement as a cinematic experience. West Side Story shifted the movie-musical into a different gear.
With the release of In The Heights, with Annette set to open the Cannes Festival, and with a remake of West Side Story on the cards, do you think we're on the cusp of a major resurgence of the movie-musical?
Well, yes, absolutely. With all that's been happening in the world this past year it feels like it's time. I think it's going to be an exciting year for dance on screen. For years music videos have been using the power of dance to make us feel something specific. And lockdown has reminded us how good dance made for the stage can be on camera. Between them they've paved the way for the dance musical to go to the next level.