Alston at Home, The Place |

reviews, news & interviews
Alston at Home, The Place
Alston at Home, The Place
New work outshines old in company showcase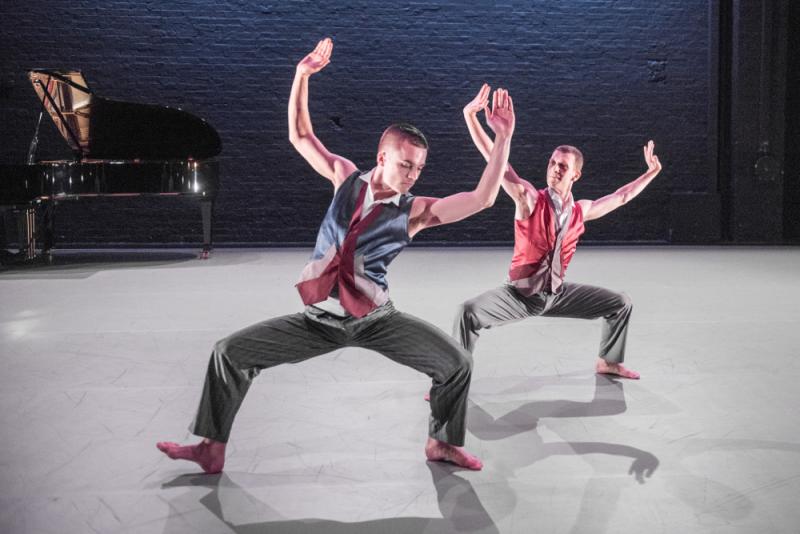 Liam Riddick and Jonathan Goddard explore longing in Richard Alston's new piece, 'Mazur', set to Chopin's mazurkas
Parties in someone's back garden are often more fun than those in big fancy venues. Richard Alston Dance Company celebrated its 20th birthday with a big soirée at Sadler's Wells in January, but last night was their cheerful family gathering, held in their home theatre The Place, and offering a hearty buffet of short pieces rather than an elaborate three-course meal.
Alongside world premières of short pieces by house choreographers Richard Alston and Martin Lawrance and star company dancer Ihsaan de Banya, RADC debuted a piece by London choreographer Joseph Toonga, and rounded out the meal with a couple of revivals from Alston's back catalogue.
In Martin Lawrance's piece, Opening Gambit, the lights come up on all ten company dancers slouched against the back wall of the stage, sardonically eyeing up the audience, before Oihana Vesga Bujan swaggers straight downstage towards us in a superbly direct invasion of the audience's space. Then everything explodes into life, and we get a brilliantly enjoyable eight minutes of high-energy dance in the Alston/Lawrance trademark style – a contemporary/ballet cross with lots of straight arms, whirling turns and leaps. Lawrance varies it with turned-in knees and some strong use of heels, pleasant visual accents, and the dancers grin engagingly as they flicker through interlocking repeated sequences that build and recombine in different ways. It's fast but grounded – often literally, with the knee bandages worn by most dancers testament to the punishing number of quick turns they have to do on the floor – and my only criticism would be to say: take out the lifts, this is far too fast for them. The music, Dark Full Ride Part 1 by Julia Wolfe, is all clicks and pips (imagine a humpback whale beatboxing) but for eight minutes, it's no hardship.
Ryoji Ikeda's music for Rasengan, the new piece by Ihsaan de Banya (pictured right with Oihana Vesga Bujan), is more of a hardship, being mostly static and very high harmonics probably out of hearing range for more than half the audience, but the assured, intelligent choreography provides plentiful compensation. Three dancers (de Banya, Vesga Bujan and Nicholas Bodych) appear in a huddle like Macbeth's witches, swaying hypnotically in arcs of increasing magnitude before they break out. There's a suggestion of inhumanity in their hunched shoulders and dramatically curved upper backs – a suggestion cleverly intensified but then challenged when Vesga Bujan touches Bodych's face and then places her cheek next to his heart, as if she's checking he has one. The tension generated by de Banya's reappearance after this tender moment introduces the notion of a love triangle, but it's surely not meant to be as literal as that – although in classic love triangle fashion, Vesga does end up alone at the end, for a soundless solo I would, frankly, have cut; it's an unnecessarily strange coda to an otherwise coherent piece.
Joseph Toonga's piece, Unease, comes from a similar stable to Rasengan – abstract, but charged with recognisable emotion. Unease is evoked through sharp shudders, which punctuate the smooth flow of the dance like a stutter and through sharply aggressive stamps. There's a suggestion of a ritual dance of some kind in the stamps as well as in the deep pliés and audible breaths; like watching a haka in slow motion. It's confident and interesting, though could be perhaps a bit shorter – certainly after 15 minutes I'd had enough of the watery bass notes and six-note piano lick of the score, Celesta's Interlude by Orin Norbert of Soul-hop, which is quite as bland as it sounds.
The longing being explored is more than just Chopin's homesickness for PolandRichard Alston's own contribution to the night's new work was Mazur, a duet for brilliant young company dancer Liam Riddick and Jonathan Goddard, the ex-Rambert dancer who is one of the most celebrated male contemporary dancers in Britain. It explores longing through the medium of Chopin mazurkas (from Ops 30, 7, 33, 68, 67, 41 and 50), moving between the brighter feelings of pride in Ops 30, 68 and 50 and the pain, loss and longing in the much darker tones of Ops 33 and 41 (all played on stage by Jason Ridgway). Riddick and Goddard wear waistcoats that suggest the 19th century, and each short mazurka ends with a gesture straight out of that era's dance – the presentation of an elbow that a lady might take, a low formal bow, or a confident heel-snap with upraised arms. All seem gently ironic or even tragic-comic valedictions after the substance of the dance in each mazurka, which is far more contemporary, contemplative, emotional and even sensual (the duet set to Op. 41 has Riddick gently pressing his face into Goddard's back and embracing him). The longing being explored is, we surmise, for a more general sense of safety or belonging than just Chopin's fernweh for Poland, and not apt to be easily satisfied by anything as straightforward as a return to the beloved homeland.
With such good and charismatic dancers as Goddard and Riddick, a selection of emotional and danceable Chopin, and a seven-part structure that keeps the piece from being dragging, Mazur makes 15 minutes fly by. Overdrive, the evening's closer, on the other hand, is rather a drag at 20 minutes.
A popular Alston piece from 2006, it's in the usual fast, fluid quasi-balletic company style and attended by the usual bright lights, colourful costumes and slightly plunky modern music (Terry Riley, Keyboard Study #1). Riddick, with his intense dark eyes and cracking speed, can make it come alive, but – despite the enthusiastic cheers of the Alston-lovers in the house – I could have easily have done without it, taking home instead the memory of the various, much more interesting new work presented earlier in the evening.
Alston at Home is on at The Place until 13 June
Imagine a humpback whale beatboxing
rating
Share this article