Ballet Flamenco Sara Baras, Sadler's Wells review - storming opening to flamenco festival |

reviews, news & interviews
Ballet Flamenco Sara Baras, Sadler's Wells review - storming opening to flamenco festival
Ballet Flamenco Sara Baras, Sadler's Wells review - storming opening to flamenco festival
Sara Baras confirms flamenco as a dynamic and innovative force
Sketches of Spain: the members of Ballet Flamenco Sara Baras in a martinete
Crowned queen of the percussive heel and the trouser suit, Sara Baras has the audience on its feet long before the final number of her show Sombras (Shadows). The Spanish superstar is a familiar presence at Sadler's Wells, having fronted its annual two-week flamenco festival several times before. She's a natural headliner with her big, glossy theatrics. Her current offering, though, is a thing of deep contrasts: light and dark, sound and silence, conviviality and yes, loneliness.
There are moments when she almost has you believe it's just you and her in the room.
Baras's signature dance over the last 20 years has been the Farruca, traditionally for men only. Here in an extended opening number she styles her corps de ballet – two men and four women – in sharp black suits silhouetted against an ochre sky. When she makes her own entrance, sleek and masculine in black trews and a scarlet coat, she grasps the coat's lapels to show us she means business, then takes it off and flings it on the floor like a challenge to a duel. Which is, in a way, what this performance is. Sara Baras versus, well, what …? Men, unhappiness, a life too ordinary. The fury in her drilling feet says it all.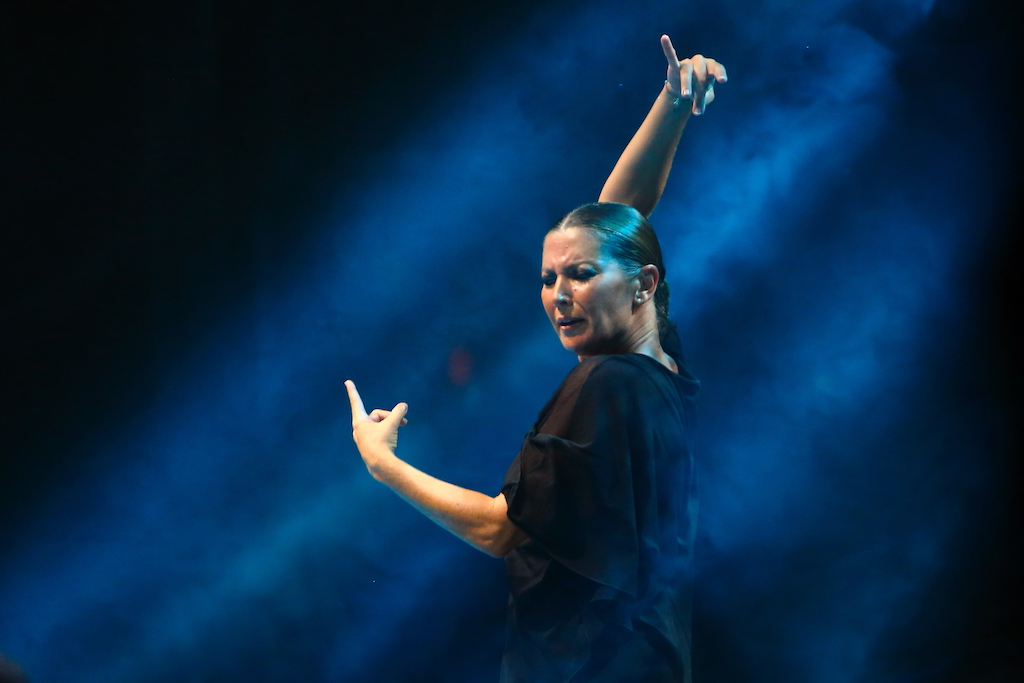 Even at rest, Baras is striking, verging on frightening. Tall and lean, her fierce, high cheekbones giving her oval face a sphinx-like indifference, she is no pleaser or swisher of skirts. The dances she performs – all solos, all grandly self-regarding – jab and stamp and thrust. When she shoots a finger out at the audience, it feels like an accusation. And when she closes that fist and coils snaky fingers toward her chest it's an act of possession. You're mine. You're under my power now. Resistance is useless.
Dynamic control is her special subject. She can start a heel-and-toe trill that purrs along like a freshly serviced motor until it suddenly hits a wall, or she might choose to accelerate and crescendo at the same time, or the reverse, puttering gently to a stop. What's remarkable is that the mechanics of these dances are quite repetitive, yet after a full 90 minutes of them, and seven or eight costume changes, the full house is still hollering for more.
The show also explores its theme in stretches of purplish blank verse (Baras voicing the work of Santana de Yepes). Let's just say I was glad not to discover the translations till after the show. Musically, though, Sombras is a thrilling statement of where flamenco stands on its evolutionary timeline. In one number it's the traditional two guitarists and a couple of palmeros, marking the rhythmic structures with rapid handclaps. In another the addition of fruity harmonica brings a hint of tango.
Yet another number turns into a wild, free-fall call-and-response between Baras's feet and Diego Villegas' saxophone, the virtuosic to-and-fro tapping into flamenco's distant roots in Indian kathak. It comes as no surprise to learn that musicologists now doubt that flamenco was ever a fixed tradition. It has always picked up influences en route.
Sara Baras, no doubt partly by dint of her iconic status in her home country, is a super-confident innovator. If she fancies having two high-voiced male singers on stage with her rather then offer the standard contrast of high and low, male and female, why not? Rubio de Pruna's sheer force is stupendous, and the rippling melismas of Israel Fernandez turn your insides to jelly. That's all the contrast we need.
Granted, not all her ideas come off well. A popular ballad sits uneasily with the fierce intensity of flamenco feet. But within five minutes the show is back on track – explosive with tension, heady with feeling and thoroughly within the spirit of flamenco.