Bonachela Dance Company, Queen Elizabeth Hall |

reviews, news & interviews
Bonachela Dance Company, Queen Elizabeth Hall
Bonachela Dance Company, Queen Elizabeth Hall
A faun who's gone flat, chasing around the world
Friday, 25 September 2009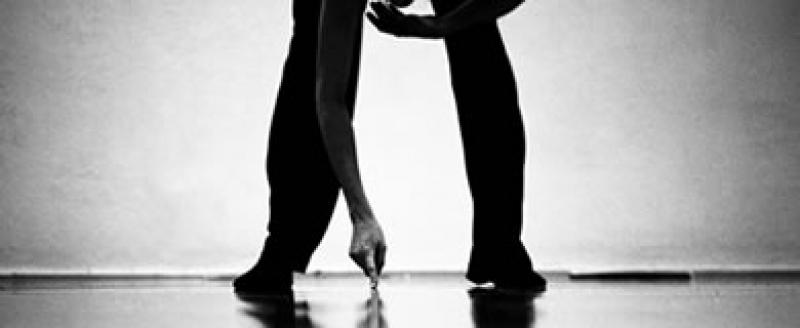 Bonachela's The Land of Yes and The Land of No: strenous movement, but not dance language
A modern choreographer has arrived when he gets to run two companies in parallel, the institution that appoints him director, and - as a sort of personal couture line - his own group. Wayne McGregor does it with the Royal Ballet and his Random Dance, now it's Rafael Bonachela who took on Sydney Dance Company at the end of last year, while retaining his own Bonachela Dance Company at the South Bank Centre.
Going by last night, I don't think living a bi-hemispheric existence is aiding his powers to entertain.
Bonachela's talent is slim - nice, but slim. A decade ago it was interesting to see him as a Rambert dancer build up a limber, punchy take on contact improvisation, big on gearing, with legs smartly hitting heads, and knees crooking faces. But it has been frustrating to see that this has led nowhere much, to a small handful of repetitious if chicly styled dances, and last night his London company's first outing since he went to Australia was, I thought, dispiriting evidence that premature celebrity (with his hookup with Kylie's Showgirls tour) probably stemmed the learning he needed to do to enrich and develop a proper dance language.
The Land of Yes and The Land of No, shown in the autumn Dance Umbrella festival, is hailed as a work where Bonachela finally allows human emotions in. Its theme is the prohibition by signs, traffic signs, door signs and so on, and I guess aimed mostly at pedestrians, since this is a very pedestrian pair of dances with an awful lot of walking in them. There are indeed a lot of hand signals, touches and gestures, but more as earnest thematic material than an interest in eloquence.
The electronic score is by the "neo-minimalist" Ezio Bosso - neo-minimalism surely meaning "minimalism for beginners", and stuck on what sounds like the same C minor chord that people hit on their electronic keyboard when they can just about manage the E flat black note and want to make mood music that if it's played long and loud enough will rip the very tears from your eyes with its tragic power. There is around an hour of this stuff, strummed out relentlessly with chugging double basses (Bosso is a double-bassist) and occasional voices keening "Alleluia".
It creates a flat, unintriguing landscape for some flat, unintriguing choreography, lit unilluminatingly by a grid of neon strips that switch on and off making shapes like doors or grilles or possibly zeroes, as in nothing. Part of the trouble is that none of the six dancers can walk without self-consciousness, and since they begin and end every dance by walking on or off stage, and do quite a bit of meaningful walking in the middle, this is a handicap. Walking on stage is a dramatic and technical skill, like being able to balance on one leg without wobbling, which is not something that, according to one male-female duet last night, is wholly mastered in this group.
I did not expect genius from Bonachela, just not to see the hip young faun of old produce such constricted, low-level stuff as this, and it was only in the duet ending the first half that one saw any spark of his old wiry sensuousness, when a couple evolved a slithery, needy, Mediterranean eroticism.
I deduce that it has partly to do with the amount of floor space he's using - this was perhaps made in a small studio, so that dancers scribble their little movement strenuously in the centre of the stage, without using the largeness of space to create or contrast momentum, reach, scope and scale.
Equally though, it's that this work exposes that Bonachela still lacks real, confident vocabulary base, a distinctive inner eye for moulding details such as hands, arms, legs. That part 1 duet comes alive because the couple never loose each other's hands, causing some exploratory and intriguing knitting as they twist and turn. The contrast with the semaphoring, though, is too obvious to be revealing. Mostly what he makes here is only movement. It's not a dance language.

Showing again tonight at the Queen Elizabeth Hall. Book online here. Then touring to Brighton, Cambridge, Belfast, Salford, Maidenhead, Taunton, Swansea, with further touring in the New Year.
Explore topics
Share this article