Cinderella, Ratmansky/Australian Ballet, London Coliseum |

reviews, news & interviews
Cinderella, Ratmansky/Australian Ballet, London Coliseum
Cinderella, Ratmansky/Australian Ballet, London Coliseum
Serious choreography and lush design make this Surrealist fairytale a visual treat
Need a hand? Principal Leanne Stojmenov is helped to the ball by planets, sun, moon and stars
Does Alexei Ratmansky, former Bolshoi director and current world-leading classical choreographer, really love Prokofiev's Cinderella, or did he choose to create a new one for Australian Ballet in 2013 principally because he wasn't happy with his first (for the Mariinsky) in 2002?
My bet is a bit of both: the second production, like the first, shines with an unfeigned affection for both score and story, but it also reads as a candy-coloured riposte to the usual adjectives applied to the 2002 production: ugly, spiky, uneven. If Ratmansky's first
Cinderella
was a tongue-scorching Wasabi pea, this one is a smooth, sophisticated sugared almond.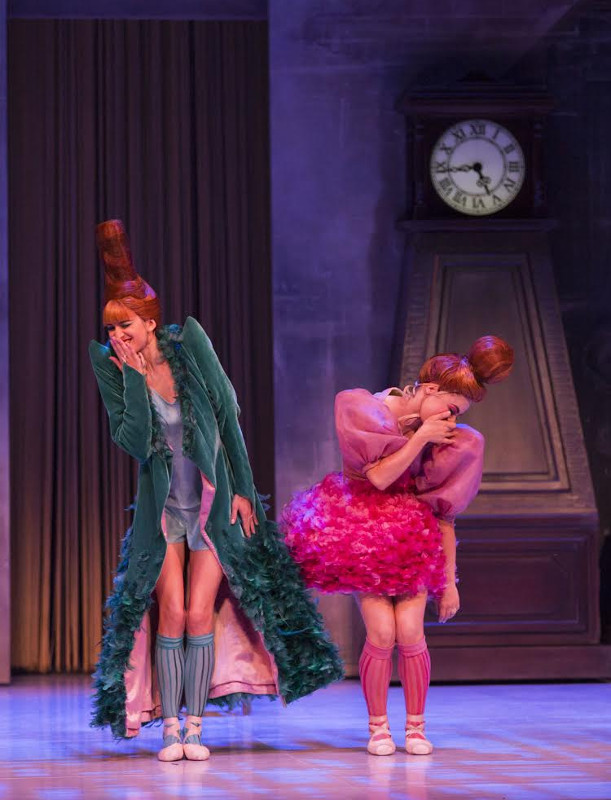 It's (mostly) an improvement. Though I remain an apologist for the harshness in the Mariinsky Cinderella, which picks up on the score's strident, sardonic qualities (it was composed in the early 1940s) and confronts the cruelty and dinginess of the tite character's life head-on, it is burdened by undeniably hideous costumes and choreography that never quite seems to get going. The Australian version, on the other hand, is a visual treat, especially in costume: clever sculptural outfits exaggerate the ugly sisters' traditional characterisations (Skinny and Dumpy) so that one is dressed as a cylinder, the other as a sphere (pictured right). The planets which appear instead of seasons in Act I (a brilliant conceit) have delightful ball-shaped tutus in a range of earthy metallic tones (main picture); the ball guests are dashing in mauve and sage velvet tuxedos; Cinders gets to wear gorgeous smoke-grey chiffon at home and white tulle with gold lamé at the ball. Even the Stepmother is spared the usual mutton-dressed-as-lamb treatment and given instead a snappy magenta outfit complete with joke-enormous but seriously gorgeous fur cloak.
The dissonance of the score is rendered visually through oddness, rather than ugliness, Jerôme Kaplan and Ratmansky used Surrealist art with its skewed proportions and misplaced objects to convey the subtly off-key, magical reality that Cinderella inhabits: it is inspired to have Dalí's clock faces and Man Ray's metronome appear at key moments in this clock-obsessed ballet, though Dalí's "Mae West" sofa is rather too iconic to be plausible in Cinderella's house. Digital animations of planets and weather add brilliant touches of whimsy in the background, but the big ones used as temporary front cloths for the world journey sequence looked flat and jarring against the sculptural shapes and muted mid-century colours of the rest of the design.
The most satisfying visual, however, is the choreography itself. We in the UK haven't seen as much of Ratmansky as we would like, and certainly not his story ballets: this Cinderella brings home in a most satisfying way the quality of Ratmansky's mature style. The cross-currents, the stretched and twisted positions, the jokey and jazzy elements of the Mariinsky work (his first full-length ballet) are still there, and some are even directly quoted, but they are strung together much more fluently. Where in the former work, dance numbers were fragmented and cut short, here Ratmansky seems to luxuriate in the music, taking the various romantic waltzes of Act II and the final pas de deux of Act III at a spacious tempo that allows the dancers to get deep into pliés and backbands. This is very much not a soaring ballet, but a grounded one; jumps are, by and large, the low, fluttering, precise ones of petit allegro. It's in these petit allegro sequences that Ratmansky's nature as a dancer's choreographer is clearest: he is a real master of classical ballet's grammar as well as its style, and his work has a density and substance to it that, for example, Graeme Murphy's Swan Lake last week lacked. It may still be too early to compare Ratmansky to Balanchine, but the similarities are there, and not purely attributable to Ratmansky having absorbed Mr B's style during his time in New York.
Ratmansky's production is as close to well-balanced as this sweet 'n' sour fairytale gets
Having seen Australian Ballet twice in a week now, I'm beginning to form a picture of their house style. It stresses prettiness and charm in acting, and years of good work have gone into producing the soft arms and expressive hands that practically every dancer deploys to good effect. There are a number of dancers with gorgeous feet, but very few who routinely finish jumps and turns cleanly, and the corps work was a little messy in both performances I saw. Still, it's an engaging package overall, and for something like Cinderella, smooth charm works very well. There isn't too much character development in either Leanne Stojmenov's Cinderella or Kevin Jackson's Prince, but both imbue their characters with genuine personality, and Stojmenov (pictured above left) in particular is a charming lead, playing Cinders in the best tradition of loveable Aussie girls-next-door (see: Kylie Minogue).
Act III verges on the long side, what with the prince going on his round-the-world journey including temptations of the male and female variety (both rather tacky; best skipped over) and a long final pas de deux: the story's urgency dissipates, and the pas de deux doesn't have the climactic quality that sends other fairy-tale ballets out on a high (Nutcracker, Sleeping Beauty etc). But too much Ratmansky is a good problem to have, and even in its occasional longeurs this Cinderella is brilliantly easy on the eye. I regret the loss of some of the Mariinsky Cinderella's sharpness, but on his second try Ratmansky has got almost as close to well-balanced as this sweet 'n' sour fairytale gets.
The Australian Ballet perform Cinderella at the London Coliseum until 23 July. Three of the company's fairy tale ballets, including Cinderella, will be broadcast live to cinemas worldwide in October 2016.
This 'Cinderella' brings home in a most satisfying way the quality of Ratmansky's mature style
rating
Explore topics
Share this article