Cleopatra, Northern Ballet, Leeds Grand Theatre |

reviews, news & interviews
Cleopatra, Northern Ballet, Leeds Grand Theatre
Cleopatra, Northern Ballet, Leeds Grand Theatre
Bullet-pointed ballet on pointes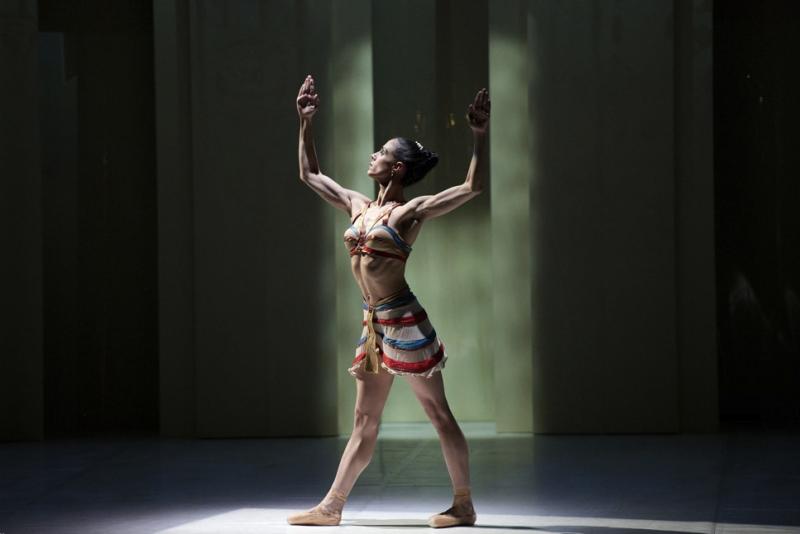 Martha Leebolt's muscular Cleopatra: The absence of sexual frisson is a feature of the production
Northern Ballet's genes are rooted in the Royal Ballet's narrative golden age of the Sixties, its most significant leader Christopher Gable having been the originally intended Romeo of Kenneth MacMillan's iconic 1965 Romeo and Juliet.
While the London companies at Covent Garden, Sadler's Wells and ENB, struggled to make new ballet dramas after MacMillan, Gable loudly and continually insisted that the heart of British storytelling now lay in his popular creations for Northern Ballet Theatre in Yorkshire, and it's a ballet-lite tradition this company has stuck to for decades through his successors.
No subject is too familiar or too grand to be tied down and minced into populist mini-drama at Northern Ballet: Romeo and Juliet reappeared in a new version, Swan Lake and Giselle too, Great Expectations, Madam Butterfly, A Midsummer Night's Dream, Jekyll and Hyde, Wuthering Heights. Hamlet is due for the NB pie factory in the autumn, but for now it is Cleopatra who comes in for artistic director David Nixon's attention and it is in line with NB's usual proven formula for ballet pie: take familiar characters and a well-known plot, extract only what is obvious, chop into easily digested morsels with a small amount of ballet-ic seasoning and much PR jelly.
Arlene Croce, the American critic, made the very sticky observation that for ballet to be any good it needs to be great - it's hard to disagree with. The problem with the Royal Ballet's new Alice is that it is merely good in parts, which makes it not good enough. NB's Cleopatra is mediocre, at best, incurious about either its legendary subject or dance as theatre. There is, as Shakespeare and Joseph L Mankiewicz proved, vast soap-opera interest in the dramatic interplay of private feelings and public image in the story. Cleopatra, a rare example of a female Pharaoh, had top-level affairs with the emperors across the water, first Julius Caesar, then his successor Mark Antony. Antony dithered fatally between his two households, with Cleopatra in Egypt and Octavia in Rome. For such conflicts, weaknesses, susceptibilities, self-deceptions, treacheries, vanities and other subtle oscillations to be shown in ballet would take a balletic Rembrandt, or at least a Tony Holland.
No such luck. Nixon is a bullet-point man: Cleopatra married her brother, seduced Julius Caesar from inside a roll of carpet, had hot sex with Antony who betrayed her, killed herself by asp. The four bases are ticked off in mimetic gesture-ballet that doesn't cost anything in character exposition, gives the viewer an as-if exotic setting, doesn't tax the company's basic level of ballet dancing, deeply undersells ballet's dramatic capabilities, and continues the local audience's de-education about ballet as a theatrical art. That they want to see ballet is evident from the filled house at the Grand Theatre - but what they're seeing is a sham, distressing to anyone who knows the riches of unspoken language, subtlety and depth ballet is capable of touching.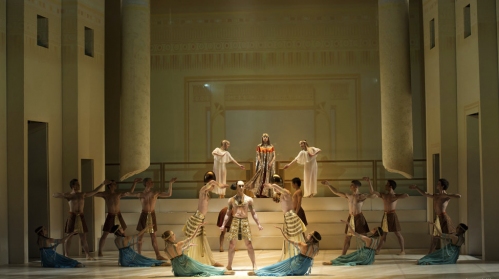 The designers have given it a dressing with dash, if not cash. There is an icing-white box set with split walls and clean portals, nicely and transitorily decorated with projections of Egyptian friezes, dangling Roman statues or dreams of blood. A broken pillar hangs at the side like a huge phallus. Cleopatra's brother drowns picturesquely in a very World of Interiors perspex bath and the birth of Caesarion is done neatly in a long bolt of white cloth. A final tableau attempts an apotheosis for Cleopatra's elevation to the gods. Marks for effort there.
It's the choreography and music that are the downers. Nixon adds to his laundry list of events to cover the unwise device of Cleopatra being in ghostly communion with a divine security guard, Wadjet, a big chap sheathed in a pastel leotard and gecko crest, who tends to hoist her in ice-skating lifts. This adds a fourth man to the stage, complicating and confusing Cleopatra's various affairs without adding a jot of the sexual fever whose absence is such a feature of the production.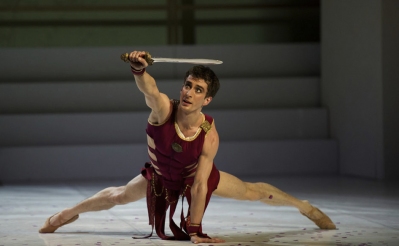 Without any choreography to show the inner workings of Cleopatra's heart, Martha Leebolt has little to play with. A muscular girl, with unpointed feet and two expressions, big smile or mournful frown, she has inadequate lyrical grace to suggest the allure of the legend, but then she also has severe obstacles put in her way. Her three odd and unflattering costumes, for example, a short sportive two-piece and two swimsuits (one of them eau-de-Nil, naturally) all uncovering bare, knotted legs, a six-pack stomach and chunky pancaked pointe shoes. Given that her handmaidens have dress after dress, floating aqua, pleated white batwings, dip-dyed cherry and white, floral and gold, the effect is to suggest Cleo is perpetually fresh out of the gym and a dip. Then, Nixon's choreographic limitations range essentially between sorrowful embrace (for Caesar) and spatchcocked sexual rapture (for Antony). One sees a great deal of her crotch, my companion remarked.
If she's a boyish girl, there's no shortage of girlish boys. The result is a sexual vacuum on stage. While Giuliano Contadini's Ptolemy can perhaps get away with being so outrageously camp, it's less helpful when Tobias Batley's Mark Antony (pictured above) is anodyne. No sexual charge emits from Kenneth Tindall's soft-legged Wadjet, the reptilian protector who jabs her unimaginatively with his hand to deliver the snake bite.
That leaves only Javier Torres, one of the least demonstrative of the National Ballet of Cuba's former artists, now at Northern Ballet, to inject courtesy, if not electricity, into Julius Caesar (pictured left, with Leebolt). Nor are most of the soldiers and court boys any more convincing. In this underpowered line-up, Hironao Takahashi's Octavian, despite his small role, stands out by some distance as the most credible actor.
A score by Claude-Michel Schönberg delivers much less than promised, considering his success with Les Misérables and Miss Saigon among others. He engages the orchestra with half-baked showtunes and some oddly assorted tambourines and hand-beaten drums, but without vocal lines and lyrics the paucity of this orchestration and melodic inspiration is much exposed.
Northern Ballet's Cleopatra tours to Edinburgh's Festival Theatre, 10-12 March; Hull's New Theatre, 16-19 March; Sheffield Lyceum 22-26 March; Cardiff's New Theatre, 5-9 April; Milton Keynes Theatre, 3-7 May; Belfast Grand Opera House, 11-14 May; London's Sadler's Wells 17-21 May; Nottingham Theatre Royal, 27 Sep-1 Oct; Woking's New Victoria Theatre, 4-8 Oct; Norwich Theatre Royal 11-15 Oct
For such conflicts, susceptibilities, self-deceptions, treacheries, vanities and other subtle oscillations to be shown in ballet would take a balletic Rembrandt
Explore topics
Share this article