A Celebration of Sir Kenneth MacMillan, Northern Ballet review - a brave and worthy tribute |

reviews, news & interviews
A Celebration of Sir Kenneth MacMillan, Northern Ballet review - a brave and worthy tribute
A Celebration of Sir Kenneth MacMillan, Northern Ballet review - a brave and worthy tribute
An ambitious triple bill honouring great British choreographer
Saturday, 14 October 2017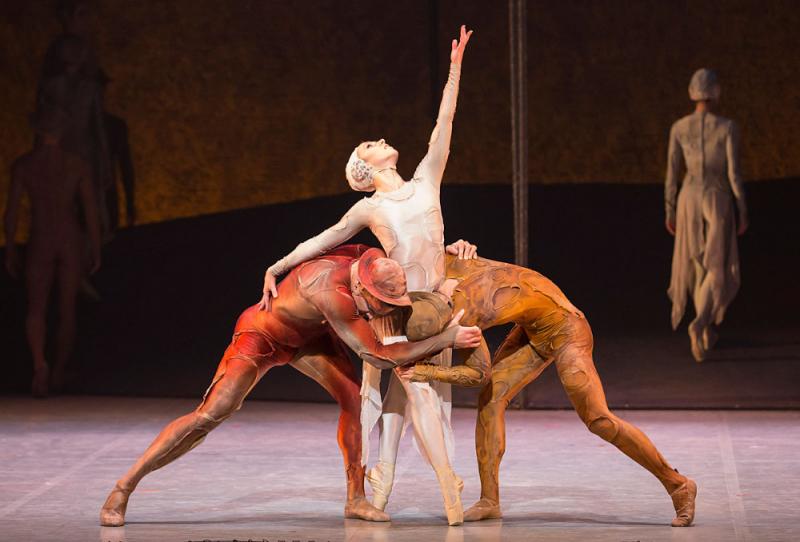 Javier Torres, Antoinette Brooks-Daw and Riku Ito in Kenneth MacMillan's 'Gloria'
Northern Ballet do a challenging job really well: on a mid-scale touring company budget and doing all the things mid-scale touring companies have to do (tour, obviously, but also outreach and audience-building and Christmas ballets for children), they manage to create a constant stream of new work, and have built up a real competence in storytelling on stage.
But what they don't get to do is perform the greats of the
classical ballet
repertoire, either 19th or 20th century. Those have demands all their own, and Northern's dancers don't have the chance to work familiarity with those demands into their bones.So the opportunity offered this year to dance repertoire by
Kenneth MacMillan
is a truly remarkable one, and the company is to be commended for seizing it with both hands.
The focal point of the celebrations will be when Northern Ballet joins its sister classical companies (ENB, BRB, Scottish Ballet and the Royal Ballet) for a special series of performances at the Royal Opera House later this month. But in order to prepare for that and – I'm certain – in order to enjoy more fully the once-in-a-lifetime opportunity to dance this repertoire, the company put on a small tour of an all-MacMillan triple bill, playing a few dates at the Bradford Alhambra this week (it returns to Leeds in March 2018).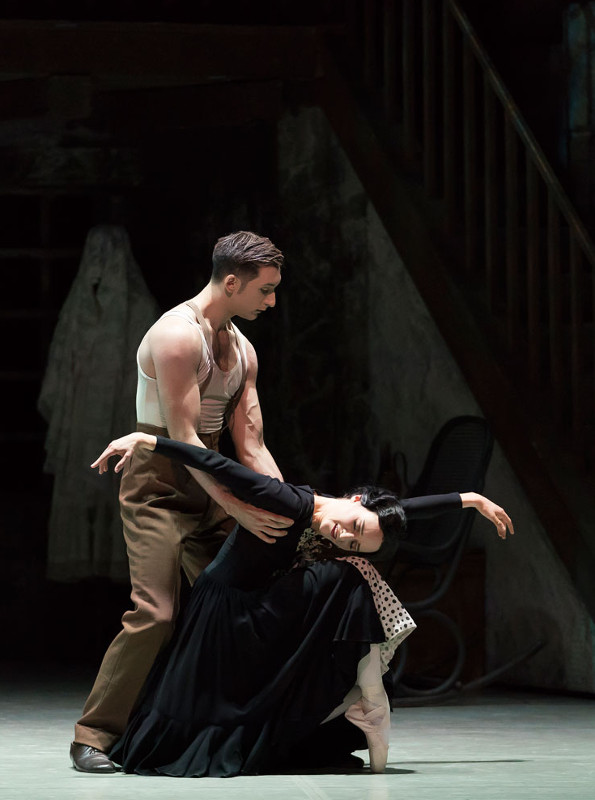 Las Hermanas, MacMillan's tight one-act distillation of Lorca's The House of Bernarda Alba was a natural choice for a company so versed in narrative ballet, and they made nice work of it. With the exception of Victoria Sibson's Mother – a touch of the pantomime witch about her – the characters were vividly drawn and engaging. With rippling muscles and chiselled cheekbones, Giulio Contadini played the fiancé like something out of Matthew Bourne's Car Man, all swaggering menace and brutal sexuality: a convincing terror to Dreda Blow's sweetly brittle eldest sister, who is torn between duty to her family and the deeply-buried hope that she might actually get to escape the oppressive house and be happy (pictured right: Contadini and Blow). Minju Kang as the youngest sister was perhaps a little too shallow for my taste, but had a convincing freshness, especially in her interactions with Blow and Contadini. With Nico Georgiadis's perfectly claustrophobic house set filling the stage, it was an intimate and convincing performance.
Concerto is a tough little display number: MacMillan in the neo-classical schoolroom show-off mode one more readily associates with Balanchine or Ashton. It was a significant challenge for Northern, well out of their usual comfort zone, and frankly rather out of reach as well. There is no hiding in a piece like this: it demands absolute precision and coordination, and a big confident classical technique, all of which were only patchily displayed. Credit where it's due, though, to youthful, Royal Ballet-trained Sean Bates, who danced the leading male part in the first movement with a fresh, engaging brightness that spoke of future star quality. Andrew Dunlop and the Northern Ballet Sinfonia under Daniel Parkinson also gave a spirited performance of Shostakovich's Piano Concerto No. 2, pleasantly intimate in the cosy dimensions of the Alhambra.
Seeing MacMillan's work with other companies is fascinating, whether or not one agrees with every choice
In Gloria, the work they will perform in the Royal Opera House, the dancers rose much better to the physical challenges, especially the soloists Riku Ito, Antoinette Brookes-Daw and pantherine Javier Torres. Unfortunately the work's overall impact was sadly diminished by the (necessary) use of a recording rather than live performers for Poulenc's epic Gloria in G Minor. Gloria is something of a challenge for characterisation, though: the three main parts are based on real people (Vera Brittain and her brother and fiancé, both killed in the First World War), but they are also symbolic figures and so need to be played as remote and abstract enough to focus and contain all the multitudes of individual stories and individual griefs for which this piece is a reqiuem. With their greater experience in personality-driven storytelling, Northern's dancers erred, for my taste, too far on the side of personalising their characters where I would have preferred an impersonal gravitas. But with the forces of a full orchestra and choir and in the grand space of the Royal Opera House later this month they might give a very different account: we will watch with interest.
Performing his work as often as they do, Royal Ballet dancers are comfortable with it all, and indeed are the only dancers British audiences are likely to see dancing much of MacMillan's repertoire. It is easy in those circumstances to get used to the Royal Ballet interpretation and to let it stand automatically as correct, which is why seeing his work with other companies is fascinating, whether or not one agrees with every choice. This season of MacMillan celebrations is brave, ambitious and a worthy tribute to the great choreographer who died 25 years ago.
Giulio Contadini played the fiancé with swaggering menace and brutal sexuality
rating
Explore topics
Share this article