Draft Works, Royal Ballet, Linbury Studio |

reviews, news & interviews
Draft Works, Royal Ballet, Linbury Studio
Draft Works, Royal Ballet, Linbury Studio
What's new, what's hot? From dancing cowboys to neoclassical beauty in one easy leap
Wednesday, 25 January 2012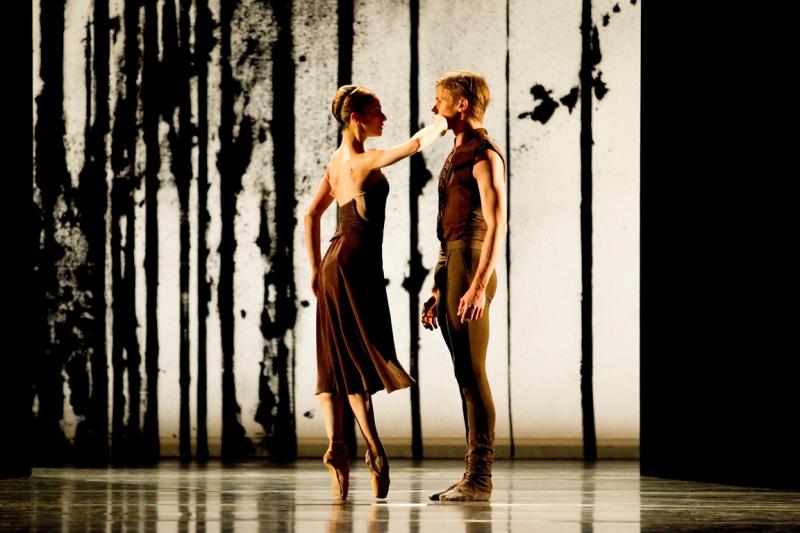 Asphodel Meadows, by Liam Scarlett
A few years ago, the word was that a new choreographer was showing interesting things. His name was Liam Scarlett, and although he was very young, some work that had been seen in a workshop was looking promising. It was not long before "promising" became actuality, and Scarlett's first piece, Asphodel Meadows (main picture), was premiered on the Opera House stage.
Now in
Draft Works
, an evening of 10 pieces by burgeoning choreographers connected with the Royal Ballet, we once again get a chance to see works-in-progress, to get in on the ground floor and be able, later, to say, "I was there when..."
Wayne McGregor, the Royal Ballet's resident choreographer, was the impresario of the evening, and the guiding spirit. Indeed, First Artist Ludovic Ondiviela's piece, Feathers in your Head, was heavily influenced stylistically by McGregor's hyper-extended, snap, flick and release style – pleasantly so, to music by Max Richter, danced with panache by Lauren Cuthbertson and Bennet Gartside.
Others had benefitted from McGregor's oversight in other ways. Declan Whitaker is not a member of the Royal Ballet, training instead at the London Contemporary Dance School, but he was part of the Royal Ballet's outreach programme, Dance Futures, and so impressed everyone that he was invited to take part. Overtone was a solo he both choreographed and performed, reflecting how water, as liquid and as ice, can be both fluid and static, liquid and solid. The piece was, unlike most of the others, completely contemporary in dance-vocabulary, but very musical, and rather attractively odd as Whitaker's stuttery, focused performance unfolded.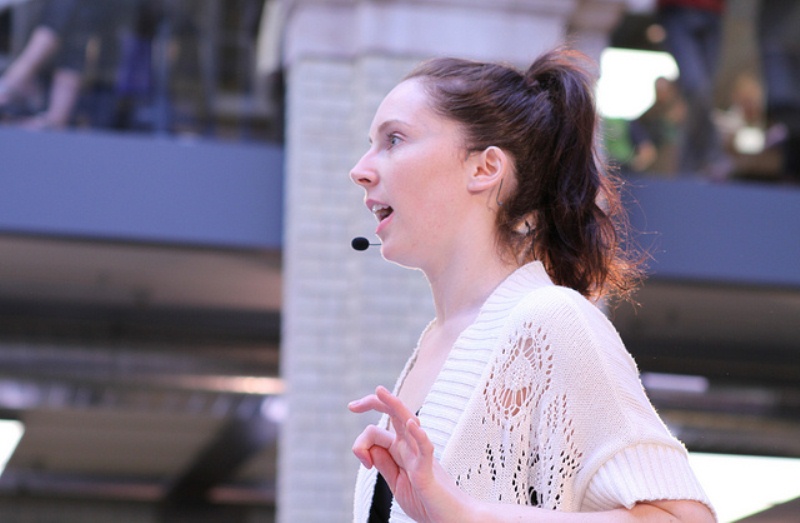 Thomas Whitehead, now a Soloist, has by contrast been with the Royal Ballet for 17 years. This is his first choreographic venture, a delightful bop-along number, very much school of early Twyla Tharp with its jazzy charm. Sian Murphy and especially Ryoichi Hirano showed not merely lively partnering skills, but also great charm and just the right amount of breezy humour.
Humour was a notable element, too, of Kristen McNally's Lonesome Gun, to music from spaghetti Westerns. Hayley Forskitt and five others made implausibly comic cowboys, hats, spitting, stomping out (mimed) cigarettes and all. Of all the works, this was the most individual. It was the only contribution to the evening that had a subject, rather than just a theme, and while there was no story, McNally (above, photo: Bennet Gartside) was willing to go past pure dance, to claim theatricality as an ingredient in her work. While the music – from the Black Keys, Nick Cave and Warren Ellis, as well as Ennio Morricone – was not an obvious choice for dance, McNally really made something of it, building a coherent world out of her disparate elements. Her ear is good, too, as she picked out the Japanese-toned influences in Morricone's "The Good, the Bad and the Ugly" to fine effect in her finale. While I'm not sure how many more dancing cowboys I want in my life, I will make sure that McNally's next piece is on my "to-watch-for" list.
The evening ended with First Artist's Valentino Zucchetti's Brandenburg Divertissement, a notable accomplishment in a very different ways. Using the 3rd Brandenburg Concerto, Zucchetti (pictured left) produced a very creditable neo-classical piece in the Balanchinean style. Very obviously in the steps of the master – spiked arms, big battements, lift exits and all – it was also consistently interesting in its own right. Several of the choreographers had chosen baroque music, which despite strong dance rhythms is trickier than it looks, as there are just so many notes. Yet Zucchetti avoided the temptation of sticking too closely to the repeats and the flourishes, finding a pleasant line through.
It was also good to see Beatriz Stix-Brunell, now with the Royal, but earlier with Christopher Wheeldon's Morphosis, and thus well-versed in the neo-classical idiom: not yet twenty, she sailed through this with great musicality.
In fact, youth was everywhere, and with so many fresh faces and fresh starts, Draft Works is becoming a regular scheduled pleasure.
I'm not sure how many dancing cowboys I want in my life, but I'll make sure McNally's next piece is on my 'to-watch-for' list
Explore topics
Share this article