Flamencura, Paco Peña Company, Sadler's Wells |

reviews, news & interviews
Flamencura, Paco Peña Company, Sadler's Wells
Flamencura, Paco Peña Company, Sadler's Wells
Top-quality showcase from some of the best in the business
Charo Espino and Carmen 'La Talegona' in the final fandango of 'Flamencura' from Paco Peña Dance Company
No, don't check your calendar – it's definitely not March. I associate flamenco at Sadler's Wells so strongly with their annual two-week festival in early spring that watching Paco Peña Company at the Wells last night felt a bit like a cheeky out-of-season treat, akin to buying foreign strawberries before the native ones have come in.
Fortunately, this was no watery, bland, forced berry, though: Peña and friends are some of the best in the business, purveying reliably high-quality goods in smart, well-produced packaging.
The new show, Flamencura, does not follow Peña's last, Garcia Lorca-themed piece, Patrias, down the route of conceptual unity and quasi-narrative. Flamencura is "just" a flamenco showcase – but what a one! The ten episodes that make it up offer a richly rounded menu of the art form's possibilities, from haunting solo guitar work to sensual danced pas de deux, from ebullient Andalusian castanets to silken Granadan shawls, from festival fandangos to searing songs evoking flamenco's origins among the poor and disposessed. This latter element also allows Peña to introduce flamenco's relationship to other vernacular musical traditions by using young British jazz/soul vocalist Vimala Rowe, who graces a segment titled "Martinete", intended to suggest the protest of workers in the forges.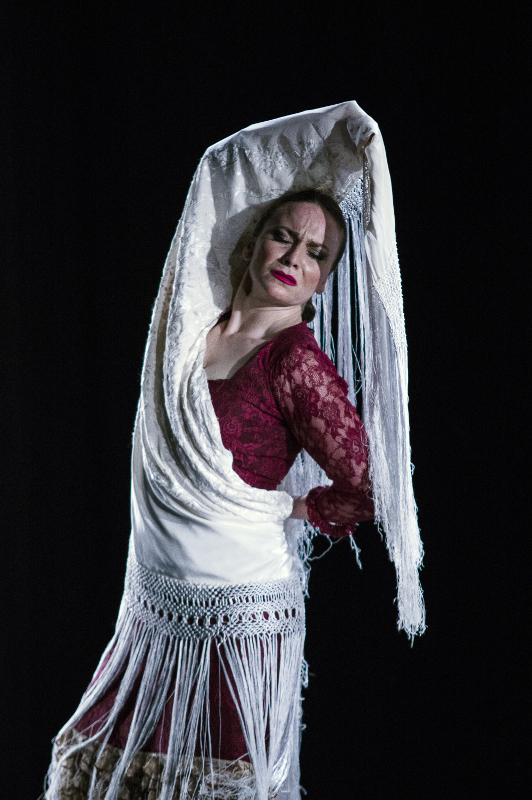 Peña's own guitar playing is one of the highlights of any show, and here he treats us to a wistful bluesy solo inspired by the Andalusian city of Ronda; though his virtuosic technique is dazzling (playing a melody on the lower strings at the same time as a fast, bubbling ostinato on the high strings), it's his construction of mood that reveals the true master, in a wordless song that many times approaches sweetness before melting back into a quizzical melancholy – like a dark rainy day punctuated by bursts of watery golden sunshine.
The three dancers in the company have different strengths and different moods. Carmen "La Talegona" has the gravitas you might expect of a woman who has an epithet instead of a surname: she's one of those splendidly powerful middle-aged women who make flamenco such a refreshing dance form to watch, all ample hips and adamantine stare. Her Andalusian-style soleá with castanets is tremendous: passionate, at times intensely fast, and imbued with a kind of proud endurance laced with anger, a woman who knows her worth and takes no shit. Her softer side comes on view later, when she does one of those Granadan-style dances with fringed shawl (pictured above right), which always fascinate me because of their ability to turn fabric into an emotional extension of skin or flesh.
Charo Espino (pictured left) is of a slighter build and far more the thoroughbred; in her second solo she sashays on in a tight blue skirt and mustard yellow blouse that could practically be a J Crew get-up for an American first lady, were it not for the skirt's large ruffled hem, a restrained gesture towards a bata de colaya. Spine arched, shoulders back and nose in the air, smiling a wolfish smile that doesn't reach as far as her frowning eyes until the very end, she dominates the stage and mixes fast and slow steps – and even a bit of archly provocative bum-wiggling! – with aristocratic composure. In the opening of the final fandango she exhibits the same queenly stage presence, imbuing those characteristic flamenco twists of hand and wrist with such a weight of tradition and refinement that one feels any attempt to imitate the same – apparently simple – movements would be doomed, destined only for miserable vacuousness.
Though eminently capable of delivering thrills through traditional methods like blisteringly fast footwork, tall Angel Muñoz makes more obvious homage to contemporary dance in some of his choreography – his major solo sees him executing snappy slides across the stage like a Brylcreemed refugee from West Side Story, for instance, while the opening of his duet with La Talegona seems to reference the sexy, leggy chair dancing Bob Fosse choreographed for Liza Minelli.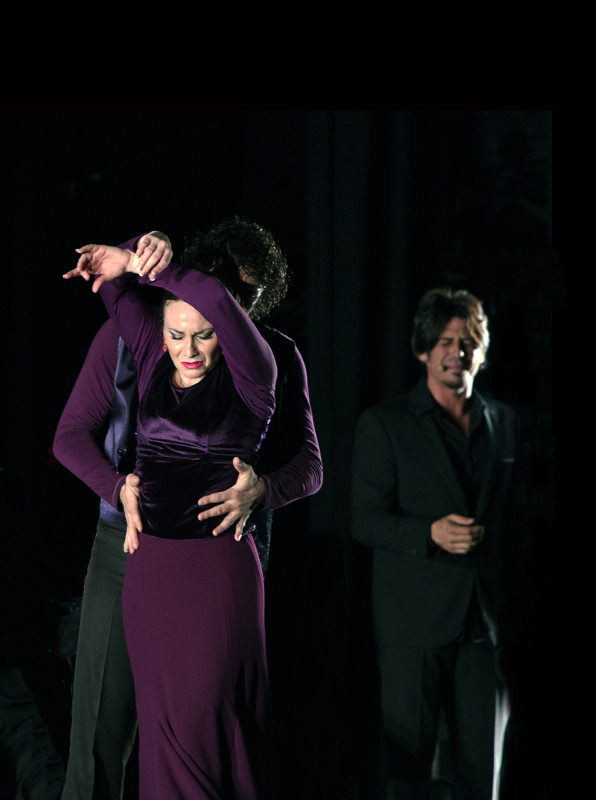 This piece is the standout of the show, though perhaps not for the right reasons: while Muñoz's mixture of feminine sensuality with a more obviously masculine anger is compelling, and his pas de deux work with La Talegona outstanding (flamenco is sexy less often than you might think, but their hands on hips business here, pictured right, is the real deal), the use of a black veil and the apparent strangling that close it are troubling. You can't help but see echoes of ISIS murdering hostages, but without knowing the words of the song – the usual problem in flamenco – we remain in the dark.
Vimala Rowe is a valuable addition to the line-up of flamenco artists not only for her wonderful voice, but because – in "Martinete" at least – she sings in English, and so conveys, through her bluesy lyrics, what it must be like to understand flamenco songs, which are often searing poems about loss, anger, or simply a bittersweet moment in time. With the very dark lighting and black costumes used in this piece, the dancers – executing a more contemporary staggered sequence of movements – take second place to the splendid Rowe's visceral, physical singing.
Early in the performance, I wondered if I was enjoying Flamencura so much because it had been months since I last saw flamenco, or if it was simply because Paco Peña Company are so satsifyingly good at what they do. The truth may be a mixture of both, but I would certainly defy anyone not to take delight in this extremely well-constructed, well-performed showcase of a magnificent art form.
Muñoz slides snappily across the stage like a Brylcreemed refugee from' West Side Story'
rating
Explore topics
Share this article